At 10pm last night, when that head-spinning, heart-freezing, bowel-loosening exit poll flashed on to the screen, it felt as though you had slipped through a tear in the space-time continuum and into a parallel world. When we awoke this morning to discover that it hadn't been a feverish nightmare, we were in a different country. Or more precisely, in two entirely different countries.
It will take a bit of time - five years or 10 - before the life support machine is formally turned off. But the Union died in the early hours, and no efforts at resuscitation - whatever rancidly hypocritical grand gesture David Cameron apparently means to make in the days ahead - can possibly revive it.
An unimaginable number of hours will be spent in analysing why the opinion polls (and idiots like me who trusted them) were so wrong, and when precisely it was that so many who told the pollsters one thing changed their minds. But even if the polling community concludes that the unseen late swing primarily came in ballot box conversions, I suspect the judgment of history will be this: the moment Cameron won this election came last September when, minutes after the announcement that the Scots had rejected independence, he made his nasty, acid little speech about English Votes For English Laws. He had come to a historic fork in the national road. He might have turned one way, and stretched out a magnaminous hand to Scotland. He might have said that he appreciated the passion of the Yes campaign, and how close to victory it had come. He might have reassured the Scots that he would recognise this by ensuring that their voice would be heard in Westminster, and respected.
The man who days before had seemed close to tears in Edinburgh when he claimed to "love my country much more than I love my party" could have said that he would devote himself to ensuring that Scotland felt no urge to vote on independence again for a very long time.
Rather than stretch out that hand in friendship, he used it to slap the Scots in the chops by taking refuge, for short-term party political gain, in crude and petty nationalism. The tactical beneftis for the Conservatives, we now know, were twofold. He roused such resentment across the border that Scotland has made itself a virtual one-party state to the crippling cost of Labour (which takes a minority share of blame itself, of course, for having taken Scotland for granted and treated it like a provincial fiefdom for so long). But he also laid the ground for the hysterical narrative about the savage Scots storming across the border and marching on Westminster that  played a significant part in his win.
The major political figures who lost out in the General Election
The major political figures who lost out in the General Election
1/16 Ed Balls

Ed Balls lost his seat in what was the biggest shock of an extraordinary night of election results. His defeat in compounded Labour's woes in a dismal night, which saw the party lose all but one of its Scottish MPs and will undoubtedly lead to Ed Miliband standing down.

2/16 Nigel Farage

OK, so he came close to being upstaged by a professional comedian – Al Murray aka the Pub Landlord, had also lost in South Thanet. But as he lost his fight to become an MP and resigned his Ukip leadership, Nigel Farage did manage to get in a few gags. He began by railing against the editors of the The Sun and the Daily Mail, sarcastically calling them "geniuses". But perhaps bearing the last election in mind, when he was in intensive care following an air crash, he said after the result that he felt "pretty good". "Never felt happier," in fact. A weight lifted off the old shoulders. Quite right too, old boy. More time for the saloon bar and a pint, or five.

AFP/Getty Images

3/16 Vince Cable

A huge scalp for the Conservatives, even though he was part of their coalition government. The Liberal Democrat Business Secretary lost his Twickenham seat to Tory candidate Tania Mathias. Cable had held the seat since 1997 and was a strong figure in the Lib Dems, having previously been deputy leader.

Christopher Furlong | Getty Images

4/16 Jim Murphy

A sign of how dire things are in Scotland now for the Labour party. The leader of the Scottish Labour Party, Jim Murphy, lost his Renfrewshire East to the SNP, having held the seat since 2005. He held a number of cabinet positions under the administrations of Tony Blair and Gordon Brown.

Jeff J Mitchell | Getty Images

5/16 Danny Alexander

The Chief Secretary to the Treasury and Nick Clegg's right-hand man, Danny Alexander, lost his seat of Inverness, Nairn, Badenoch and Strathspey to the SNP. His aides admitted defeat several hours before the formal decision was due. There were suggestions that the SNP vote could be as high as 50 per cent.

BEN STANSALL | AFP | Getty Images

6/16 Esther McVey

The Minister of State for Employment and one of the few women in David Cameron's male-dominate cabinet, Esther McVey had only held Wirral West since 2010. Her 2,436 majority was overturned and Labour's Margaret Greenwood won the seat with a 417 majority.

BEN STANSALL | AFP | Getty Images

7/16 George Galloway

The former Labour MP had held the seat of Bradford West since 2012 for the Respect Party. He previously held the constituency of Bethnal Green and Bow for Respect between 2005 and 2010, although he unsuccessfully contested Poplar and Limehouse in 2010.

Nigel Roddis | Getty Images

8/16 Charles Kennedy

Another huge Lib Dem scalp, with the SNP taking the seat of Ross, Skye and Lochaber from the former leader of the party. Kennedy had led the Lib Dems between 1999 and 2006 and had become something of an elder statesman of the party. He conceded defeat ahead of the official declaration and said he would not give any TV interviews. He had been an MP since 1983.

Jeff J Mitchell | Getty Images

9/16 Douglas Alexander

The shadow Foreign Secretary and Ed Miliband's Chair of General Election Strategy, Danny Alexander had been the MP for Paisley and Renfrewshire South since 1997. He lost his seat to the SNP, with the party now holding a 9,076 majority. Labour's share of the vote was down by 21.3 per cent.

Jeff J Mitchell | Getty Images

10/16 Simon Hughes

Simon Hughes held a key Liberal Democrat seat in London, Bermondsey and Old Southwark, which he held from 1983. Hughes is a former deputy leader of the Lib Dems and had been minister of state at the Ministry of Justice since 2013. He was previously the President of the party, as well as a two-time leadership candidate, and stood for the party in the 2004 Mayoral election.

Rob Stothard | Getty Images

11/16 Mark Reckless

An MP for Rochester and Strood since 2010, Reckless switched from the Conservatives to Ukip in September 2014 and winning the seat outright in November. He was the second Ukip MP after Douglas Carswell, and his loss is a huge blow to Nigel Farage's party.

Carl Court | Getty Images

12/16 Margaret Curran

Margaret Curran had held Glasgow East since 2010 and was the shadow Secretary of State for Scotland. She had previously been the MSP for Glasgow Baillieston (a seat she might wish she still held, as it is still held by Labour under the title Glasgow Provan).

Jeff J Mitchell | Getty Images

13/16 David Laws

A Liberal Democrat MP for Yeovil since 2001, he was the minister of state for Schools. He had briefly been Chief Secretary to the Treasury after the 2010 election, only holding the office for 17 days after resigning due to the disclosure of his Parliamentary expenses claims. Laws was a key negotiator for the Lib Dems when the coalition was being formed five years ago.

Jeff J Mitchell | Getty Images

14/16 Jo Swinson

On her election in 2005, she was the youngest member of the House of Commons. Under the Coalition government, the Lib Dem MP was the Under-Secretary of State for Employment Relations, Consumer and Postal Affairs and for Women and Equalities. She lost her seat of East Dunbartonshire to the SNP's John Nicholson.

Matthew Lloyd | Getty Images

15/16 Ed Davey

The Liberal Democrat Energy and Climate Change Secretary Ed Davey had been the MP for Kingston and Surbiton since 1997. Davey championed the Lib Dems' role in ensuring the Conservative-led Coalition championed the green agenda. However, the well-known Lib Dem MP lost his seat to the Tories, having held the seat in 2010 by 7,560 votes.

Jeff J Mitchell | Getty Images

16/16 Lynne Featherstone

Lynne Featherstone lost her London seat of Hornsey and Wood Green to the Labour party. She was a former junior Home Office minister with responsibility for equality, then becoming junior minister with responsibility for international development.

Dan Kitwood | Getty Images
Although the question of legitimacy will not dominate a post-election scrap for control of the House of Commons, it it has not vanished. It has shifted 400 miles to the north. In what imaginable way will the Scots, with 56 SNPs out of 59, regard it as legitimate to be ruled from London by a party and a prime minister who cynically stoked poisonous Scotophobia to retain power?
The two countries to which we awoke seem to have nothing in common, nothing whatever to bind them. England, as those of us naive enough to have forgotten are reminded, is an essentially right-wing country which is happy to blind itself to the victimisation of the poor and disable. It feels older, tireder and more sclerotic than ever today.
When the demographic detail of this election is released, it will show that the Tory success was sourced in large part to its massive vote advantage among the over 65-year-olds. Scotland leans sharply to the left, and fizzes with a youthful energy at you can only gaze with envy.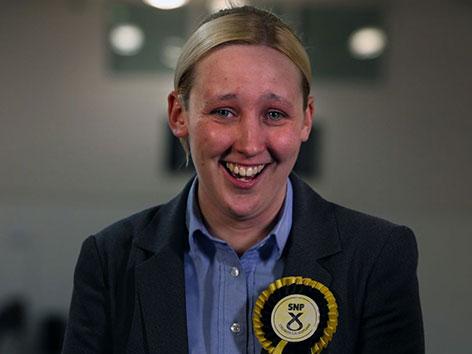 The sight of Mhairi Black, the 20-year-old politics student who displaced Douglas Alexander in Paisley, striding confidently to the podium to give her winner's speech is unthinkable in England. Her public admission that it "took every fibre of my being not to put the nut on" anti-independence campaingers who taunted her would not have been indulged here as hilarious youthful exuberance. The Daily Mail would have torn her to shreds, and whichever party had selected her (not that an English party would give a woman of 20 a shot) would have de-selected her in five minutes.
The partnership between England and Scotland was often uneasy, but for most of its three centuries there was more than enough mutual advantage to make it work. On one side, it is now a hideously passive-aggressive marriage (Cameron switching at will between the passive and aggressive), and on the other simply an aggressive one that cannot be tolerated. It must now end in divorce, and sooner rather than later, and the destruction of the union will be David Cameron's political epitaph. It won him an election that had seemed unwinnable by such a margin. Whether victories come any more Pyrrhic than this, the man who loves his party and power much more than his country will one day have to decide for himself
Reuse content