1. Five days to the launch of the iPhone 6, and at 7.30 yesterday morning people were camped outside the Apple shop in New York. Via Dan Benton.
2. Prime Minister's Questions was back yesterday. Ed Miliband offered the Opposition's total support in the fight against Isil (or Isis – David Cameron used both terms). He even resisted the temptation to crow about Cameron's U-turn on control orders, seeking merely to confirm that the power to limit the location and movement of terrorist suspects would be "re-introduced".
The Prime Minister said: "I can confirm that it will go ahead, and it is going to require legislation."
Nick Clegg's face gave no clue, but afterwards a Liberal Democrat spokesman was still insisting: "The issue of introducing relocation powers remains under discussion in Government."
3. The best exchange came when Karl Turner, the Labour MP for Kingston upon Hull East, teased the Prime Minister about the timing of the Clacton by-election on 9 October, Cameron's birthday:
"Given the birthday present given to the Prime Minister by the former Member for Clacton, how many more birthday surprises is he expecting from his Tory back benchers?"
"I am sure I will be getting all sorts of pleasant surprises on my birthday. Please do not spoil it by letting me know what they are."
4. "People want a former prime minister to live in a shed on the Isles of Scilly and drive around in an Austin 7": my defence of Tony Blair, philanthropist.
The latest eruption of Blair rage reminded me of what Stephen Bush had written last month:
"And if Tony Blair hadn't invaded Iraq, le Carré would never have written Absolute Friends. What a stinker that was."
Though the anti-Blair knee-jerk was far from universal. Margaret Beckett, latterly Foreign Secretary under Blair, spoke to Peter Hennessy on BBC Radio 4. As Zac Murdoch said:
"Very interesting to hear Margaret Beckett talking to Peter Hennessy this morning – she's hardly a Blairite, being always on the left of the party, but however hard he tried to provoke her she only had good to say about Blair. And she said the Cabinet was fully briefed about the Iraq plans and the intelligence; Robin Cook didn't express dissent within Cabinet, only outside, and probably resigned because he was disappointed at losing the Foreign Office, and the [Foreign Office's] UN lawyers thought that the first resolution was a legal mandate for the war and a second wasn't needed."
Others were less indulgent. Ronnie Smith told me:
"Psychological rubbish. He turned out to be a war criminal. Malaysia has found him guilty. Is this why their airliners were attacked?"
Probably a QTWTAIN.
5. Picture of the Day from Yard Of Grass: Wembley and hinterland, 1923.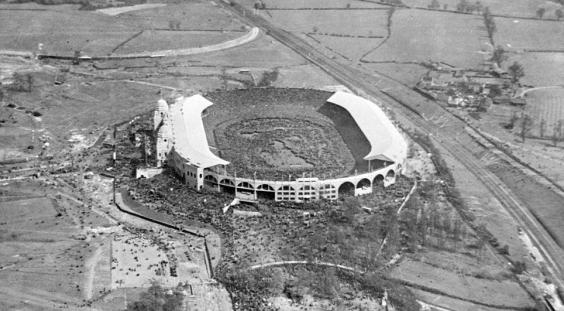 ___________
6. Finally, thanks to James Martin for this:
"The first rule of Thesaurus Club is you don't talk about, mention, speak of, discuss, or chat about Thesaurus Club."
Reuse content