1. It's the Clacton by-election today, in which UKIP is certain to have its first elected MP, Douglas Carswell (above).
If you want to know what the constituency is like, Jamie Merrill went there for The Independent on Sunday and the first person he stopped in the street gave him the quotation with which he started his report:
"I wouldn't want to suggest we should eradicate everyone with brown skin, but this is our country."
Merrill tried to find voters with more liberal opinions, such as those of Douglas Carswell himself, who is in favour of immigration but opposed to our being part of the free movement of workers in the EU. But our reporter had to admit defeat.
There is also a by-election today in Heywood and Middleton, after the death of Jim Dobbin, but Labour is expected to hold the seat.
2. It is the end of the national party conference season at last (there is still Plaid Cymru later this month and the Coronation of Nicola Sturgeon in November). It was longer than usual because of the Scottish referendum. Compared with the momentous choice made in that vote, what followed was bound to seem small. Yet it still frames the choice for the next election.
My commentary on yesterday's speech, What Nick Clegg Said And What He Meant, may be a form of childishness, but it allows me to make some serious points, such as that he did not mention David Cameron's plan for an EU referendum as a possible sticking point in future coalition negotiations.
If you want a more favourable reading of the Lib Dem leader's speech, have The Independent's editorial this morning.
3. My book of Top 10s, Listellany, is published today. There was a trailer for it in The Independent on Sunday and the Kindle version on Amazon is yours for just £3.49.
4. Still catching up, I enjoyed this short interview with David Baddiel in The Independent on Sunday. Martin Amis said he wouldn't write a children's book unless he had a brain injury, but Baddiel did. Baddiel is right and Amis is wrong. 
5. Full Fact, an admirable organisation that adds to the health of our democracy, checked six of the claims in Nick Clegg's speech, including:
"Disenchantment and anger towards the political class is now at an all-time high."
No, it isn't. It peaked in 2009 after the MPs' expenses imbroglio (and not after the Iraq war either).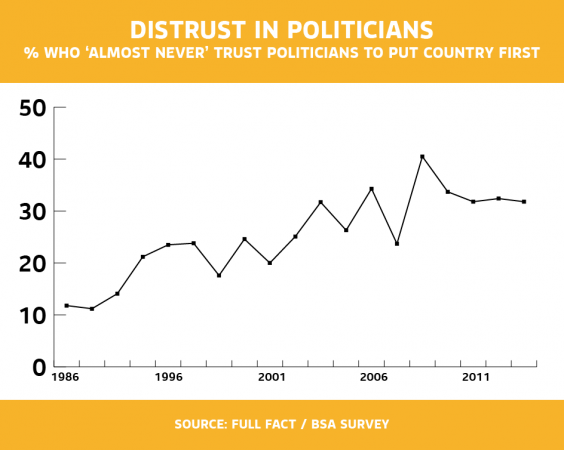 ______
6. And finally, thanks to Richard Pinner for this, via Martin Sutherland and Chris Heaton-Harris:
"Where does bad light end up?
"In Prism."