1. Probably a QTWTAIN, a Question To Which The Answer Is No, via Eliot Andersen. We also enjoyed the upstairs window, which appears to be buffering.
2. "Did an ancient nuclear war kill life on Mars?" It has been a while since we have seen such an all-out attempt by the Daily Mail to force me to revive my QTWTAIN collection. This, drawn to my attention by Hard Headed Hero, is so doollaly that the Mail Online headline actually attributes the story to conspiracy theorists. The second and third decks of the triple-decker headline reads: "Conspiracy theorists claim to see a 'mushroom cloud' on the red planet."
It is pretty special, for a newspaper that has – altogether now – "a healthy scepticism of conspiracy theories".
3. Prime Minister's Questions yesterday was a telling exchange. I saw the dismay on Labour MPs' faces when they realised that their leader was going to devote all his six questions to process (the TV debates) rather than substance (defence spending). It was left to Stella Creasy and Gisela Stuart, with Caroline Flint nodding vigorously on the front bench, to stand in for Ed Miliband and to ask David Cameron if he would keep defence spending at 2 per cent of national income. 
4. I had a review of Nigel Farage In His Own Words in The Independent yesterday. It seemed like a lazy idea for an instant book, but it is well done and a surprisingly effective way of giving readers the material with which to make up their own minds. 
5. A lovely chart from Norman Geras two years ago, revived by The Gerasites, a website devoted to his memory and to keeping alive his wonderful spirit of genuine left-wing scepticism about fake left-wingery. Verkrappt, I should explain, is a mock-Yiddish word that Norman invented. You can work out what it means, I think.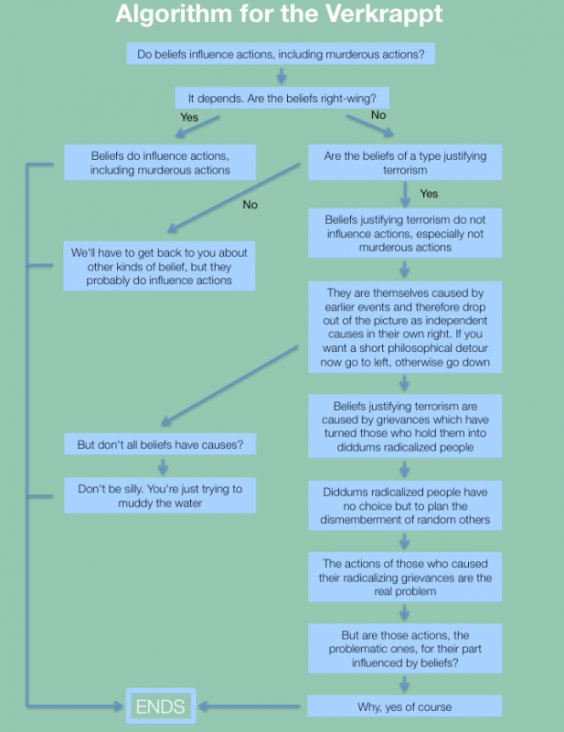 _________
6. And finally, thanks to Chris Heaton-Harris for this:
"Why did the admiral decide against buying a new hat?" 
"He was afraid of cap sizing."
Reuse content