1. I love the new London skyline.* Here is the view of the City from the Walthamstow Travelodge. Picture by John Shipperley via Stella Creasy, Walthamstow's MP.
*Apart from the Walkie-Talkie, obvs.
2. I had an alarmingly enthusiastic response on a Saturday night to my request for nominations for the Top 10 Singles Longer Than Six Minutes. This was prompted by seeing "Bohemian Rhapsody", which is 5'55", on a Top of the Pops 2 Christmas Special.
Since then I have discovered that "American Pie", 8'33", was actually an A side of 4'11" and a B side of 4'31", with a fade out and a fade back in, so I am not sure if it counts. Does anyone know what the physical limit of a 45 was? Answers and more nominations on Twitter, please.
3. Actual gibberish from the Deputy Prime Minister in yesterday's Independent. Nick Clegg wrote about Labour:
"This is the party, let us not forget, that allowed the banks to crash the economy and which left Britain so vulnerable to that crash by racking up the biggest budget deficit in the developed world."
Apart from the hyperbole of "allowing" the banks to crash the economy, a Brownian delusion that governments can abolish the business cycle, the biggest budget deficit in the world came after the crash. Gordon Brown should not have been running deficits at all before it, but Clegg did not say so at the time and they were modest.
4. David Aaronovitch is very good in The Times this morning (pay wall) on the horror of Paris. A sample:
"So we need to be clear, for everyone's sake, and at the moment we are anything but. This is the deal for living together. The same tolerance that allows Muslims or Methodists freedom to practise and espouse their religion is the same tolerance that allows their religion or any aspect of it to be depicted, criticised or even ridiculed. Take away one part of the deal and the other part falls too. You live here, that's what you agree to. You don't like it, go somewhere else."
5. A weaponised political football? The NHS could blow up at Miliband's feet. My review of yesterday's Prime Minister's Questions is here. Jane Merrick has a sensible view (translation: I agree with it) of the NHS stramash in The Independent today. The Conservative press office caught this wonderful photo of Andy Burnham and Ed Balls looking at each other during one of David Cameron's answers: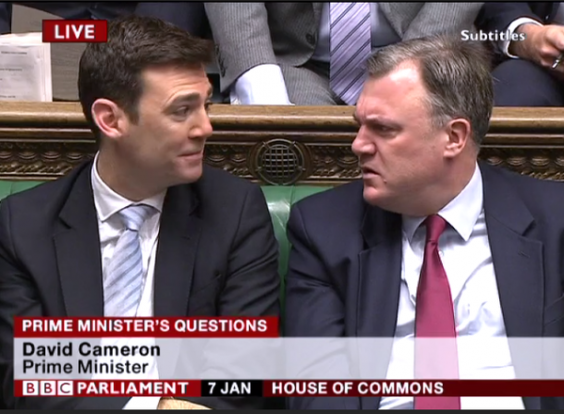 ________
6. And finally, thanks to Colin MacKenzie for this:
"Ice cream is a dish best served cold."