1. I knew, when we worked on BBC1's On The Record in 1988-92, that one day Nick Robinson's picture would be carried high on banners through the streets. So it came to pass yesterday in Glasgow.
2. Meanwhile, the opinion polls in Scotland carried out in the past week suggest no significant change. Here is my list of all seven of them, starting with Survation, published on Wednesday with fieldwork ending on Tuesday.
Yes vote, excluding don't knows: Survation online 47%, YouGov online 48%, ICM phone 49%, Survation phone 46.5%, Panelbase online 49%, ICM online 54%, Opinium online 47%. Average 48.7%.
As I said in The Independent on Sunday, in which I confess that I did not see the Yes surge coming, that is a small margin to decide such a big question.
Some of the pollsters are nervous. Martin Boon of ICM, who produced the week's big Yes lead, told Radio 4's More or Less the referendum had the "potential to be a polling Waterloo, as big as 1992" (when the polls thought Labour would be the largest party in a hung parliament, and John Major won with a small majority).
Surprisingly, Rupert Murdoch, who pays for a lot of polls, turns out to be, like so many Twitter nats, a statistically innumerate poll sceptic:
"With hundreds of thousands who never voted before, how can polls with small samples be sure? Mixed forecasts prove nobody can tell."
Nobody can be sure, but polls give us better information about what the people think than what nationalists feel in their bones.
What would happen if Scotland were to become independent? Tom Witherow and I tried to answer 24 FAQs.
3. Mesmerise my quixotic bloomers: meanwhile in The Independent on Sunday magazine, I have compiled a Top 10 Eponyms, words from people's names. 
Also in the magazine, I interviewed Jon Gnarr, who was elected mayor of Reykjavik on a promise to break his promises. I was impressed by him:
"I try to be funny, except when it's impossible. If people are never funny, then they are just worried, they are depressed. They are confusing depression with seriousness."
4. More reading: "How I accidentally invented the 'boring, snoring' interview," by Peter Mandelson (FT, registration required).
5. The US doesn't import most of its oil from the Middle East, it seems. This is informative, from Amazing Maps: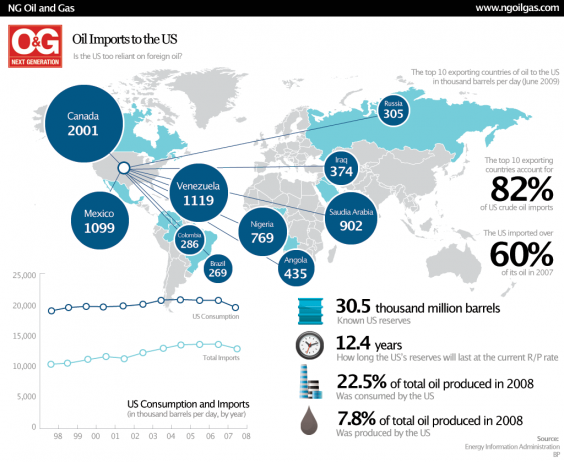 _________
6. Finallly, thanks to Dan Fox for this:
"I want to persevere with my fake skull business. But I'm struggling to forge a head."
Reuse content