1. Broken Britain (above), via top colleague Lucy Hunter Johnston.
2. My column for The Independent on Sunday was about how Liz Kendall could win the Labour leadership, and therefore how she could be prime minister in five years' time.
I mentioned the rule-change that means trade union members have to sign up as affiliated supporters of the Labour Party to vote in the leadership election, and pointed out that this meant the anti-left cliques* that control the big unions' apparatuses would not be able to include "Vote Burnham" propaganda with the ballot papers.
The union bosses will still try to influence the election, however. James Lyons in The Sunday Times (pay wall) reported the claim by Jennie Formby, Unite's political director (and former partner of Len McCluskey, its general secretary), that the union is signing up 1,000 members a day to give them a vote for the Labour leadership.
How successful will this mobilisation be? Well, it worked last time. Unite, the GMB and Unison used phone banks and mail shots (including with ballot papers) to encourage their members to vote for Ed Miliband last time, overturning David Miliband's majorities among party members and MPs. This time, any trade unionist who signs up will have a vote equal to that of a full party member, rather than 60 per cent of its value (there were 123,000 party members voting in the final round last time, against 200,000 trade union levy-payers).
Andy Burnham certainly seems to have learned well from what happened last time, when he came fourth.
However, this comes down to politics. For all Burnham's qualities, I think it will become apparent that Labour is unlikely to win if he were to become leader. The answer to whether Liz Kendall is a strong enough candidate to drive that advantage home is what the leadership election campaign is for.
*Some readers objected to my description of the factions that dominate the big union political committees as "sub-Marxist". I'm open to better descriptions of the politics of Len McCluskey and his chief of staff, Andrew Murray, a defender of the North Korean government. For the moment I'll stick to anti-left, which is merely descriptive of their determination to prevent the election of a Labour government, in which they succeeded last time.
3. My Top 10 in The New Review, the Independent on Sunday magazine, was Shortest Wars, ranging from 38 minutes to 24 days.
4. Janan Ganesh, just outstanding again in the Financial Times (registration), on how the "In" campaign for the EU referendum will win:
"Three is a pattern. First, there was the derisive media coverage of the campaign against Scottish independence last year. Instead of proselytising for the union, Better Together spelt out the economic hazards of ending it. Under the most sanctimonious criticism, they held the line and won. They knew wavering Scots were moved by pragmatic arguments over emotional exhortation because they had done their research and armchair campaigners had not.
"The general election was a magnified version of the same story. For six weeks romantics chided the Conservatives for their sour campaign: the monomaniacal focus on the economy, the failure to match Labour's fervour. But the Tories won, and more resoundingly than almost any commentator foresaw. They had market-tested their pitch to swing voters. The critics relied on errant guesswork and their own prejudices.
"David Cameron's promised referendum on EU membership gives the romantics another chance to get it wrong."
5. My guide to tomorrow's Queen's Speech was also in The Independent on Sunday. Thanks to graphics genius Henrik Pettersson. Click here for a larger version.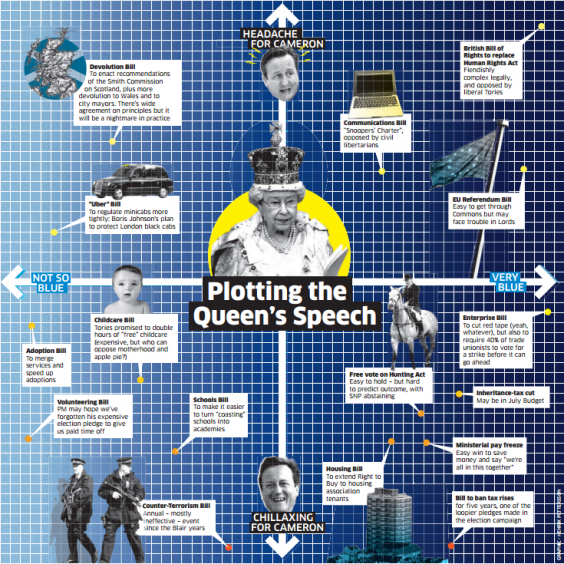 ________
6. And finally, thanks to Mollie Goodfellow for this:
"Overslept is such a negative word. Why not 'Underwoke'?"
Reuse content