When YouGov published its poll on Tuesday showing the Yes vote on 47 per cent, just three points short of victory, I said it was "just one poll". When it published another poll last night showing the Yes vote on 51 per cent, the only hope for those of us who want to keep our country united was that it is "just one polling company".
Other companies have not shown this late surge. That was why a Panelbase poll, also published last night, was hardly reported. It put Yes on 48 per cent, excluding don't knows, the same as its last poll in mid-August.
(In passing, on don't knows: it makes sense to exclude them. When the referendum result is published it will be expressed as two percentages, adding up to 100. The figures will exclude spoilt ballots and will also exclude people who didn't know so much that they failed to vote. Although it is worth keeping an eye on the level of don't knows, normal voting intention polls are always expressed with the don't knows and refused excluded.)
Today's YouGov poll was carried out on 2-5 September, Tuesday to Friday last week, and Panelbase was Tuesday to Thursday. John Curtice, the polling guru, points out one oddity, which is that Panelbase shows no gender gap (this is unusual in Scottish independence polling, as I wrote yesterday).
To get a better idea of the state of the campaign, we need a TNS, ICM or Survation poll, and we are likely to get all three before polling day next week. But in the meantime, today's two polls are the best we have, and if we split the difference between them that would put Yes on 49½ per cent.
This is a disaster – yes, I am biased, or, rather, yes, I do have an opinion. For a 60-40 split to change to a 50-50 split at this point, with 11 days to go, means, I think, that the separatists have won. This makes me melancholy.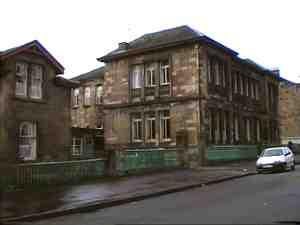 Here is a picture of Pollokshields primary school, Glasgow, which I attended in the 1960s.
There are straws to be clutched. Just one polling company. Sampling error. The experience of Quebec in 1995, where the separatists moved into the lead in the opinion polls 15 days before, and were leading by six points on the day, but then fell short on 49.4 per cent. (Thanks to Sunder Katwala.)
But I fear Scotland is lost.
And then, despite what I said in my Independent on Sunday column today, there are some extraordinary consequences for politics in the stump of the UK that is left.
First there are the negotiations over the terms of separation. There is not a hope of meeting the target date set by the Scottish National Party of March 2016. That is, if agreement can be reached at all. If terms cannot be agreed, for example on dividing the national debt, then independence could not go ahead. But if it cannot be sorted out by May 2016, things start to become complicated. That is when the next Scottish Parliament elections are due. Then there is the question of when Miliband's majority vanishes – assuming he has just about won the 2015 election, not least because David Cameron has gone or is diminished. As soon as Scotland became independent, Labour would lose its 40-or-so Scottish MPs in the House of Commons and Miliband would cease to be prime minister. Presumably he would call a general election in the UK of England, Wales and Northern Ireland.
As Matthew d'Ancona says today, Ed Miliband (or "Milliband" as Rupert Murdoch calls him), who won the Labour leadership by being against the Iraq war, will have to fight the next Iraq war. And if Scotland has voted to secede, he will have to supervise the terms of separation too. Far from inaugurating an era of low gas bills and Swedish welfare, Miliband will be remembered for taking us back into Iraq and overseeing the break-up of the United Kingdom.
Sometimes, politics takes your breath away.
Reuse content