10. Brazil's crying goalkeeper Julio Cesar, who coped exactly how I would if informed that the climax of 120 minutes of physical and emotional punishment would consist of a penalty shoot-out.The concept of penalties really sorts out the true football fan from the johnny-come-lately World Cup fans who are just here for beer. Penalties are a bilious mixture of the life-changingly cruel and the conceptually daft. A sort of Russian Roulette using career-long reputations instead of bullets. Obviously, I have no cleverer idea of how to settle matches other than "keep playing until someone collapses", which now I've written it, looks remarkably like something Kim Jong Un would petulantly scream. Nevertheless, crying Cesar then went on to save two penalties during the shootout, helping take Brazil to victory. Big boys do cry.
9. Lila Piriz Da Rosa, grandmother of 22, including one little troubled adventurer Luis Alberto Suárez Díaz. What a misunderstood little mite Luis is. Always in trouble but never, not ever, his of his own making. No, it's other bigger boys tricking him, or plain clumsiness, or in last week's "chomping Giorgini Chiellini's shoulder like a delicious empanada" moment, it was the authorities ganging up on him. They had "their eyes on him" from the start of the World Cup, wept Granny Lila, "Everyone knows what they've done to Luis, she said. "They wanted him out of the World Cup. They chucked him out like a dog!" Suarez's excuse for the biting incident may have had the plausibility of when my niece Lola drew a large Scooby Doo on the living room wall in Crayola and blamed "a naughty ghost" but it's good to know his gran still loves him, not to mention the hundreds of fans who crowded the airport wearing novelty dracula fangs, and the Uruguayan president Jose Mujica, who said Fifa were a bunch of old sons of bitches for giving little Luis a four-month suspension.
World Cup fans pose with Luis Suarez advert
8. Colombia's James Rodríguez, for his 25-yard goal against Uruguay, for inspiring the Colombia rump-reverberating shaking dance, for inspiring Colombian radio commentators to lose their marbles and make noises like the Carr's biscuit factory siren, for being named by his parents after James Bond, for being married to goalkeeper's David Ospina's sister, for playing football that convinces people who don't love football, suddenly, to love football.
7. Glenn Hoddle. Chief ticket inspector on ITV1's football banter bus, taking everyone on a nailbiting ride to Banter-namo Bay. "Gaffer", as Wrighty calls him, has had a wonderful World Cup. He is a rhapsody of snug chinos, unabashed mullet action, ray-bans and rock solid advice on, among other subjects, how to win penalty shoot-outs. "You miss a penalty on the walk up," he informed us sagely. Also, "You never see a goalie dive for the top left corner". Hoddle unfettered is a great thing, up there with Boris Johnson and the Duke of Edinburgh, more power to his meanderings. "He got a fair share of the lion of the ball there," he told us this weekend.  Exactly.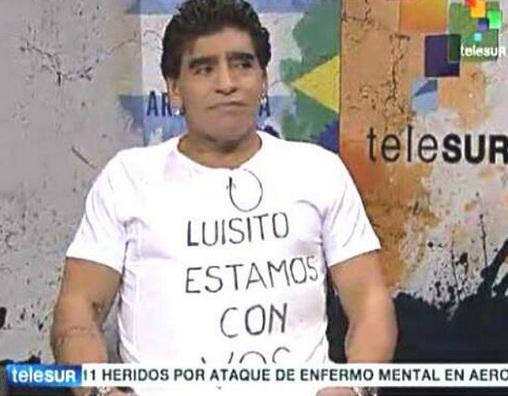 6. Diego Maradona, for or inviting Gary Lineker on to his World Cup round-up TV show and laughing heartily when asked by Lineker, "How's your hand?"; for sporting a Luis Suarez support-group tee-shirt; for accusing Fifa of acting like a "mafia", and for general World Cup mischief. Maradona: ageing but not planning to stop hell-raising any day soon.
5. Greg Dyke, the FA Chairman, for turning up at the England training ground carrying a paperback – let's face it, the actual football is quite boring – entitled A Death in Brazil, and for being pretty much the only living human being who went along to Manchester Airport to see the team return after being eliminated at the group stage for the first time since 1958, shaking everyone's hand frantically with a rictus grin and assuring Roy Hodgson's future until 2016. You have to admire his schtick.
Goal of the World Cup contenders
Goal of the World Cup contenders
1/5 James Rodriguez vs Uruguay

The chest and volley strike at the Maracana was worthy of taking any side through to the quarter-finals. That it hit the underside of the bar just made it look even better.

GETTY IMAGES

2/5 James Rodriguez vs Japan

Rodriguez was already in contention for the best goal after his solo effort against Japan. He turned a defender inside out before a delicate chip over the on-rushing goalkeeper. Exquisite.

GETTY IMAGES

3/5 Robin van Persie vs Spain

The flying Dutchman with the flying header that really got the tournament going. The image of Van Persie flying through the air already feels iconic. That it came against the defending champions and went over the head of Iker Casillas made it brilliant.

Getty Images

4/5 Lionel Messi vs Iran

Argentina's talisman came to their rescue when it looked like a draw with Iran was on the cards. In the 91st minute, he picked up the ball on the right, shifted the ball onto his left foot to take it past a defender and then curled it round the keeper into the far corner. Well worth the wait.

GETTY IMAGES

5/5 Tim Cahill vs Netherlands

Cahill's left-footed volley went into the net with such speed and ferocity and the way the ball had come across his body just made the technique even more difficult. Another one off the underside of the bar.

Getty Images
4. Robert Farquharson, who had half his ear bitten off while watching a match in what papers described as a "vile racially motivated attack", allowing the reader to sigh and be quietly relieved about our country's comparatively civilised approach to racial harmony as opposed to those lot in…hang on, which fans attacked him? Oh it was another England fan. Let's look on the bright side. We may not make manufacture much as a country any more but we're still exporting football hooliganism.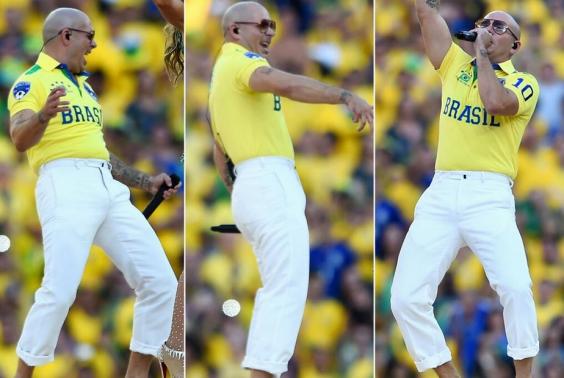 3. Pitbull. Of all the pop stars in all of the universe, Fifa were totally right to choose Pitbull to be their main attraction at their opening ceremony. Not only is he barely a household name, so viewers could be distracted from the spit and sawdust hoopla by taking to their phones to Google, "Who the hell is Pitbull?", they could also read up on his lyrics which contain lines like, "Shake that shit bitch/And be off in the club with a hard-ass dick." Yes, viewers would think, here is a man who represents the considered, focused dignity of the international football player and subtle approach to women's emancipation.
2. Very, very sensitive Dutch winger Arjen Robben, who earned a game-winning penalty for the Netherlands during their 2-1 victory over Mexico, suffering a horrifying calamity in the second minute of injury time. Mexico's captain Rafael Marquez's big toe ever so slightly touched Robben's foot, leading Robben to face-plant himself on to the pitch, arms outstretched, beating Neymar, Drogba and Marcelo in the "Oh stand up you bloody big 'nana" league.
1. Gary Lineker, whether he's in the studio looking dapper, or giving interviews in Spanish, or on Ipenema beach looking buff with his top off, Lineker has made the BBC's World Cup coverage a cut above the rest. Not just a crisp salesman, edging towards national treasure status. If you don't believe me, go and look at Adrian Chiles with sweaty knee-backs talking to Gordon Strachan.