Who is The Sun today? Not Nicole, 22, from Bournemouth, whose right to get work nobody questions. Not Rupert Murdoch, who has suggested that Page 3 is "so last century", and according to his own "paper of record", killed it off this week. Not Stig Abell, the paper's urbane, bearded front man and managing editor, who tends to go quiet when things get awkward (the former director of the Press Complaints Commission's only comment today has been a tweeted Marcus Aurelius quote).
No, The Sun today is Dylan Sharpe, the paper's PR man, who answers to Abell and, according to reports - and his own Twitter feed - is 15-years-old and has been drunk since about Monday.
Sharpe, a former spinner for Boris Johnson, the Countryside Alliance and the No to AV campaign, has been LOVING this whole hilarious Page 3 thing. Overnight, in a tweet that has since been deleted, either because it breached Twitter's nudity rules or because Sharpe sobered up, he mocked those who had dared to doubt the merits of Page 3 by waving Nicole's breasts in their faces.
Here's a screen grab: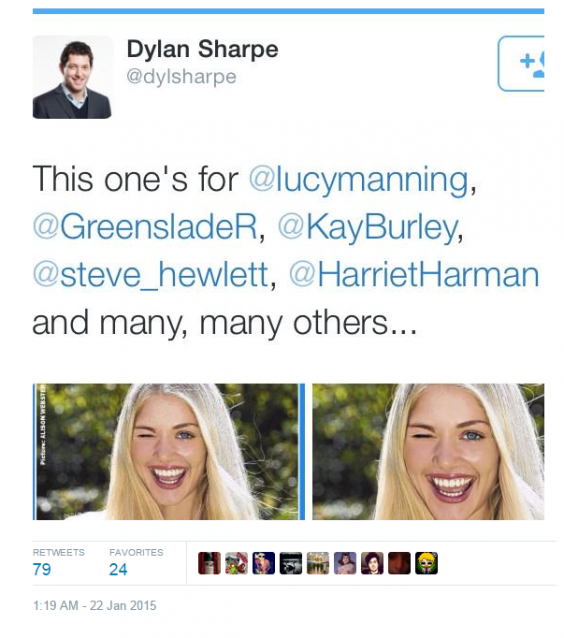 "I'm sure your mother is incredibly proud of you Dylan. I know I would be," responded Kay Burley, the Sky News presenter.
Sharpe's stock response to those who think he has behaved like a child has been, roughly: "Come on, it's funny - lighten up". And he speaks for the paper, which is clearly equally delighted by its ingenious prank. And perhaps it would be funny if we were in a classroom, and Sharpe were the boy at the back showing off his older cousin's stash of porn. If I were still 15, I'd probably be laughing.
Part of me admires The Sun's balls (chance'd be a fine thing) but I'm not laughing, as much as I like laughing, and you don't have to be humourless to be depressed by all of this. Because this isn't about getting one over on those harping campaigners, or sticking two fingers up at sneering Twitter liberals. It's not about press freedom or left and right. Behind the banter and posturing, it's still about women.
No More Page Three campaign
No More Page Three campaign
1/5 No More Page Three

Demonstrators from the No More Page Three campaign on Westminster Bridge in London

2/5 No More Page Three

Katie Price puts her hand over Laura Bates' t-shirt which says 'No More Page Three' ahead of the panel debate 'Does Page 3 make the world a better place?' at the Women of the World event at the Queen Elizabeth Hall in London

3/5 No More Page Three

Demonstrators from the No More Page Three campaign

4/5 No More Page Three

Demonstrators write protest messages in chalk on the pavement outside the News UK head office

5/5 No More Page Three

'No More Page Three' protest at News International offices, Wapping, London
Last word to Sarah Wollaston, the Tory MP, who when The Sun revealed young Nicole's breasts last night, tweeted: "P3 says all you need to know about what @TheSunNewspaper thinks about women & their place in Britain."
Reuse content