This week's 200th anniversary of the Battle of Waterloo has been celebrated in many ways. One of the most amazing is that the Chilcot Inquiry into the battle is said to be ready for publication any day soon.
Apart from that, there have been several programmes about Napoleon to mark the event on radio and television, offering many different views from a wide spectrum of right-wing upper-class Cambridge historians.
Most of these accounts agree that Napoleon's defeat brought "peace" by ending his crazed plans to dominate Europe and beyond. That's why it was lucky that it was the British who won, as they had no plans whatsoever to use their powerful position to build an empire that might annoy people around the world in any way. If anything, Britain's role over the next 100 years was too peaceful, and could have done with the odd rifle to liven the place up.
Often, these historians suggest the events of the times were the result of Napoleon's personality. Andrew Roberts admires him, because he was a "man of destiny" who "didn't listen to focus groups". So, presumably, he must admire Kim Jong-un and Saddam Hussein in the same way, because say what you want about Saddam, at least he didn't ponce around with focus groups before deciding who to torture.
And Bernard Cornwell said Napoleon needed to keep fighting as he got bored easily. That must be why thousands followed him into battle. They thought, "We'll all freeze to death in the Russian winter but it will stop the old boy getting fidgety and that's even worse."
Then there's the common theory that Napoleon was driven by his complex about being short. He'd walk into the kitchen, stretch and say, "It's not fair, I can't reach the marmalade on the top shelf – that's it, I'm invading Italy."
In any case he was 5ft 6in, which was the average male height at the time, but who among us wouldn't get cross at being a height that would be considered short in 200 years' time?
The story may be more complicated than is conveyed by these accounts, because the battles against Napoleon weren't wars between countries, they were wars between ideas. To the rulers of Europe, Napoleon represented the French Revolution and had to be destroyed. The commander the Duke of Brunswick started things off, declaring the King, who had been overthrown, must be "restored to the rightful place he inhabits by nature", and anyone who didn't co-operate would be "subject to an ever memorable vengeance".
I suppose the explanation for the Duke of Brunswick being that angry is that he must have been only 5ft 5in.
10 historic moments to mark in 2015
10 historic moments to mark in 2015
1/10 Death of Sir Winston Churchill, 24 January 1965

This January will be 50 years since the death of Britain's wartime prime minister, and one of the towering figures of the twentieth century. Alongside defeating the Nazis, Churchill also enjoyed bricklaying, painting and Islamic culture. His death was followed by a state funeral, and thousands of people paying their respects along the route of the cortege to his burial site at Woodstock, Oxfordshire. You can visit the Cabinet War Rooms (020 7416 5000), London, and Churchill's home, Chartwell (07132 868381), Kent, year-round.

Gareth Williams

2/10 Battle of Waterloo, 18 June 1815

No one can claim that nothing important happens in Belgium – this was the site of one of the most famous showdowns in European history. On one side were the forces of Napoleon Bonaparte, self-declared Emperor of France, and on the other the coalition of nations led by the Duke of Wellington. The battle was decisive in curbing the territorial ambitions of the Napoleonic regime. Wellington Arch (020 7930 2726), London, will host an exhibition about the battle. Walmer Castle (01304 364288), Kent, will re-produce the rooms where Wellington spent his final days.

Karen Roe

3/10 Signing of the Magna Carta, 15 June 1215

The signing of the Magna Carta by King John at Runneymede, Surrey, may not be quite the defining event in the history of English liberty as it is sometimes presented. After all, John went on to ignore all of its demands. But the idea that it represented – the principle that kings, as well as subjects, are accountable to the law – is a cornerstone of our constitution. Take part in Magna Carta Trails at Dover Castle and Pevensey Castle. Copies of the document itself can be found at Salisbury Cathedral (01722 555120), Lincoln Castle (01522 782040 – closed until 1 April 2015), and the British Library (01937 546060)

Jack Pease

4/10 Viking invasion of England by Cnut, 1015

"They miserably ravaged and pillaged everything; they trod the holy things under their polluted feet, they dug down the altars, and plundered all the treasures of the church." So Symeon, a monk from Durham, described a Viking raid on Lindisfarne. King Cnut was no doubt equally terrifying when he arrived in Wessex in 1015, but after pillaging he chose to settle. He brought an age of prosperity after a period of warfare between Vikings and Saxons, and established an empire that stretched from England to Scandinavia. Lindisfarne Priory (01289 330733), Northumberland, will host a 'Vikings in Lindisfarne' even on 18/19 July.

Richard Pigott

5/10 First English parliament, 20 January 1265

The story of England's first parliament, much like today's Prime Minister's Questions, is one of squabbles, upheaval and violence. 750 years ago, Simon de Montford, in the midst of civil war against King Henry III, called together an elected body of representatives from across the country in what is thought to be the first meeting of 'the commons'. You can visit Kenilworth Castle (0870 333 1181), Warwickshire, where the forces of Simon de Montford besieged the royalist garrison.

Stephen Jones

6/10 Siege of Carlisle, 1315

700 years ago, the northern edge of England was in constant terror of invasion from the Scots, who regularly came south under the command of fierce warlords. None were more feared than Robert the Bruce, who invaded England after his victory at the Battle of Bannockburn. Having marched into Cumbria, his forces laid siege to Carlisle Castle, in a brutal fight that saw ladders and siege towers used in a futile attempt to capture the fort. Carlisle Castle (01228598596) will host a siege re-enactment on 6/7 July.

7/10 Evacuation of Dunkirk, 27 May to 4 June 1940

It is the triumph that emerged out of disaster – the removal of Allied troops from the beaches of northern France spared thousands of lives and allowed Hitler's enemies to keep on fighting. The evacuation, which took place 75 years ago, has entered folklore on account of the actions of the 'little ships', which rescued soldiers and helped prevent a catastrophic defeat. The Wartime Tunnels at Dover Castle, from which the evacuation was coordinated, can be visited all year round. Dover Castle's (01304 211067) "WWII Weekend" will take place over the late May Bank Holiday (24 May).

Jake Keup

8/10 Agincourt, 15 October 1415

"We few, we happy few, we band of brothers". Henry V's speech in 1415, admittedly invented by Shakespeare, embodies the myth of Agincourt. The small number of English and Welsh archers, standing up against the masses of French knights. Despite being ripped off by generations of football managers hoping for an inspirational team talk, it still holds its power. Porchester Castle (023 92378291), Hampshire, will be holding an event to celebrate the anniversary of the battle in October. More details released at a later date.

David Blaikie

9/10 First World War, 1915

The optimism of 1914 was tempered by the horrors of the following year, when troops settled in for a long slog of trench warfare along the Western Front. Key events which took place 100 years ago this year include the first recorded use of chlorine gas and the start of Zeppelin attacks on England. Meanwhile, Winston's Churchill's failed Gallipoli invasion forced him to depart from the Admiralty. Wrest Park, Bedfordshire, will host a "Wrest at War" weekend. Details released at a later date.

Karen Roe

10/10 VE Day, 8 May 1945

Victory in Europe Day – a public holiday to mark the Allies' formal acceptance of Nazi Germany's unconditional surrender – witnessed an outbreak of street parties across Britain. Huge crowds gathered in Trafalgar Square to hear Churchill's speech broadcast over a tannoy, with one eye-witness noting an "extraordinary hush over the assembled multitude". Audley End (01799522842) will host a WWII weekend event over the August Bank Holiday. Details released at a later date.
Despite the Duke's gently persuading words, support for the revolution spread to become the biggest global movement up to that time. In Britain, the radical Thomas Paine wrote The Rights of Man, calling for an end to the power of the monarchy and aristocracy, and suggesting plans for the vote and a welfare state, including hostels for the homeless, and for the poor to have their funerals paid for by the government.
A Daily Mail front page of the time probably declared, "We uncover the cheats deliberately dying to get their free coffins." Then Liz Kendall insisted, "the books must be balanced before we start clearing up corpses". Paine's book was made illegal, and you could be jailed for owning a copy.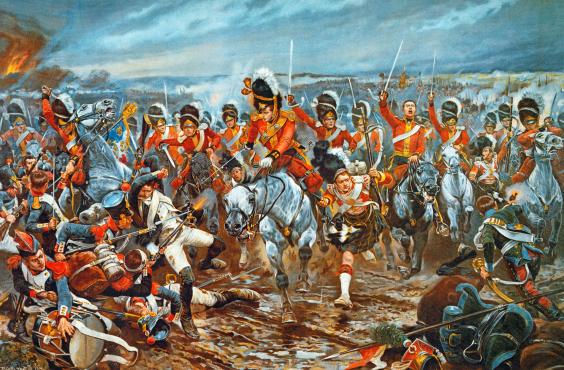 However, it was bought by hundreds of thousands who supported the French Revolution in illegal societies, and the British government responded by sending out thousands of spies, and creating curfews in the most rebellious towns.
After Napoleon seized power in France, the governments of Europe had a single figure they could hate, which always makes things easier. Then Napoleon made himself Emperor, reintroduced slavery, had himself painted like a God, and handed out conquered countries to members of his family, which could, if you were being picky, be said to have compromised the ideals of the Revolution.
By the time he lost at Waterloo to the Duke of Wellington, most of his supporters had become dismayed and disillusioned. The Duke, on the other hand, showed his devotion to the poor and homeless that made up most of the British forces by referring to them as the "scum of the earth".
Conservative historians suggest this doesn't mean he had contempt for them, offering theories such as, "Scum of the earth was an affectionate term back then, and lovers would often sigh 'you're my scummy little scum-scum of the earth' to each other, while they were weaving or being press-ganged into the navy."
But another possibility is that the rulers of Britain at the time of Waterloo did consider the poor to be the scum of the earth. That may be why, in the following years, there were countless marches and riots in support of the vote and for relief for the poor when they were thrown out of work.
Among the most irate were soldiers who had been at Waterloo, as many of them were left destitute after coming back injured, a situation no doubt made worse by them being declared fit for work by Atos, who gave them a musket and said "you've still got one leg, now get back in the Army and invade Prussia".
Four years later the government ordered an attack on a demonstration in Manchester in support of the vote, and 13 protesters were killed, including John Lees, a former soldier who'd fought at Waterloo.
So the government should issue instructions, explaining whether we're supposed to commemorate John Lees as a hero, or condemn him as a troublemaker because it's confusing.
Because Waterloo was one of our great victories, and we should celebrate it every year by burning accordions and firing baguettes out of a canon, and honour the day we defeated the dreadful idea that everyone is born equal, by asking a  random assortment of people who went to Eton to tell us about our history on the television.
Reuse content