Considering how lop-sided a comparison of the two countries' footballing histories would be, you would think that any England supporter would be grateful for even the smallest success against Brazil. A goal as good as John Barnes' at the Maracanã in 1984, then, might seem like it should be greeted with adulation – especially as part of a 2-0 victory.
Not all England fans saw it that way, though. Among those on the flight back to London with the team that had just beaten the world's greatest footballing nation were a group who belonged to the National Front. They told anyone who would listen that they were only celebrating a one-goal win. Barnes' goal, they said, hadn't counted, because of the colour of his skin.
As we consider the consequences of the former Aston Villa player Thomas Hitzlsperger's decision to come out this week, and the fear that stops any of today's gay players doing the same, the distance travelled since those days is a source of hope. Racism is certainly still a problem for English football, but you cannot imagine a modern professional facing the kind of abuse that was routinely doled out to Barnes and his fellow black players. We've come a long way.
The reasons why are instructive. Partly, the change came about because the Football Association started to take racism, and in particular racist chanting, more seriously. Partly, it's a byproduct of a wider social change. But there's a more pragmatic reason, too: in the 1990s, so many good foreign players came into the game that abusing them was simply not compatible with having a hope of success.
Chelsea's notorious hardcore of hooligans, the Headhunters, used to boycott games if a black player was named in the starting XI. By the time their team won the league in 2005, with players like Claude Makelele, William Gallas and Didier Drogba, that attitude wasn't just abhorrent – it was an absurdity, a reaction to a vanished world.
If bigoted fans have had to accept that they haven't a hope of doing well without muting their abuse of black players, they have faced no such reckoning when it comes to homosexuality. In the hermetic world of football, gay people simply don't exist. In this context, Hitzlsperger's decision to come out is an encouraging gesture in the right direction – but, sad to say, it is hard to see it as much of a step. The trouble is, it comes too late to force Aston Villa fans, when he scored with one of his trademark distance shots, to think: that gay guy is brilliant.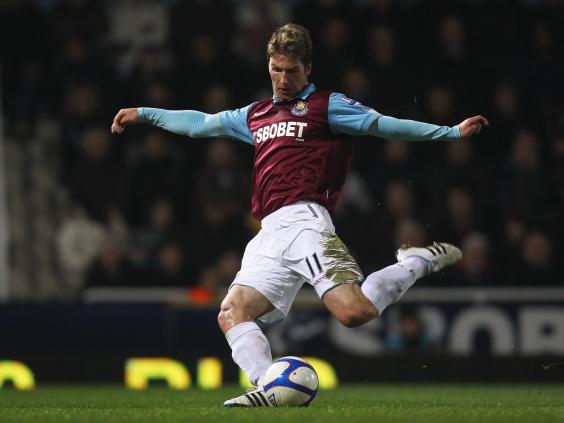 Nor is the problem confined to the fans – indeed, things are by all accounts worse in the bum-slapping, communal-showering, manly-kissing, definitely-not-homoerotic atmosphere of the dressing room, where lots of young men skate so close to gay cliché that their determination to eschew it grows all the greater. You might have hoped, in the aftermath of Hitzlsperger's revelation, for a chorus of approval from the many senior Premier League players on Twitter. What did we get? Arsenal's Lukas Podolski and QPR's Joey Barton, who now plays in the Championship. They both deserve our admiration, but the silence of their peers – the same peers who, to a man, refused to take part in an anti-homophobia video for the FA in 2010 – should be a source of shame.
If Hitzlsperger's announcement has value, it is as another small addition to the support network that awaits the first active, top-flight footballer to come out; there are, one hopes, Premier League players for whom his courageous honesty has made that process seem more plausible. It is a signal of the great distance left to travel on gay rights that I hope fervently that the player – whoever he is – is a brilliant one. It will take a depressingly long time to change the bigots' hearts. But in the meantime, you can always shut their mouths with a 30-yard screamer.
Chris Christie's staff are watching too many movies
If Chris Christie's fate is to be US president, his route just got significantly more complicated, with the statement yesterday: "I am responsible for what happened". The New Jersey Governor was talking about the revelation that members of his staff punished political opponents by causing traffic jams. Christie didn't know about it, he says, but he is taking responsibility anyway. And even if he didn't, it would hang around his neck just the same.
Reading his aides' subpoenaed texts, what is most striking is the exuberant tone. "Time for some traffic problems in Fort Lee," wrote deputy chief of staff, Bridget Anne Kelly, every message relaying a relish for vengeance. It's all self-conscious, glamourised: these are people who watch too many movies. Politics has always been showbusiness for ugly people. And when you feel like you are in a movie, even the ugliest actions seem a justified part of the story of your journey to the top.
Reuse content