Canada is calling. The Great White North is playing to host the 2015 Women's World Cup and the tournament qualifiers are starting to take shape. Team England qualified with ease, breezing through the qualifying rounds with a 100 per cent winning record. Alas, their Welsh neighbours won't be joining them, having suffered a knockout blow on Wednesday, losing 1-0 to Ukraine. Over the past few years, I've learnt to admire the passion and skill of the women's game, not least because I watch with pride as my 12-year-old daughter Esme, a keen footballer, takes to the pitch, training twice a week and playing games every other weekend.
It would be a lie to say that Esme has ever been shy. But a few years ago, as she approached secondary school, my wife and I decided that activities beyond the confines of the school playground would help her build social skills and keep her fit. Swimming club and cycling had already come and gone, but then a friend from primary school introduced Esme to football and Rainbow FC, a mixed-gender children's football team that played in an east London park every Tuesday after school. Within those first few weeks, we began to see a transformation. Esme no longer hung back when she was in a group and she became clearer and more self-assured when expressing opinions. We were convinced that playing football and learning to mix with new people had given her this confidence.
Within two years, Esme was playing for Tottenham Hotspur U11 Blues. She quickly settled into her favoured position of defensive right-back. And she was encouraged by the team's dedicated and ever-supportive coach, Darren Luckhurst, who praised her "crunching tackles and intelligent reading of the game".
Esme was spotted by Karen Hills, the Tottenham Hotspur Foundation women and girls development officer, who also runs the club's Ladies first team. Over a cup tea she tells me about the benefits that come when girls take to the pitch. "Football is great at giving them confidence," she says. "When they feel themselves succeeding in a male-dominated set-up, even at an early age, it makes them feel good about themselves."
When Hills got involved in football in the early 1980s, the opportunities for girls were limited. Football in her school was a boys-only affair, strictly off-limits for girls such as Hills, and she was 18 before she played the game that she had always been passionate about.
Esme couldn't have picked a better time to be involved in girls' football; the sport is going through a boom period. Figures from the Football Association show it is the most widely played sport among women, and overall it's the third most popular sport played in England beaten only by men's football and cricket. During the Olympics, more than 70,000 fans attended Team GB women's match at Wembley against Brazil, and more than one million viewers watched the Women's FA Cup in 2013. And it's worth noting that the Women's Super League is covered extensively on BT Sport, while the BBC shows the English and Scotland Women's national side games, and Eurosport screens women's international tournaments.
Emma Barnes is the London FA Women's and Girls' Football Development Officer, one of 50 officers across the country dedicated to bringing more girls into the game. She says there has been a huge growth in the popularity of the game among girls, with the number of teams entering the FA-approved Capital Girls League rising year on year. Over the past two years, 13 new teams have been added to the league, taking the number from 77 to 90, with the age of the teams ranging from under-nines to under-17s.
When Esme plays, some teams turn up for matches in slick kits and expensive boots. These clubs tend to have the support of the established Premier League clubs such as Tottenham or Arsenal, or of smaller clubs such as Charlton and Notts County, which have strong links with their communities. Other clubs are less well-funded, relying on local sponsorship and fundraising. But what all the players share is a love of the national game, and I have watched these young women kick, run, compete and grow during Esme's time in the sport.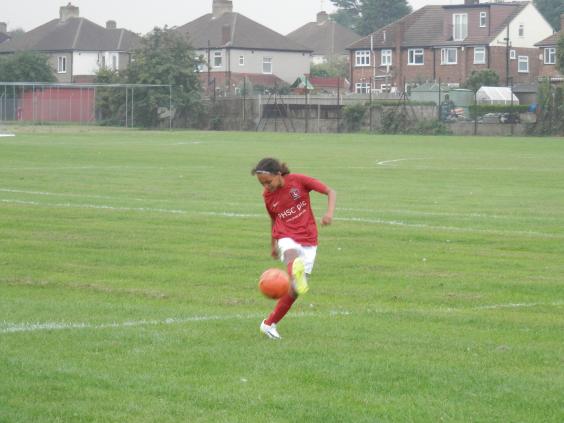 My daughter's development over her year with the Spurs Blues was worth all the cold early-morning starts and agonisingly slow crawls through early-evening traffic. She would looked forward to playing with her team, worrying that she had let them down when she didn't play well and stroking her player-of-the-match award with pride on the drive home after one fine performance.
For Esme, football is more than about the exercise. "I really like playing with my teammates, it gives you a great feeling when you do well," she says. "It makes me want to get better at the game and get fitter too."
And I'm by no means the only dad to follow my daughter's progress with pride. Michael Palfreman's daughter, Mickey, played alongside Esme at Spurs. Standing next to me on the sideline, he'd say: "Isn't it great that our kids are out playing football in the morning, all types of weather, getting fit, learning skills? Better than lying in bed or being on Facebook." I second that.
Esme doesn't know if she wants to be a professional footballer when she grows up. Socialising, pop music and a mountain of Year 8 homework have come into view. But she knows that she wants to be more like England's Rachel Yankey than Rihanna. She's excited about the football season ahead because, after Spurs Blues were disbanded, Charlton Athletic LFC picked her up. She's now playing under Megan Lynch, her first female coach, and as she says: "I like playing with a woman in charge."
Watch her now. She's confident. She has no fears about being the new girl. She wants to tackle. Shoot. Score.
For more information about girls' football go to thefa.com/womens-girls-football
Reuse content