It is only when the opinion polls get it wrong that we realise how much they influence reporting and commentary. I wrote before the election of the problems of "prism" reporting: the tendency of journalists, once a story has become established, to report and comment through that prism. One story of the campaign was that the Conservative campaign was boring, negative and over-controlled. Except when David Cameron made what were agreed to be mistakes, such as saying that he didn't intend to serve a third term. By definition, the Tories were running a bad campaign because the polls said Cameron would lose.
Ed Miliband's mistakes, on the other hand, were indulged, just in case they turned out to be part of the cunning plan. Thus paying obeisance at the court of Russell Brand was a clever device to engage with the disengaged anti-politics crowd. And the limestone monolith of Labour's pledges was – no, that was a ridiculous idea; only for Miliband himself and his aides was the prism distorting enough for them to see it as an effective way of symbolising the seriousness of Labour's intent.
The problem with this prism is that the result of the election came as a surprise, an arbitrary event that made no sense because it didn't fit the story. Literally overnight, the commentary switched from the complications of a hung parliament (thank goodness we won't be hearing the phrase "confidence and supply" for a while now), to the complications of governing with a small majority. It will be terribly hard, all the wise people agreed, to keep the rebellious right wing of the Conservative Party in line.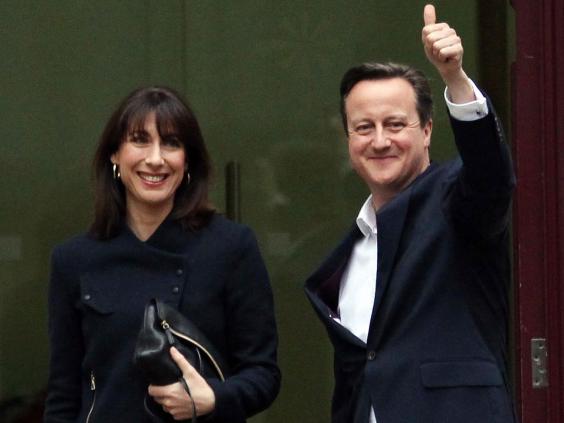 Not only is this wrong – a small majority imposes its own discipline – but we are in danger of missing the big story of this election: that it was a stunning vindication of David Cameron's judgement, his political skill and his One Nation Toryism.
Given that the polls got it wrong, it is now legitimate to quote anecdotal evidence. I know of someone in Twickenham who had filled in a postal vote for Vince Cable, but decided to deliver it to the polling station on the day. Once there, he changed his mind, fearing a Labour government dependent on the SNP would mean economic instability, asked for a new ballot paper and voted Tory. He wasn't so much a shy Tory as a Liberal Democrat voter who hadn't realised he was a Tory until he got to the polling station.
The opinion polls had picked up the worries about a Scottish ramp, but they were made to fit the prism of negative Tory scare stories rather than an equally valid reading, which would have been that Cameron understands the concerns of Middle England. I don't know whether Cameron really thought the polls were wrong, but I was struck during the campaign how confident the people around him seemed. They're either deluded or very good at pretending, I thought.
Best General Election 2015 quotes
Best General Election 2015 quotes
1/10 1. "Am I tough enough? Hell, yes, I'm tough enough."

Ed Miliband bats away suggestions he would be too weak on the international stage. It likely to go down as one of the quotes we remember this election by.

Matthew Lewis/Getty Images

2/10 2. "If I'm getting lively about it, it's because I feel bloody lively about it."

David Cameron attempts to prove how passionate he is about wanting a second term as Prime Minister after Tory donors criticised his lack of enthusiasm.

AFP

3/10 3. "Oh it's crats? I thought it was Liberal Demo-cats"

Reality TV star Joey Essex is taught a thing or two during his meeting with Nick Clegg.

PA

4/10 4. "Brain fade"

Green party leader Natalie Bennett gave what was described as the "worst political leader's interview ever" on LBC Radio as she fails to answer how the Greens would pay for its ambitious housing policies.

LBC/YouTube

5/10 5. "We're a shining example of a country where multiple identities work. Where you can be Welsh and Hindu and British, Northern Irish and Jewish and British, where you can wear a kilt and a turban, where you can wear a hijab covered in poppies. Where you can support Man Utd, the Windies and Team GB all at the same time. Of course, I'd rather you supported West Ham"

David Cameron experienced his own brain fade when he forgot which football team he supported.

Getty Images

6/10 6. "This is a real career-defining … country-defining election that we face in less than a week's time"

The Prime Minister made another gaffe when he made it sound like the election was all about himself.

BBC

7/10 7. "Ed Miliband stabbed his own brother in the back to become Labour leader. Now he is willing to stab the United Kingdom in the back to become prime minister."

Defence Secretary Michael Fallon launched a vicious personal attack on Ed Miliband.

PA

8/10 8. "Ajockalypse Now."

The colourful term used by Boris Johnson to describe a Labour government propped up by the SNP.

JUSTIN TALLIS/AFP/Getty Images

9/10 9. "The SNP are openly racist. The anti-English hostility, and the kind of language that is used about and towards English people, is totally extraordinary."

Nigel Farage launches an attack on Nicola Sturgeon and her SNP party.

AFP/Getty Images

10/10 10. "Terms are like Shredded Wheat. Two are wonderful, three might be too many."

David Cameron rules out a third term as Prime Minister.

Getty Images
Paul Goodman, the journalist and Tory former MP, quoted a senior current MP on election night: "Been saying to journalists for months that we'd win outright. [Pause.] Didn't believe a word of it." Cameron himself seemed diffident, possibly because he was trying not to appear arrogant, saying that, if he lost, he wanted to lose "fighting an election that everyone agrees is the right election to fight".
Well, the commentators thought he had fought the wrong campaign. This commentator said that, if he lost, it would be because he had allowed Labour to outflank him on non-dom tax status, reviving the greater mistake of appearing to be the party of the rich by cutting the top rate of income tax. But he didn't lose. Maybe his campaign wasn't that good, but Labour's was worse. In the end, the election was a choice between Cameron and Miliband, which was not just a choice between two different characters but between a traditional Conservative Party and a traditional Labour Party. As Tony Blair said, that always ends in the traditional result.
It wasn't just the playing up of SNP power in a hung parliament and the message discipline on the economy. Cameron has a much greater achievement to his name: he has finally detoxified the Tory party. We hadn't realised it over the past five years, because the prism, set by the polls, was that the party could not escape its poisonous reputation. The process is not complete, because shy Tories did not want to admit, some of them even to themselves, that they were voting Tory. But we thought that the Tory party could not expand its appeal; that no government could increase its share of the vote after a full term, especially not in such slow-growing economic times.
Cameron could and did. Overnight, he has transformed from the one-term mechanic called round to fix the deficit, who couldn't even do that, into a 10-year prime minister who can stamp his personality on the nation. It is time to change our perception filters.
Reuse content