A thrown World Series, players gambling on games, the rampant use of steroids. To baseball's already compendious list of scandals must now be added one that could potentially top the lot: allegations that one team hacked into the top secret computer systems of one of its rivals.
And not just any team. The franchise under FBI investigation is the St Louis Cardinals, one of baseball's most venerable and successful teams, second only to the New York Yankees in terms of World Series won, and owners of the best record in baseball as the 2015 season nears its midpoint.
All that, however, has suddenly been overshadowed by allegations that Cardinals executives illegally gained access to the Houston Astros' IT network, revealing private and super-sensitive information that could be of great advantage to a competitor. It's a crime that could mean months, even years, in jail for anyone convicted of the offence.
But why the Astros, who of late have been one of the sport's basement teams? The answer, investigators suspect, lies with Jeff Luhnow, formerly a Cardinals executive and now the Astros' general manager, thus in charge of the franchise's baseball operations.
In his St Louis days, Luhnow was a divisive figure, both for his habit of self-promotion, and because of his belief in the arcane statistics that now consume the sport, born of data crunching that analyses every facet of a player's game, and the use of algorithms to predict future performance.
Forbes' highest paid athletes - top 25
Forbes' highest paid athletes - top 25
1/24 25) Carmelo Anthony (basketball)

$30.5m (£19.45m)

Getty Images

2/24 =23) Neymar (football)

$31m (£20.06m)

GETTY IMAGES

3/24 =23) MS Dhoni (cricket)

$31m (£20.06m)

GETTY IMAGES

4/24 22) Rafael Nadal (tennis)

$32.5m (£21.03m)

AFP/Getty

5/24 21) Sebastian Vettel (F1)

$33m (£21.36m)

Getty Images

6/24 20) Derrick Rose (NBA)

$33.9m (£21.94m)

USA Today

7/24 19) Jon Lester (baseball)

$34.1m (£22.07m)

Getty Images

8/24 18) Gareth Bale (football)

$35m (£22.65m)

Getty Images

9/24 17) Fernando Alonso (F1)

$35.5m (£22.97m)

Getty Images

10/24 16) Ndamukong Suh (NFL)

$38.6m (£24.98m)

Getty Images

11/24 14) Zlatan Ibrahimovic (football)

$39.1m (£25.30m)

12/24 13) Novak Djokovic (tennis)

$48.2m (£31.19m)

GETTY IMAGES

13/24 12) Rory McIlroy (tennis)

$48.3m (£31.26m)

GETTY IMAGES

14/24 11) Ben Roethlisberger (NFL)

$48.9m (£31.65m)

Getty Images

15/24 10) Kobe Bryant (NBA)

$49.5m (£32.03m)

AP

16/24 9) Tiger Woods (golf)

$50.6m (£32.75m)

Getty Images

17/24 8) Phil Mickelson (golf)

$50.8m (£32.88m)

Getty Images

18/24 7) Kevin Durant (NBA)

$54.1m (£35.01m)

Getty Images

19/24 6) LeBron James (NBA)

$64.8m (£41.94m)

AP Images

20/24 5) Roger Federer (tennis)

$67m (£43.36m)

GETTY IMAGES

21/24 4) Lionel Messi (football)

$73.8m (£47.76m)

Getty

22/24 3) Cristiano Ronaldo (football)

$79.6m (£51.51m)

Getty Images

23/24 2) Manny Pacquiao (boxing)

$160m (£103.55m)

Getty Images

24/24 1) Floyd Mayweather (boxing)

$300m (£194.15m)
But when Luhnow switched to Houston with some of his colleagues, they apparently forgot an elementary precaution. Instead of changing their passwords, they took them to their new team. There is reported evidence that officials of the Cardinals hacked the Astros, seeking to undermine Luhnow.
Unlike hacking blamed on the Chinese, the break-in to the Astros' system, known as Ground Control, thus appears to have been anything but sophisticated. What is not clear is just how high in the Cardinals organisation the alleged wrongdoing extends. The signs for now are that only junior executives were involved.
Both the team and Major League Baseball, the sport's governing body, say they are co-operating with the investigation, which has been ongoing since late 2013. But they are providing no details. "There's the question of who did it," Rob Manfred, the MLB commissioner, said. "Who knew about it? Is the organisation responsible? Is the individual responsible? There's a whole set of issues that are needed to be sorted through."
Even so, some are comparing the potential scandal to the infamous 1919 World Series, thrown by players of the Chicago White Sox in return for payments from a gambling syndicate led by the racketeering businessman Arnold Rothstein. In that case, eight players were acquitted in court, but banned from the game for life.
The news has come as a particular shock in St Louis, proud to the point of smugness about its baseball team – the so-called "model franchise" – which is the city's defining institution, but which now, in the words of a columnist of The St Louis Post Despatch, is "swimming in the deep end of scandal".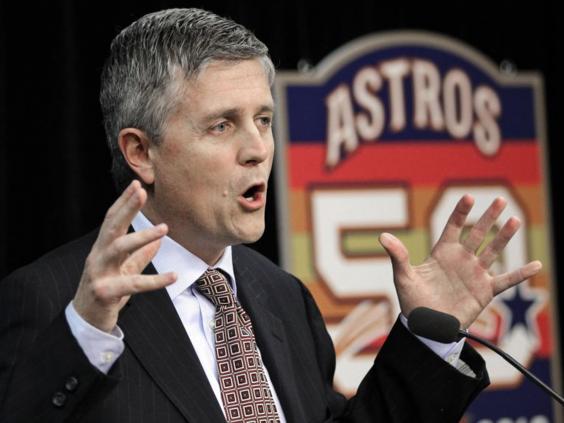 On-field information stealing – decoding the signs to denote what kind of pitch is coming – is part of baseball. But this is different. The scandal that perhaps comes closest to this one occurred in 2007 in the National Football League when the New England Patriots – as successful as the Cardinals in their sport – were caught video-taping signals by opposing coaches. That case resulted in a $500,000 (£314,000) fine, but no criminal charges.
The alleged hacking is, if anything, worse – not to mention the fact that it constitutes a criminal offence. The information that may have been accessed would provide precious insights into how a rival operated, what it thought of its own players and those of other franchises.
But it remains unclear whether the hacking was a deliberate plot to secure such information, or merely an underling's vengeful prank.
Reuse content