Did anyone say "lame duck"? This was supposed to be when Barack Obama hit rock bottom, in the final stages of his second term, with the Republicans in complete control of Congress, attention switching to the next battle for the White House in 2016, and a President reduced to virtual irrelevancy. The perfect season, in short, for limping waterfowl.
Instead, the past couple of months have been among his best in office. Congress granted him sweeping powers to negotiate trade deals with Europe and Asia. The Supreme Court saved his healthcare reforms, the signature achievement of his first term, and for good measure made same-sex marriage the law of the land, a step supported by the administration. As for the Republicans in Congress, they're all over the shop, split between pragmatists who want to get things done and Tea Party zealots.
Capping it all, after years of painstaking negotiations, the "lame duck" secured an agreement to limit Iran's nuclear programme. The deal may go wrong: Tehran may yet end up with the bomb. But for once the epithet "historic" truly applies. And now another landmark achievement beckons: bipartisan legislation on sentencing and prison reform that would overhaul the US justice system and help correct arguably the country's greatest social injustice.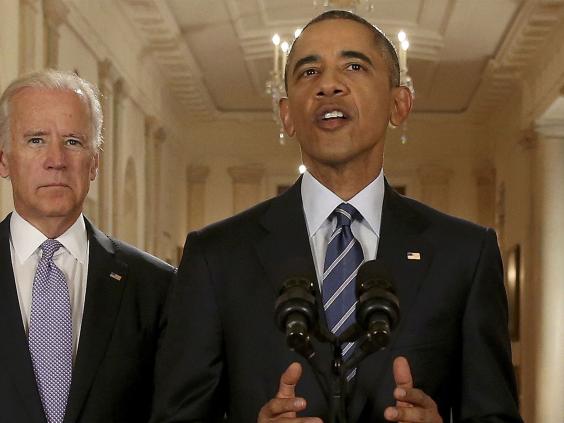 America accounts for 5 per cent of the world's population and 25 per cent of its prison population. It wasn't always like that. In the late 1970s, the US jailed about the same proportion of its citizens as other advanced countries. Then several things happened.
Various "experts" concluded that rehabilitation of prisoners simply wasn't working. Recidivism was soaring – ergo, build more prisons and hand down longer sentences to solve the problem. A sharp increase in violent crime, not least crimes involving drugs, added weight to this theory.
Laws were passed by Congress and various states stiffening sentences, including those for relatively minor drug offences, as well as the infamous "three strikes and you're out" provision for repeat offenders. When I first arrived in Washington in 1991, "law and order" was the hot-button issue of the day. Three years later, Bill Clinton signed a bill that tightened the screws further.
The results are there for all to see: a 500 per cent jump in the total of federal and state prison inmates since 1980, compared with an overall population increase of 46 per cent. Needless to say, the measures bore down on the black population with particular severity: for every two African-Americans at university today, there is one behind bars. But however many prisons were built, they couldn't keep up with the demand. Hence rampant overcrowding, and the overuse of solitary confinement for prisoners deemed troublesome or mentally impaired.
But in 2015, the picture is transformed. Violent crime rates are back where they were in the early 1970s. Wholesale incarceration is doubtless one reason for the decline. But there are others: an ageing population, ever more ubiquitous security (and mobile phone) cameras, more effective policing techniques, and conceivably even the removal of lead – known to cause lower IQs and other behavioural abnormalities – from paints and petrol.
In pictures: Timeline of US and Cuba relations
In pictures: Timeline of US and Cuba relations
1/19 Cuba timeline

July 1953: Fidel Castro begins a revolutionary campaign against the regime of Cuban President Fulgencio Batista

2/19 Cuba timeline

January 1959: Castro and Che Guevara enter Havana after a successful final offensive. Batista flees, and Castro becomes prime minister, ruling by decree

3/19 Cuba timeline

October 1960: Castro's reforms sees hundreds of US businesses in Cuba nationalised and their owners not compensated. In December, US US breaks off diplomatic relations and imposes a trade embargo

4/19 Cuba timeline

April 1961: Cuban exiles launch the Bay of Pigs invasion with US backing

5/19 Cuba timeline

October 1962: A 13-day confrontation known as the Cuban missile crisis begins when Castro allows the USSR to deploy nuclear missiles on the island. Generally regarded as the closest the world has come to nuclear war

6/19 Cuba timeline

1962: US President John F Kennedy signs off a naval blockade

Getty Images

7/19 Cuba timeline

April 1980: A sharp downturn in the Cuban economy and Castro temporarily lifting restrictions sees around 125,000 people, many of them released convicts, flee to the US

8/19 Cuba timeline

February 1996: Cuba shoots down two US aircraft operated by Miami-based Cuban exiles, prompting the US to make its trade embargo permanent

9/19 Cuba timeline

June 2001: The case of the "Cuban Five" begins, as five spies in Miami are convicted of providing intelligence to the Havana government

10/19 Cuba timeline

Nov 2001: US sells $30m of food to the Cuban government to assist in the aftermath of Hurricane Michelle, which killed 22 people, the first food export between the countries for more than 40 years

11/19 Cuba timeline

Oct 2003: US President George W Bush announces fresh anti-communist measures, including tightening the travel embargo and creating a new government body, the Commission for Assistance to a Free Cuba

12/19 Cuba timeline

Aug 2006: President Bush seizes the opportunity of President Castro's illness and a handover of powers to Raul Castro, urging Cubans to work towards democratic change

13/19 Cuba timeline

Feb 2008: Raul Castro officially takes over as president. Washington responds by saying its trade embargo will remain in force unless free and fair elections are held

14/19 Cuba timeline

Dec 2008: A poll by Florida International University suggests for the first time that a majority of Cuban-Americans living in Miami want an end to the embargo

15/19 Cuba timeline

April 2009: President Obama lifts restrictions on family travel to Cuba

16/19 Cuba timeline

Dec 2009: US aid worker Alan Gross is detained in Cuba on suspicion of spying for Washington

AP

17/19 Cuba timeline

Nov 2010: American Ballet Theatre performs in Cuba for the first time in 50 years, the most high-profile in a series of cultural exchanges

18/19 Cuba timeline

Sep 2012: Cuba hints at its willingness to do a deal with Washington on the Gross case

19/19 Cuba timeline

December 2013: President Obama and Raul Castro shake hands at the memorial service for Nelson Mandela. Castro says in English: "Mr President, I am Castro." It was hailed in Cuba as "the beginning of the end" for what were then described as "US aggressions"
To be fair, several states have already acted to reduce their prison populations, even some in the South, traditionally the region most wedded to "law and order". Compassion may be part of the explanation. But so too is simple economics. Keeping a petty drug offender behind bars costs $30,000 a year. Multiply that by a few thousand, and you're talking real money – money that would be far better used improving schools and helping freed prisoners reintegrate into society.
But states alone can do only so much. No trumpet matches that of the president, and Obama has been blowing his non-stop. On Monday, he commuted the sentences of 46 non-violent drug offenders, some of them serving sentences of 20 years or more. The next day he went before the NAACP, America's most venerable civil rights group, to denounce a justice system "skewed by race and wealth", and urge an end to minimum sentencing for non-violent drug crimes. As for solitary confinement and prison rape, they had "no place in a civilised country".
Then on Thursday, he did what no US president has done before him, and stepped inside a federal jail. True, the El Reno Correctional Institution in El Reno, Oklahoma is no "super-max" for the "worst of the worst". But the symbolism of the occasion was powerful enough. For 45 minutes he sat down with half a dozen inmates. "There but for the grace of God…" said the President, who has admitted using marijuana and trying cocaine as a student. The difference was, he noted, that thanks to strong family and community support, he found his way to Harvard Law School – not El Reno jail, or worse.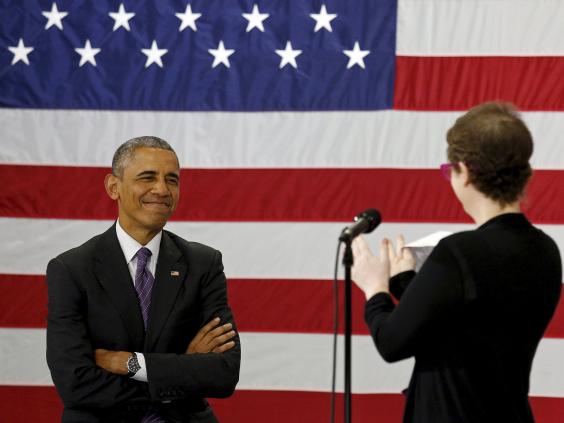 But the really heartening news is that something may actually happen, even in polarised Washington. Among conservatives, support is widespread. House Speaker John Boehner backs reform. So do even the Koch brothers, Charles and David – normally Exhibits A and B in Democratic demonology, as ruthless industrialists pouring billions into Republican efforts to regain the White House.
Other backers include several GOP presidential contenders, notably Rand Paul and Chris Christie. As for Democrats, they are united behind their President. Hillary Clinton urges an end to the "incarceration generation", and her husband admitted that the 1994 law he signed was a mistake.
And there's even a draft bill in the House of Representatives, called Safe (the Safe, Accountable, Fair and Effective Justice Act) that would reduce punishment for minor drug offenders, allow judges discretion in sentencing and use money saved for giving prisoners a real chance of rehabilitation. Safe isn't perfect, but it or something akin to it has a real chance of passage. Not bad for a lame duck.
Reuse content