There is nothing subtle about the image that hits visitors stepping into the Lazarides Rathbone gallery just off Oxford Street. It depicts a black man, in a monochrome print, locking you into a stare before your eyes shift to the object he is brandishing. "That's probably one of my favourite pieces," says Steve Lazarides, a smile breaking out across his lean face. "You can tell people's attitudes to prejudice very quickly with that one. They go, 'Jesus! He's holding a gun!' And you go, 'Nah! It's a camera'."
For Lazarides, who is walking me through the Fitzrovia townhouse showcasing his tenth-anniversary exhibition, the piece, by the French photographer JR, is a useful lesson in not stereotyping. Lazarides is particularly sick of people typecasting the likes of JR as street artists, which is possibly a bit rich. JR might have made his name tagging Parisian streets, but Lazarides made his own by championing his work, along with that of other "street" artists, in his gallery.
Culture news in pictures
Culture news in pictures
1/30 27 May 2016

An image of an indigenous Australian man is projected onto the sails of the Sydney Opera House during the opening night of the annual Vivid Sydney light festival in Sydney

Reuters

2/30 26 May 2016

A woman walks on steps lined with plastic cups, an art project of four college students, in Wuhan, China

Reuters

3/30 25 May 2016

A view of the Pyramid of the Louvre museum covered with a gigantic black and white trompe l'oeil photo of the Louvre building by French artist JR in Paris. The exhibition 'Contemporary art JR at the Louvre' runs from 25 May to 27 June

EPA

4/30 24 May 2016

Artist paints a reproduction of one of the vincent Van gogh's painting for the 'Loving Vincent' film in Wroclaw, Poland. 'Loving Vincent', the world's first fully painted animation feature film, will be about the life and death of the Dutch famous painter Vincent van Gogh

EPA

5/30 23 May 2016

John Oliver, Jimmy Fallon and Jennifer Lawrence during a taping of "The Tonight Show Starring Jimmy Fallon" in New York City

Getty Images

6/30 22 May 2016

French Moroccan director Houda Benyamina (C) poses with the Camera d'Or next to actresses Jisca Kalvanda (L), Oulaya Amamra (2ndL) and Deborah Lukumuena (R) at the Palme D'Or Winner Photocall during the 69th annual Cannes Film Festival

Getty Images

7/30 21 May 2016

Swedish artist Andreas Englund signs one of his murals at the Urban Nation museum for urban contemporary art, in Berlin

Getty Images

8/30 20 May 2016

(L-R) Autor Tom Brokaw, Legion of Honor's Grand Chancellor General Jean-Louis Georgelin, Actor Tom Hanks, Ambassador of USA in France, Jane D. Hartley and Doctor Gordon "Nick" Mueller attend Tom Hanks, Tom Brokaw & Gordon "Nick" Mueller receive the Legion d'Honneur Medal at Palais de la Legion d'Honneur in Paris

Getty Images

9/30 19 May 2016

Visitors study work by Tod Papageorge in the gallery areas at the "Photo London 2016" event at Somerset House in central London. Featuring work from some of the world's most respected photographers, the event is aiming to put London on the map as the global city of photography

Getty Images

10/30 18 May 2016

A view of the building that will house planned Urban Nation - Museum for Urban Contemporary Art in Berlin. The street art museum is scheduled to open in 2017

EPA

11/30 17 May 2016

Kate Morais looks at the 'Colossal statues of a king and a queen' (283-246 BC) - which are reflected in a display cabinet glass - which stand over five meters tall during a preview of the 'Sunken Cities: Egypt's Lost Worlds' exhibition at the British Museum in London. This is the museum's first large scale exhibition of underwater archaeological finds and tells the story of two lost Egyptian cities and their recent discoveries beneath the Mediterranean, excavated off the coast of Egypt near Alexandria between 1996 and 2012

Getty Images

12/30 16 May 2016

Kurt Cobain's Univox electric guitar played and destroyed by Cobain at Nirvana's 13 July 1989 concert at Maxwell's in Hoboken, New Jersey is displayed during Julien's Auction Music Icons Press Exhibition at Hard Rock Cafe, Times Square in New York City

Getty Images

13/30 15 May 2016

Cast of the "From The Land Of The Moon (Mal De Pierres)" attend the premiere during the 69th annual Cannes Film Festival at the Palais des Festivals

Getty Images

14/30 14 May 2016

Jamala representing Ukraine with the song "1944" celebrates with the trophy after winning the final of the Eurovision Song Contest 2016 Grand Final in Stockholm

Getty Images

15/30 13 May 2016

A mural on a restaurant wall depicting US Presidential hopeful Donald Trump and Russian President Vladimir Putin greeting each other with a kiss in the Lithuanian capital Vilnius. Kestutis Girnius, associate professor of the Institute of International Relations and Political Science in Vilnius university, said: "This graffiti expresses the fear of some Lithuanians that Donald Trump is likely to kowtow to Vladimir Putin and be indifferent to Lithuanias security concerns. Trump has notoriously stated that Putin is a strong leader, and that NATO is obsolete and expensive"

Getty Images

16/30 12 May 2016

People visit the artwork titled Seven Magic Mountains by artist Ugo Rondinone, near Jean, Nevada. The artwork was recently completed in the desert south of Las Vegas

AP

17/30 11 May 2016

Justin Timberlake attends the "Trolls" Photocall during The 69th Annual Cannes Film Festival

Getty Images

18/30 10 May 2016

Curator Ben Russell poses with a 2.4 meter robot called Cygan, built in 1957, on display at the Science Museum before announcing a new robot exhibition for 2017

Getty Images

19/30 9 May 2016

A Palestinian artist paints a graffiti on a wall of the United Nations school of Beit Hanun, in the northern Gaza Strip

Getty Images

20/30 8 May 2016

Jon Snow collects the award for best news coverage on behalf of Channel 4 during the House of Fraser BAFTA TV Awards 2016 at the Royal Festival Hall in London

PA

21/30 7 May 2016

Illustration View of the 'Empires' exhibition of Huang Yong Ping as part of Monumenta 2016 to Grand Palais from 8 May till 18 June 2016

Getty Images

22/30 6 May 2016

People, including Russian servicemen, attend a concert of Mariinsky Theatre in the amphitheatre of the Syrian city of Palmyra, Syria

Reuters

23/30 5 May 2016

A child looks at an artwork titled 'Bi-lateral Relations' by Uruguay artists Fernando Foglino and Valentina Cardellino during the Latin America and Caribbean Art Festival Visual Art Exhibition 2016 at the World Art Museum of the China Millennium Monument in Beijing. The exhibition runs until 26 May, and is part of joint activities to mark the China-Latin America and Caribbean Cultural Exchange Year

EPA

24/30 4 May 2016

(L-R) David Furnish, Lady Gaga and Macy's CEO Terry J. Lundgren attend Love Bravery by Lady Gaga and Elton John Launch at Macy's Herald Square in New York City

Getty Images

25/30 3 May 2016

The Hofburg palace is illuminated by a projection of Viennese artist Viktoria Coeln for the project Dystopia Eutopia in Vienna, Austria

AP

26/30 2 May 2016

A visitor looks at paintings by Yemeni female artists displayed at a gallery during an exhibition entitled Women Creativity for Peace in the capital Sanaa

Getty Images

27/30 1 May 2016

A man looks at an art piece during the Oshtoora festival in an open desert north Fayoum, Egypt. Oshtoora festival, or "A temporary sate," is held only once a year in a different locations within Egypt. The festival is based on expression of music, arts, and cultures in an open natural environment

AP

28/30 30 April 2016

Actress Lupita Nyong'o attends "Eclipsed" To Launch A Dedications Series In Honor Of Abducted Chibok Girls Of Northern Nigeria at Golden Theatre in New York

Getty Images

29/30 29 April 2016

Kabuki actor Shido Nakamura (in red) performs in a final dress rehearsal for the kabuki theatre show 'Hanakurabe Senbonzakura' in Tokyo, Japan. The latest digital technology kabuki theatre piece 'Hanakurabe Senbonzakura' is part of the Niconico Chokaigi festival in Tokyo. The festival was organized by video website Niconico, combining Kabuki, a traditional Japanese theatre art and cutting edge animation technology, co-starring kabuki superstar Shidou Nakamura and the popular virtual idol Hatsune Miku

Getty Images

30/30 28 April 2016

Members of the Australian ballet perform in the scene from "Scent of the Love" during the dress rehearsal for the national premiere of Symphony in C that comprises of five short ballet works at the Opera House in Sydney

Getty Images
Of those, none stands out more than Banksy, the graffiti legend whom Lazarides, who is 46, fell into representing in the late 1990s, long before anyone had dreamt that street art might become a thing that merited serious consideration, let alone being displayed in a gallery. Although the pair, both from Bristol, parted company nearly nine years ago, Lazarides knows he will forever be known as Banksy's ex-gallerist. "I'm past caring," his suited shoulders shrug from the sofa where he is sitting on the top floor of the gallery. "When we split up, I can remember to this day the conversation I had with him: 'We could live to be 150 and we're still going to get stuck in the same sentence.'"
The detail of the duo's falling out remains a mystery but there seems to be no love lost on either side. "I saw him at a Massive Attack gig last Friday, but maintained a healthy distance," Lazarides says. Seven Banksy pieces, including Gangsta Rat and Toxic Mary prints from Lazarides's own collection, hang on the second-floor walls, along with works by Oliver Jeffers, Sickboy, and Scott Campbell. Together they comprise "Still Here", the provocatively titled show that marks a decade of Lazarides the gallerist, and yes, he says, it is a "little bit of a fuck-you" at the rest of the art world.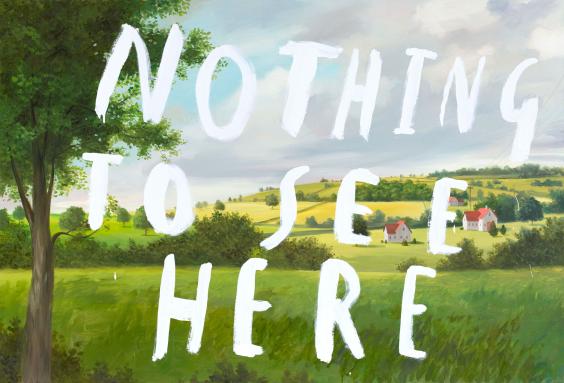 "It's a miracle that we are still here," he grins. "Every step of the way we were told by the art world that what we were doing was impossible, and it would never work. But you know, we're still here." By "it", he means rehoming art from the streets in a gallery, for all that he grimaces at calling the men – and women, but mostly men, "I have no idea why" – he represents "street artists".
The son of a Greek-Cypriot kebab > shop owner and an English mother, Lazarides ("Laz" to his mates) can play the non-conformist because he is one. Growing up, art for him only existed on the outside of buildings. Showing me around the exhibition, he pauses at some canvases by Robert "3D" Del Naja, the Massive Attack singer-cum-graffiti artist. "He's really the reason I got started. I used to get the bus in from the estate I lived in to go and see his graffiti. Way before he started his idiotic pop band!" Later, chatting by telephone, he tells me that one of his friends was a "kid called Inkie", another of the Bristol graffiti alumni. They used to hang out in the 1980s at Barton Hill boys' club, now a boxing club. "It felt like a community; we were kids from humble backgrounds and this belonged to us. These guys were going out and making rough places pretty."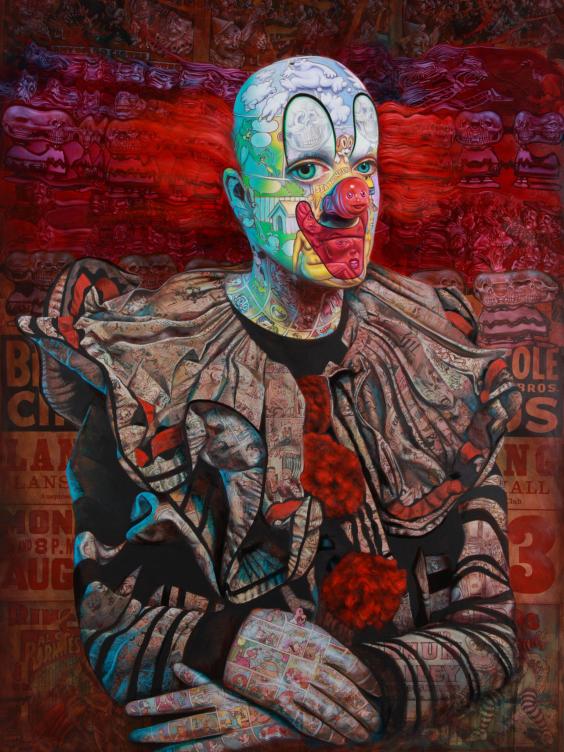 And now, those guys are making a living because people are splashing serious cash on their work: fans include Brad Pitt and Christina Aguilera. Fellow gallerist Oliver Cox, who owns west London's Graffik, says street artists owe their popularity to Lazarides, who gave them a "platform to exhibit commercial works". Cox calls Lazarides's contribution to the scene "immense", adding: "He pioneers artists in the early stages of their careers, Banksy being just one example, which shows what a great eye he has for emerging talent." And – Banksy aside – they are grateful. Jonathan Yeo, the portrait painter, calls Lazarides the "most influential figure in the street art movement" after Banksy. Lucy McLauchlan, whose work features in "Still Here", says Lazarides encouraged "adventure and freedom – much needed when you're trying to make sense of collating 'street' works into an indoor exhibition space". The upshot, adds 3D, is that "art's no longer the preserve of the middle class and the wealthy".
When I arrive, Lazarides is cleaning himself up after being turned into a piece of art for the photo shoot. It reminds him of his former life as a photographer. "I shot a bunch of people for The Independent magazine. It was the biggest commission you could get." He blagged his way on to a photography course, passing off his friend's dad's amateur portfolio ("it was as shit as you could possibly get, all half-clad women") as his own. "I recently saw the guy who interviewed me, and he said the only reason they took me on was because they figured anyone who was willing to lie that badly was willing to work really hard."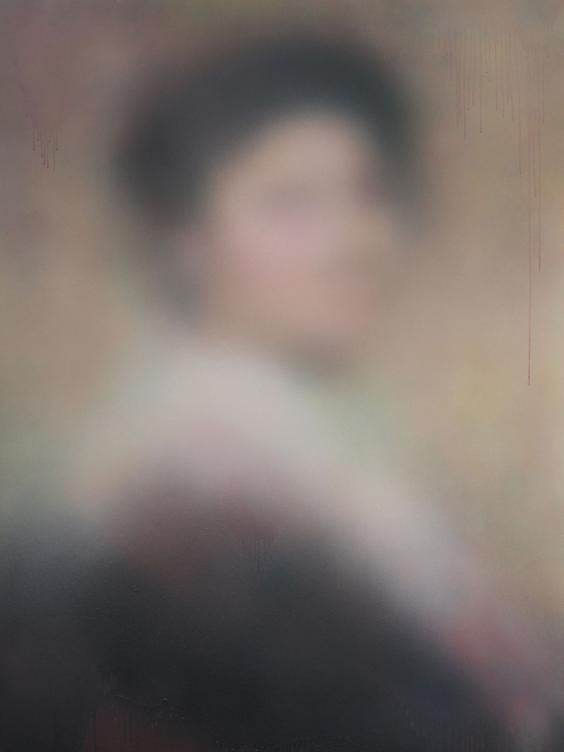 He was the picture editor for the magazine Sleazenation when he met Banksy, and started selling his prints from the back of his car. "I've always called myself the accidental art dealer because this isn't really what I ever planned on doing. But I had a driving ambition to show people that you can do things differently. I want people to think that you don't have to be a lord or a lady to open up a gallery. That elitist nature [of the art world] puts so many people off. This is supposed to be a fun experience. It's art, for fuck's sake. Not oil, guns, or diamonds."
Art world rants aside ("Don't get me started on Frieze [the art fair]. I hate Frieze. It's a tent. In a park. That sells art. Not a cultural phenomenon."), Lazarides is way less grumpy than I'd expected from his social media tirades. He is "anti-dog shit"– who isn't? – and "anti-prejudice", hence his passion for JR's work. And, naturally, isn't keen on being pigeonholed. "We always get pegged as being a street art gallery and we never were, it's just that we represented the very best of what was out there. At the same time, we had Jonathan Yeo and Antony Micallef, so it was always a mixture of painters and street artists. It was more a mindset than anything else. A lot of them had been shunned by the traditional art world and come into it their own way."

Lazarides, who is wearing a slick suit and silk camouflage shirt, thinks the epithet risks trivialising the art. "I get sick of seeing the 'street art' tag in brackets next to artists like JR. These guys are just artists. They don't need to be ghettoised." And yet even Lazarides "sticks with the street art thing, because it's easy" despite preferring "contemporary art". He adds: "I think 'street art' was a term used by the art world to make it feel like it was children's art." There is certainly nothing infantile about the prices street artists can fetch. Banksy's Keep It Spotless, a collaboration with Damien Hirst, holds the record with a whopping $1.9m (£1.6m) in 2008. And an urban art sale by Bonhams last year raised some £750,000.
It's the day of the pre-opening party and Bob Marley is blasting out during an > extended soundcheck. Never one to miss an excuse for a bash, it's also the morning after the pre-pre-opening party Lazarides decided to throw when he learnt that there were no fewer than 1,000-plus people on tonight's guest list. No longer a "mad party kid", ditching the booze means he is spritely and fresh-faced, splattering me with his opinions much as the Italian Miaz Brothers splatter their canvases with spray paint. For all that his reputation is as a self-promoting "chancer" – to quote friend and collector, the chef Tom Kerridge – he is discreet about the previous evening's revellers. He omits to brag that Janet Jackson was there, something the tabloids reveal. The singer is married to the genre's latest and greatest acolyte: the Qatari billionaire Wissam Al Mana. The fashion tycoon recently bought a stake in the gallery.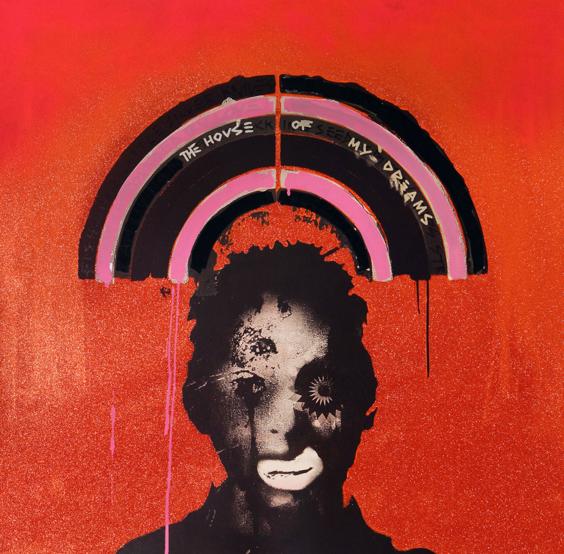 Lazarides strokes his head for the umpteenth time, electric with nervous energy. "I've amazingly found an investor. It's a good story. He turned up one Monday, and we're closed on Mondays so my young assistant came upstairs and was like, 'This guy's just been here but I've sent him away.' I'm like, 'Why are you up here?' And he's like, 'Well, he gave me his card, and he seems to be a Qatari billionaire.' So I phoned him back and he came in. Things got very, very tight. I'd always wanted to expand the business; I could only get it to a certain level on my own. So I sent him a cheeky email, 'Do you fancy investing?' and he was like, 'Send me your books'." Lazarides calls them "the odd couple": the tycoon and the "kid from quite a humble background", but insists they have a "similar mindset".
If a Gulf Arab investor and a mooted move west to Mayfair jars with the cultivated edgy vibe of a man who represents outsiders, well, Lazarides isn't bothered. He reckons the cash injection and new address will help buyers take his artists seriously. "These guys deserve to be seen properly; unfortunately that's seen as success by quite a lot of people." Plus moving to the "heartland of contemporary art", as the Art Fund describes Mayfair, means he can play the maverick card from within the establishment. "I want to shake it up! It's so boring. Places like Cork Street have been dying on their ass for years," he adds in his soft West Country burr, his hands gesticulating wildly.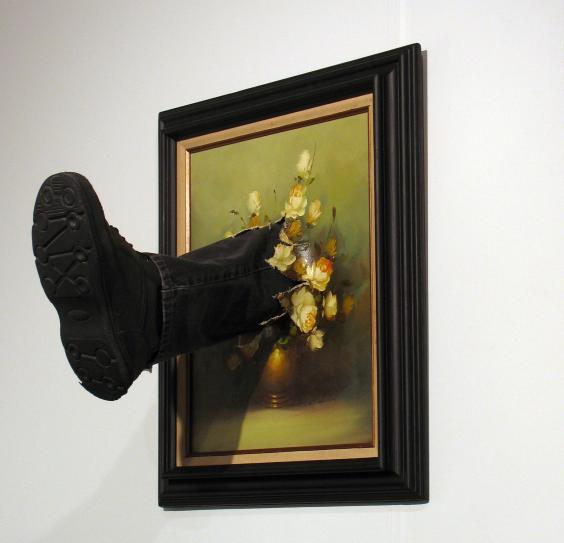 Is this the end, then, of street artists? The end of the "outsiders living in a parallel art world outside the mainstream", as he once called them? Or of what critic Jonathan Jones, a 2009 Turner Prize judge, sniffed was more about celebrating "ignorance and aggression" than anything "aesthetic"? Lazarides counters: "A lot of these guys haven't been outsiders for some time. It's my job to grow with them and take them up as far as we possibly can, as well as try and encourage young artists to come through. And," he grins lest I take him too seriously, "to annoy the art world. Mainly to annoy the art world."
Back on my tour, an oil of several thousand birds by Xenz, otherwise known as Hull's Graeme Brusby, offers an unlikely glimpse into Lazarides's private life. "My hobby, that no one believes I do, is bird watching. I was not the most easy of children; I'd go out into the woods, and just be there on my own to get away from everyone. I'm not a mad twitcher; don't care what I see, sparrows, starlings, or a dodo."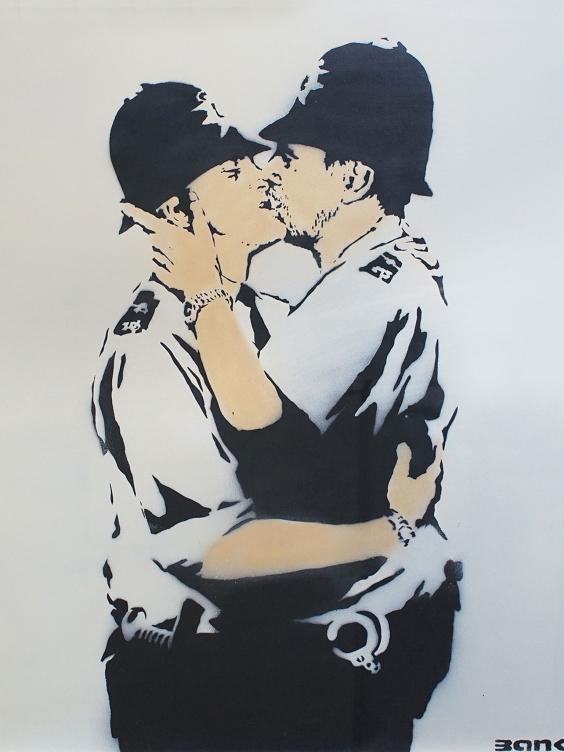 This segues into another disclosure: he's a keen allotmenteer. "I need something to come down from this. I don't drink any more so gardening is what it is. My grandad got me into it." His plot is in Dulwich, near where he lives in south London, with his wife, Susana, a fashion designer for Asos. They have been married for more than 20 years and have three sons: "Eight-year-old twins and a 10-year-old, so it's a busy house." He tries not to talk about them, but can't help himself. "One of the twins is really good [at art] and keeps giving me bits of paper that he's signed to go in the gallery."
Although Banksy exploded the market for street art, Lazarides frets that it remains off the radar for museum curators. He is bitter that that Tate Modern, which allowed six street artists including JR, Os Gêmeos and Blu, to paste their creations on the outside of its Bankside building in 2008, didn't add their work to its permanent collection. And that, he says, was despite him offering to donate pieces. "They refused to take them. What, their art's not good enough to come in?" He fumes. "It's because they didn't discover it. But surely if you're shaping what the future will think of today's art, you have a remit to take ALL art that is powerful at the time? And this is probably one of the most powerful movements in the last 40 years. You had the YBAs, which was great, I love Damien [Hirst]. But my honest opinion is that [the street art] movement has reached way more people and touched way more lives." For its part, a Tate spokesman said, "We cannot find any record of a formal offer being proposed."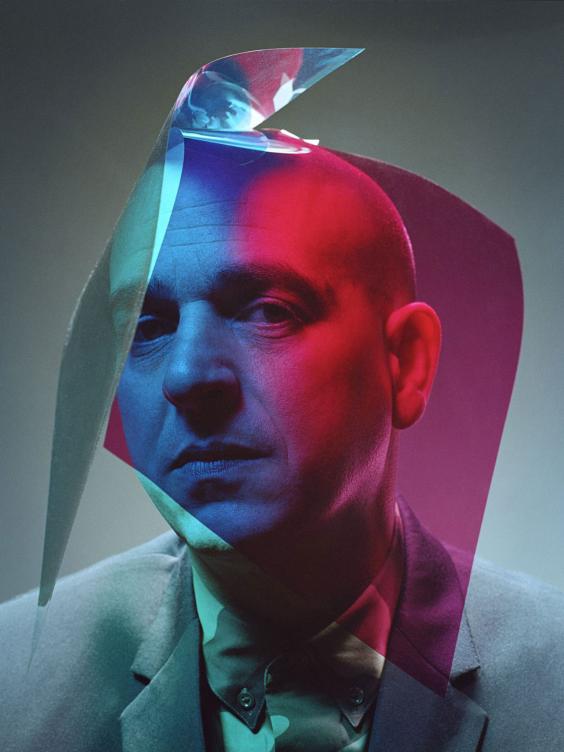 In London, street art is now in the "vanguard of gentrification", with property developers "openly asking" for the tag of graffiti approval to boost prices. "People are fighting to keep a good piece, whereas before, you'd be lucky if it wasn't painted over in four hours. There isn't much new talent coming through in London though. I hate to say it, but I think a lot of the guys working on the street are doing it with an eye to being picked up commercially." Elsewhere, "the Brazilians are killing it: Os Gêmeos, Nina Pandolfo, Finok. And Russian society is incredibly creative."
For someone who makes his living selling art, Lazarides makes a lousy salesman. "It's like my mum always said. Do you like it or not like it? If you like it, buy it. If you don't, don't." Tom Kerridge liked a £22,500 painting by the French artist Zevs (featuring his trademark "dripping" corporate logo on a Hockney-esque Californian scene) enough to part with the cash. "I can't afford a Hockney, so what better than a street artist who has defaced a Hockney replica?" Kerridge tells me.
Lazarides himself has plenty to say: on politics (he rated Ed Miliband but Corbyn is a "fucking nutter"); on whether kids belong in galleries – "Hell, yeah! It doesn't have to be silent for you to take meaning from the paintings" – and on the latest art-market bubble. "Warhols can't keep going for £40, 50, 70 million for a painting that has no intrinsic value. It's a piece of canvas, four bits of wood and some household paint."
That almost counts as a rant. As does his antipathy towards prejudice. "You ask me why I get annoyed about things? It's because this art is populist. But not because it's bad. Populism isn't always bad. Sometimes it's populist because people actually like it." And if they happen to be billionaire Qatari investors, or Mayfair shoppers, so much the better.