The world has not yet become so overcrowded that children have lost the inclination to squeeze up and make room for an imaginary friend. The invisible companion is reliable in a way that other, more tangible friends often aren't. Mine was called "Mr Nobody" and could be instantly summoned for a notional drubbing at any competitive activity of my choosing. Other imaginary friends, no doubt, offer a sympathetic imaginary ear.
Some can extend into adulthood, and imaginary friends are prominent in popular culture, from Frank the scary rabbit in the cult film Donnie Darko to Bunbury, the make-believe invalid pal-in-the-country to whom Algernon Moncrieff escapes in Oscar Wilde's The Importance of Being Earnest.
Now the role of imaginary friends is to be celebrated as the theme for an exhibition at the V&A Museum of Childhood in Bethnal Green, east London. For the project, the products of the imagination of real-life children have been transformed into physical characters by leading creative artists including the Japanese artist Tsuneo Goda and the Bristol-based studio Aardman, makers of Wallace & Gromit.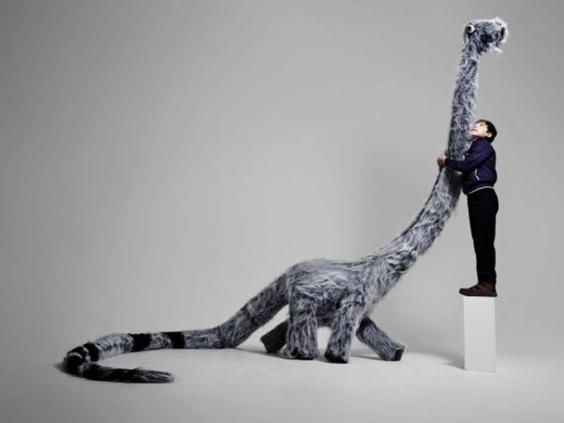 The results are fantastical enough to make Hollywood's finest animators think about early retirement. Each of the creations – from a purple-maned lion to an 8ft-high dinosaur – has been pictured by the celebrated fashion and portrait photographer Rankin.
"I have no doubt that the imaginary friends we have as kids have far-reaching influences on us, not only in developing our thirst for story-telling but in helping us to deal with all that life has to throw at us," he says. "I just wish someone had thought of this when I was a kid."
Aardman was responsible for bringing to life five-year-old Leo Georgiou's friend Monster, a three-eyed creature with four blue arms, four yellow legs, a taste for bananas, a penchant for tennis and an urgent need for a dentist.
The project began in September, when 60 children were brought to a workshop and invited to reveal details of their hidden companions, which were to feature in the museum's Imaginary Friends Collection.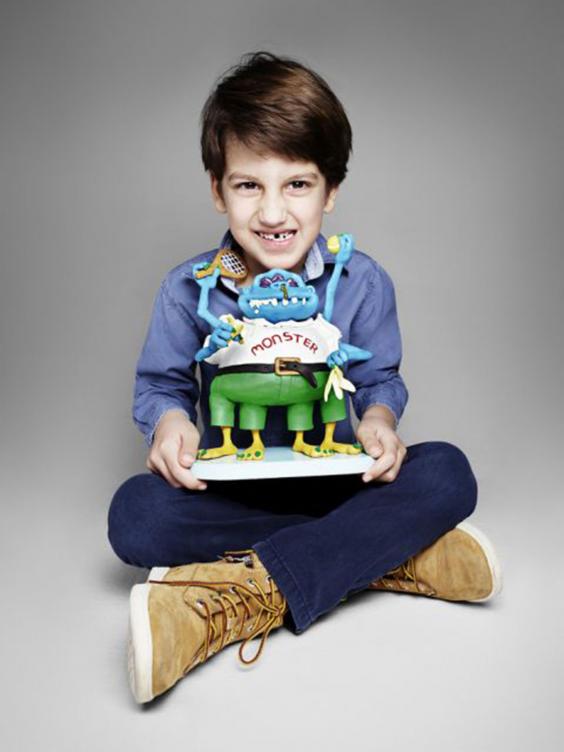 Another of the completed figures is seven-year-old Mable Brim's friend Chloe, a girl in a purple dress with a cloud in one hand and a flower posy in the other. Like Monster, she has three eyes. Chloe's creators, Becky Sloan and Joseph Pelling of the London-based creative studio Blinkink, which made the viral hit short film series Don't Hug Me I'm Scared, says: "Hopefully, bringing the imaginary friends to life won't give the children nightmares. We're not sure we would want to hang out with Chloe ourselves."
Rhian Harris, director of the V&A Museum of Childhood, says the artists have "brought to life for all to see" creations that existed only in children's imaginations.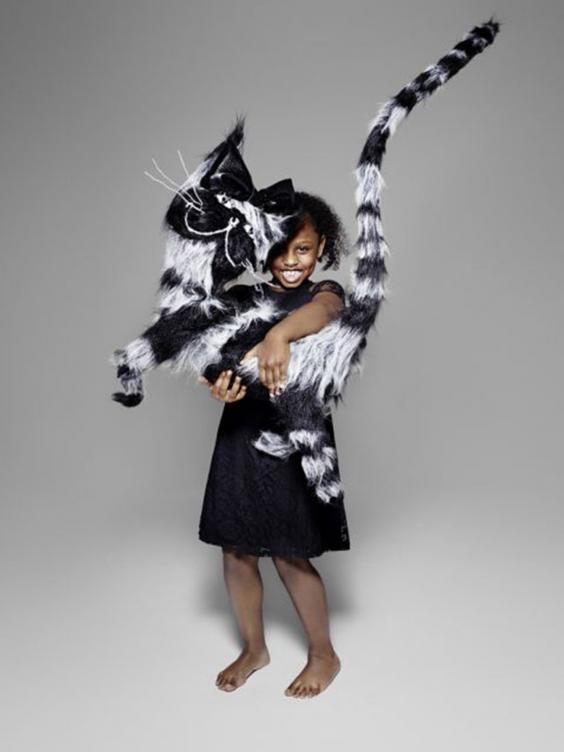 The exhibition was devised by Arvid Harnqvist and Amar Marwaha, a creative team at the advertising agency AMV BBDO, who say they hope the project will give permanence to fanciful childhood companions. "Children create many amazing things," they say. "Their imaginary friends are talked about all the time and often become part of the family. But when the child gets older, these marvellous creations fade away. This project aims to immortalise them."
Goda is known as the creator of the Japanese pop icon Domo-kun, a bear-like creature that has become the mascot of the Japanese public broadcaster NHK. For the exhibition, he made eight-year-old Lily Whitby's imaginary spectacles-wearing fox friend, Jamie.
Peter Vacz, of the London-based animation studio Picasso Pictures, made nine-year-old Eva Wood's lion, Swerl. "As an artist, it's one of the most exciting things to bring an imaginary creature to life," he says. "Especially when it comes from a child's mind."
The Imaginary Friend Collection is on show at the V&A Museum of Childhood, London E2, until 12 February. vam.ac.uk
Our brilliant friends
Susie Mesure
It wasn't your conventional two-legged imaginary friend I needed as a child: I had a real one of those, called Sarah McLean. What I lacked, what we both lacked, was one with four legs – and a mane and tail. Because we lived in Singapore, where anything to do with horses was wildly expensive and, climate-wise, unsuitable, riding lessons were out. So we got creative. Stables full of horses lived in our heads, hearts and gardens, especially Sarah's, where we'd spend endless afternoons schooling them in our adapted skipping gait. Best were the jump courses we'd erect with chairs and broomsticks, ending with the water jump into her swimming pool. I can't honestly remember what anyone thought of our make-believe friends, but they served their purpose – not least because I was allowed to have riding lessons as soon as we moved to the UK.
Tim Alden
Nicky first turned up sitting at the end of my bed as I sweltered through endless days at home during a bout of scarlet fever. My two younger siblings had inexplicably vanished from our shared room, so I chattered constantly with the cheeky, fair-haired boy who had a strong resemblance to my five-year-old self. I thought the visiting vicar surprisingly impolite when at first he refused to say hello to my new friend. But I never saw either of them again after I finally returned to school.
Culture news in pictures
Culture news in pictures
1/30 27 June 2016

AFP/Getty Images

2/30 26 June 2016

Chris Martin of 'Coldplay' performs on the Pyramid Stage on day 3 of the Glastonbury Festival at Worthy Farm

Getty Images

3/30 25 June 2016

Adele performing on stage at the Glastonbury Festival, at Worthy Farm in Somerset

PA

4/30 24 June 2016

US artist Joan Jonas poses during the presentation of her exhibition 'Joan Jonas: Stream or River. Flight or Pattern' at the Bitin Foundation in Santander, northern Spain. The display featuring experimental film and video-installation of pioneering Jonas will be open to the public from 25 June to 16 October 2016

EPA

5/30 23 June 2016

Evie Ferris and Georgia Scott-Hunter, Artists of The Australian Ballet next to one of Edgar Degas' iconic ballet dancer paintings 'Dancer with Bouquets' during the media preview for the 'Degas: A New Vision' exhibition at National Gallery of Victoria in Melbourne, Australia. The exhibition will run from 24 June to 18 September as part of the Melbourne Winter Masterpieces series

Getty Images

6/30 22 June 2016

Figures of characters from the comic series 'Uncle Walt' by US cartoonist Frank King are on display in the exhibition 'Pioneers of the Comic Strip. A different Avant-Garde' at the Schirn Kunsthalle museum in Frankfurt am Main, Germany. The exhibition that features the works of six primarily US illustrators created between 1905 and 1940, runs from 23 June 2016 to 18 September 2016

EPA

7/30 21 June 2016

(L-R) Actors Jonathan Holmes, Paul Moniz de Sa, Daniel Bacon, Chris Gibbs, Jemaine Clement, Penelope Wilton, Mark Rylance, Ruby Barnhill, Bill Hader, Rebecca Hall and Rafe Spall arrive on the red carpet for the US premiere of Disney's "The BFG," directed and produced by Steven Spielberg. A giant sized crowd lined the streets of Hollywood Boulevard to see stars arrive at the El Capitan Theatre

Getty Images for Disney

8/30 20 June 2016

Tony Bennett attends as the Friars Club Honors Tony Bennett With The Entertainment Icon Award - Arrivals at New York Sheraton Hotel & Tower in New York City

Getty Images

9/30 19 June 2016

A woman walks in front of the paintings 'Without title' (1960), left, and 'Come closer' (1960), right, during the opening of the exhibition 'Xanti Schawinsky - From the Bauhaus into the World' in Magdeburg, Germany. The exhibition starts on 21 June and lasts until 25 September

AP

10/30 18 June 2016

Recording artist Johnny Bond (L) and Van McCann of Catfish and the Bottlemen perform onstage at Firefly Music Festival in Dover

Getty Images for Firefly

11/30 17 June 2016

Students from both the Richmond and Covent Garden schools perform for Prince Charles, Prince of Wales, in his role as President of The Royal Ballet, as he visits The Royal Ballet School, White Lodge campus in Richmond Park in London

Getty Images

12/30 16 June 2016

A part of the installation 'The Floating Piers' by Bulgarian-born artist Christo Vladimirov Yavachev known as Christo is seen on the Lake Iseo, northern Italy

REUTERS

13/30 15 June 2016

A unique outdoor gallery has been revealed in Hampstead Heath, to mark the return of the Affordable Art Fair in London. The colourful 'running gallery' previewed seven of the artworks going on show at the fair this week from 16 – 19 June. These works, along with thousands more original pieces will be going on sale as the fair opens – all priced between £100 - £5,000

Oliver Dixon/Imagewise

14/30 13 June 2016

The artwork 'Accumulation: Searching for Destination' (2014-2016) by Japanese artist Chiharu Shiota is on display at the show Unlimited in the context of the international art show in Basel, Switzerland. Unlimited is Art Basel's exhibition platform for projects that transcend the limitations of a classical art-show stand, including out-sized sculpture and paintings, video projections, large-scale installations, and live performances. Unlimited is curated by New York-based curator Gianni Jetzer. The Art Basel exhibition is open to the public from 16 to 19 June

EPA

15/30 12 June 2016

A costumed artist performs with fire during International Kiev Fire Fest show. Teams from Greece, Belarus, Lithuania, Slovakia, USA, Czech Republic, Scotland and Ukraine, take part with their fire-shows in the two-day festival in Kiev

Getty Images

16/30 14 June 2016

A man leaves his house as anotherone walks past murals painted as part of a program of the municipality that aims at rescueing public spaces of the historical center in Mexico City. The murals were made on shops' metallic shutters

AFP/Getty Images

17/30 11 June 2016

People look at an art installation named "Fog Assembly" by Danish artist Olafur Eliasson in the castle of Versailles, near Paris

Getty Images

18/30 10 June 2016

Tomatoes float in an aquarium which is part of an artwork entitled 'Something that Floats/Something that sinks' by Japanese artist Shimabuku during the 13th Triennial of smale-scale sculpture in Fellbach, Germany. The exhibition runs from 11 June until 2 October

EPA

19/30 9 June 2016

Swiss artist, Olaf Breuning, stands in front of his artwork 'Text Butt' (2015) in the NRW-Forum in Duesseldorf, Germany. The retrospective can be seen in Duesseldorf from 11 June until 21 August

EPA

20/30 8 June 2016

An artwork entitled 'Hang it all' by Colombian artist Gabriel Sierra is seen during the exhibition 'Under the Same Sun: Art From Latin America Today' at the South London Gallery. The gallery is the final venue on the exhibitionís international tour, following the Guggenheim Museum, New York in June 2014 and the Museo Jumex, Mexico City in November 2015

EPA

21/30 7 June 2016

An interior shows British artist Michael Landy's artworks in the exhibition 'Michael Landy. Out of Order' at the Museum Tinguely in Basel, Switzerland. Landy is one of the Young British Artists (YBAs) generation that emerged in London in the 1990s. The exhibition runs from 8 June to 25 September

EPA

22/30 6 June 2016

A Banksy mural is left painted on the side of one of the classrooms at Bridge Farm Primary in Bristol. The 14ft piece, showing a child with a stick chasing a burning tyre, was discovered at the school along with a letter to the caretaker and was said to be a thank you by the elusive artist after the school recently named a house after him

Getty Images

23/30 5 June 2016

More than 6,000 Colombians pose in the nude for American art photographer Spencer Tunick at Bolivar Square in Bogota. Tunick, famous for his pictures of huge crowds of naked people, convinced more than 6,000 Colombians to strip down in Bogota's main public square - all in the name of peace

Getty Images

24/30 4 June 2016

Bulgarian artist Christo poses in front of the monumental "Mastaba" art work at the Maeght Foundation (Fondation Maeght) on the opening day of the exibition in Saint-Paul, southeastern France. The exibition takes place from 6 June to 27 November

Getty Images

25/30 3 June 2016

Dutch King Willem-Alexander attents the opening of the SONSBEEK '16: transAction, an international contemporary art exhibition in Arnhem, The Netherlands

EPA

26/30 2 June 2016

A sculpture by Colombian artist Fernando Botero is displayed during the opening of an exhibition entitled 'Botero in Hong Kong' at Central district. The outdoor public art installation showcases nine monumental sculptures by Botero from 3 June to 14 August

EPA

27/30 1 June 2016

Everything by my side, a theatrical performance that sees actors in white beds whisper to individual audience members, created by Argentinian artist Fernando Rubio, is unveiled as it makes its UK debut at Canary Wharf in London. Free to the public from 1-3 June. Everything by my side is presented by LIFT, a London-wide festival of international performance and it is the first time the work has been shown since New York City in 2014

PA

28/30 31 May 2016

Visitors look at the painting 'The Unequal Marriage' (1862) by Russian artist Vasili Pukirev during the exhibition 'The Secrets of Old Paintings' at the Tretyakov Gallery in Moscow, Russia. The exhibition is open from 1 June to 27 August as part of the project 'The Tretyakov Gallery opens its store rooms'

EPA

29/30 30 May 2016

The view of an art installation by the artist group Wanda Barcelona, which is made of 8,000 sheets of A0 paper at the 'Drupa' print media trade fair in Duesseldorf, Germany. Drupa, the world's largest trade fair for print media, takes place from 31 May until 10 June 2016 in Duesseldorf

EPA

30/30 29 May 2016

Musician Alice Cooper and Johnny Depp of Hollywood Vampires perform onstage at Hessentags-Arena during the 56th Hessentag in Herborn, Germany

Getty Images
Daisy Wyatt
Charlie was based on my best friend from nursery at the time. When I was three, I wouldn't go anywhere without him, and my mum would have to call, "come on Daisy, come on Charlie" to get me to do anything. He always wore bright green clothes, and we once played dens together with some string. Charlie disappeared when my brother was born a few months later and my family moved house.
Rachael Pells
I had imaginary animal friends – specifically, a herd of 100 South African wildebeest. I'd feed them, chat to them and tuck them into bed at night. My parents didn't worry too much about my days spent prancing round the garden leading Wilbur and Winnie across the vast African planes. I'm sure my dad briefly considered giving me up for adoption, however, the day we were driving into town and I screamed for him to stop: we were an antelope short – Indigo had been left behind! He narrowly avoided crashing, but my zoo-keeping destiny remains unfulfilled.