The world has not yet become so overcrowded that children have lost the inclination to squeeze up and make room for an imaginary friend. The invisible companion is reliable in a way that other, more tangible friends often aren't. Mine was called "Mr Nobody" and could be instantly summoned for a notional drubbing at any competitive activity of my choosing. Other imaginary friends, no doubt, offer a sympathetic imaginary ear.
Some can extend into adulthood, and imaginary friends are prominent in popular culture, from Frank the scary rabbit in the cult film Donnie Darko to Bunbury, the make-believe invalid pal-in-the-country to whom Algernon Moncrieff escapes in Oscar Wilde's The Importance of Being Earnest.
Now the role of imaginary friends is to be celebrated as the theme for an exhibition at the V&A Museum of Childhood in Bethnal Green, east London. For the project, the products of the imagination of real-life children have been transformed into physical characters by leading creative artists including the Japanese artist Tsuneo Goda and the Bristol-based studio Aardman, makers of Wallace & Gromit.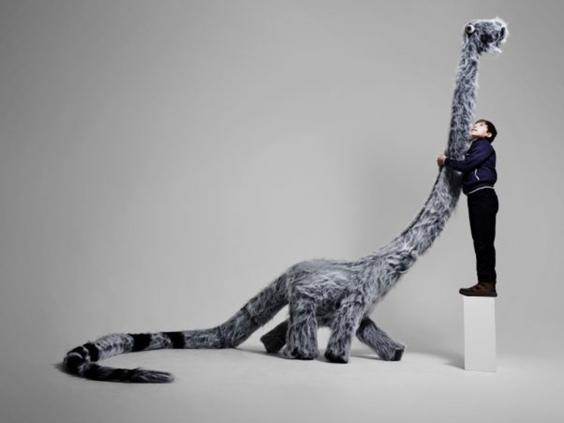 The results are fantastical enough to make Hollywood's finest animators think about early retirement. Each of the creations – from a purple-maned lion to an 8ft-high dinosaur – has been pictured by the celebrated fashion and portrait photographer Rankin.
"I have no doubt that the imaginary friends we have as kids have far-reaching influences on us, not only in developing our thirst for story-telling but in helping us to deal with all that life has to throw at us," he says. "I just wish someone had thought of this when I was a kid."
Aardman was responsible for bringing to life five-year-old Leo Georgiou's friend Monster, a three-eyed creature with four blue arms, four yellow legs, a taste for bananas, a penchant for tennis and an urgent need for a dentist.
The project began in September, when 60 children were brought to a workshop and invited to reveal details of their hidden companions, which were to feature in the museum's Imaginary Friends Collection.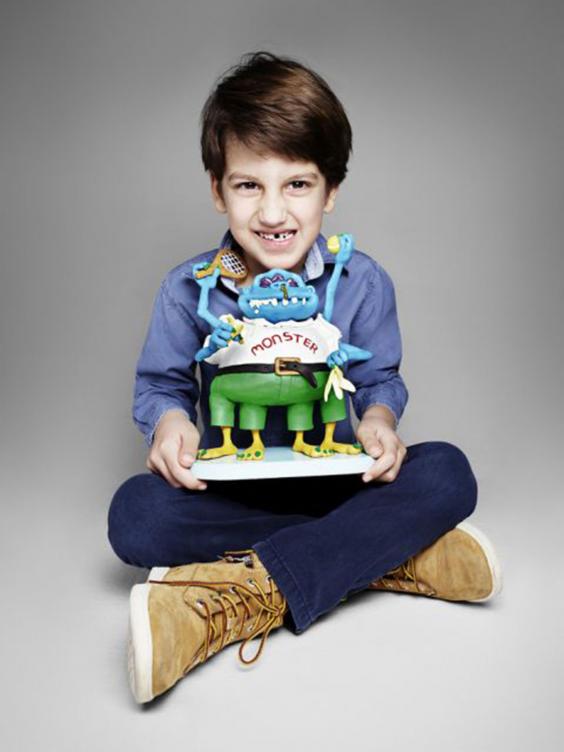 Another of the completed figures is seven-year-old Mable Brim's friend Chloe, a girl in a purple dress with a cloud in one hand and a flower posy in the other. Like Monster, she has three eyes. Chloe's creators, Becky Sloan and Joseph Pelling of the London-based creative studio Blinkink, which made the viral hit short film series Don't Hug Me I'm Scared, says: "Hopefully, bringing the imaginary friends to life won't give the children nightmares. We're not sure we would want to hang out with Chloe ourselves."
Rhian Harris, director of the V&A Museum of Childhood, says the artists have "brought to life for all to see" creations that existed only in children's imaginations.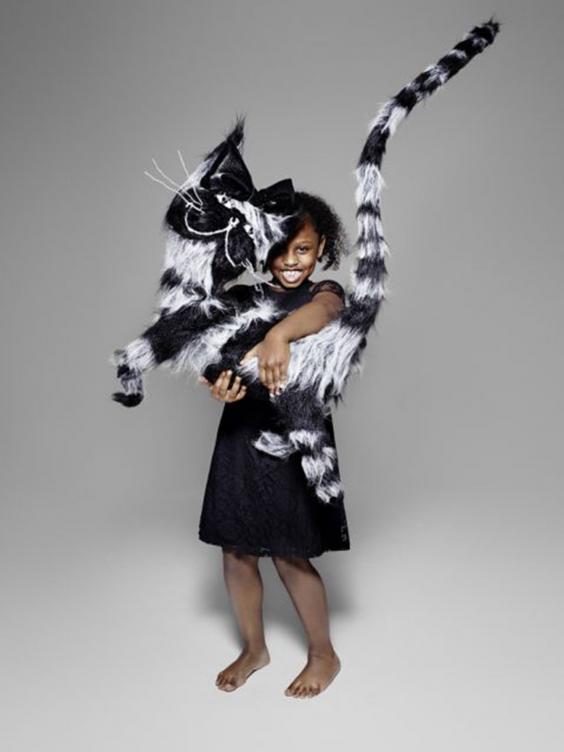 The exhibition was devised by Arvid Harnqvist and Amar Marwaha, a creative team at the advertising agency AMV BBDO, who say they hope the project will give permanence to fanciful childhood companions. "Children create many amazing things," they say. "Their imaginary friends are talked about all the time and often become part of the family. But when the child gets older, these marvellous creations fade away. This project aims to immortalise them."
Goda is known as the creator of the Japanese pop icon Domo-kun, a bear-like creature that has become the mascot of the Japanese public broadcaster NHK. For the exhibition, he made eight-year-old Lily Whitby's imaginary spectacles-wearing fox friend, Jamie.
Peter Vacz, of the London-based animation studio Picasso Pictures, made nine-year-old Eva Wood's lion, Swerl. "As an artist, it's one of the most exciting things to bring an imaginary creature to life," he says. "Especially when it comes from a child's mind."
The Imaginary Friend Collection is on show at the V&A Museum of Childhood, London E2, until 12 February. vam.ac.uk
Our brilliant friends
Susie Mesure
It wasn't your conventional two-legged imaginary friend I needed as a child: I had a real one of those, called Sarah McLean. What I lacked, what we both lacked, was one with four legs – and a mane and tail. Because we lived in Singapore, where anything to do with horses was wildly expensive and, climate-wise, unsuitable, riding lessons were out. So we got creative. Stables full of horses lived in our heads, hearts and gardens, especially Sarah's, where we'd spend endless afternoons schooling them in our adapted skipping gait. Best were the jump courses we'd erect with chairs and broomsticks, ending with the water jump into her swimming pool. I can't honestly remember what anyone thought of our make-believe friends, but they served their purpose – not least because I was allowed to have riding lessons as soon as we moved to the UK.
Tim Alden
Nicky first turned up sitting at the end of my bed as I sweltered through endless days at home during a bout of scarlet fever. My two younger siblings had inexplicably vanished from our shared room, so I chattered constantly with the cheeky, fair-haired boy who had a strong resemblance to my five-year-old self. I thought the visiting vicar surprisingly impolite when at first he refused to say hello to my new friend. But I never saw either of them again after I finally returned to school.
Culture news in pictures
Culture news in pictures
1/30 30 September 2016

An employee hangs works of art with "Grand Teatro" by Marino Marini (R) and bronze sculpture "Sfera N.3" by Arnaldo Pomodoro seen ahead of a Contemporary Art auction on 7 October, at Sotheby's in London

REUTERS

2/30 29 September 2016

Street art by Portuguese artist Odeith is seen in Dresden, during an exhibition "Magic City - art of the streets"

AFP/Getty Images

3/30 28 September 2016

Dancers attend a photocall for the new "THE ONE Grand Show" at Friedrichstadt-Palast in Berlin, Germany

REUTERS

4/30 28 September 2016

With an array of thrift store china, humorous souvenirs and handmade tile adorning its walls and floors, the Mosaic Tile House in Venice stands as a monument to two decades of artistic collaboration between Cheri Pann and husband Gonzalo Duran

REUTERS

5/30 27 September 2016

A gallery assistant poses amongst work by Anthea Hamilton from her nominated show "Lichen! Libido!(London!) Chastity!" at a preview of the Turner Prize in London

REUTERS

6/30 27 September 2016

A technician wearing virtual reality glasses checks his installation in three British public telephone booths, set up outside the Mauritshuis museum in The Hague, Netherlands. The installation allows visitors a 3-D look into the museum which has twenty-two paintings belonging to the British Royal Collection, on loan for an exhibit from 29 September 2016 till 8 January 2017

AP

7/30 26 September 2016

An Indian artist dressed as Hindu god Shiva performs on a chariot as he participates in a religious procession 'Ravan ki Barat' held to mark the forthcoming Dussehra festival in Allahabad

AFP/Getty Images

8/30 26 September 2016

Jean-Michel Basquiat's 'Air Power', 1984, is displayed at the Bowie/Collector media preview at Sotheby's in New York

AFP/Getty

9/30 25 September 2016

A woman looks at an untitled painting by Albert Oehlen during the opening of an exhibition of works by German artists Georg Baselitz and Albert Oehlen in Reutlingen, Germany. The exhibition runs at the Kunstverein (art society) Reutlingen until 15 January 2017

EPA

10/30 24 September 2016

Fan BingBing (C) attends the closing ceremony of the 64th San Sebastian Film Festival at Kursaal in San Sebastian, Spain

Getty Images

11/30 23 September 2016

A view of the artwork 'You Are Metamorphosing' (1964) as part of the exhibition 'Retrospektive' of Japanese artist Tetsumi Kudo at Fridericianum in Kassel, Germany. The exhibition runs from 25 September 2016 to 1 January 2017

EPA

12/30 22 September 2016

Jo Applin from the Courtauld Institute of Art looks at Green Tilework in Live Flesh by Adriana Vareja, which features in a new exhibition, Flesh, at York Art Gallery. The new exhibition features works by Degas, Chardin, Francis Bacon and Sarah Lucas, showing how flesh has been portrayed by artists over the last 600 years

PA

13/30 21 September 2016

Performers Sean Atkins and Sally Miller standing in for the characters played by Asa Butterfield and Ella Purnell during a photocall for Tim Burton's "Miss Peregrines Home For Peculiar Children" at Potters Field Park in London

Getty Images

14/30 20 September 2016

A detail from the blanket 'Alpine Cattle Drive' from 1926 by artist Ernst Ludwig Kirchner is displayed at the 'Hamburger Bahnhof - Museum for Contemporary Arts' in Berlin. The exhibition named 'Ernst Ludwig Kirchner - Hieroglyphen' showing the complete collection of Berlin's Nationalgallerie works of the German artist Ernst Ludwig Kirchner and will run from 23 September 2016 until 26 February 2017

AP

15/30 20 September 2016

A man looks at portrait photos by US photographer Bruce Gilden in the exhibition 'Masters of Photography' at the photokina in Cologne, Germany. The trade fair on photography, photokina, schowcases some 1,000 exhibitors from 40 countries and runs from 20 to 25 September. The event also features various photo exhibitions

EPA

16/30 20 September 2016

A woman looks at 'Blue Poles', 1952 by Jackson Pollock during a photocall at the Royal Academy of Arts, London

PA

17/30 19 September 2016

Art installation The Refusal of Time, a collaboration with Philip Miller, Catherine Meyburgh and Peter Galison, which features as part of the William Kentridge exhibition Thick Time, showing from 21 September to 15 January at the Whitechapel Gallery in London

PA

18/30 18 September 2016

Artists creating one off designs at the Mm6 Maison Margiela presentation during London Fashion Week Spring/Summer collections 2017 in London

Getty Images

19/30 18 September 2016

Bethenny Frankel attends the special screening of Disney's "Beauty and the Beast" to celebrate the 25th Anniversary Edition release on Blu-Ray and DVD in New York City

Getty Images for Walt Disney Stu

20/30 17 September 2016

Visitors attend the 2016 Oktoberfest beer festival at Theresienwiese in Munich, Germany

Getty Images

21/30 16 September 2016

Visitors looks at British artist Damien Hirst work of art 'The Incomplete Truth', during the 13th Yalta Annual Meeting entitled 'The World, Europe and Ukraine: storms of changes', organised by the Yalta European Strategy (YES) in partnership with the Victor Pinchuk Foundation at the Mystetsky Arsenal Art Center in Kiev

AP

22/30 16 September 2016

Tracey Emin's "My Bed" is exhibited at the Tate Liverpool as part of the exhibition Tracey Emin And William Blake In Focus, which highlights surprising links between the two artists

Getty Images

23/30 15 September 2016

Musician Dave Grohl (L) joins musician Tom Morello of Prophets of Rage onstage at the Forum in Inglewood, California

Getty Images

24/30 14 September 2016

Model feebee poses as part of art installation "Narcissism : Dazzle room" made by artist Shigeki Matsuyama at rooms33 fashion and design exhibition in Tokyo. Matsuyama's installation features a strong contrast of black and white, which he learned from dazzle camouflage used mainly in World War I

AP

25/30 13 September 2016

Visitors look at artworks by Chinese painter Cui Ruzhuo during the exhibition 'Glossiness of Uncarved Jade' held at the exhibition hall 'Manezh' in St. Petersburg, Russia. More than 200 paintings by the Chinese artist are presented until 25 September

EPA

26/30 12 September 2016

A visitor looks at Raphael's painting 'Extase de Sainte Cecile', 1515, from the Uffizi Gallery in Florence during the opening of a Raphael exhibition at the Pushkin State Museum of Fine Arts in Moscow, Russia. The first Russian exhibition of the works of the Italian Renaissance artist Raffaello Sanzio da Urbino includes eight paintings and three drawings which come from Italy. Th exhibit opens to the public from 13 September to 11 December

EPA

27/30 11 September 2016

Steve Cropper and Eddie Floyd perform during Otis Redding 75th Birthday Celebration - Rehearsals at the Macon City Auditorium in Macon, Georgia

Getty Images for Otis Redding 75

28/30 10 September 2016

Sakari Oramo conducting the BBC Symphony Orchestra, the BBC Symphony Chorus and the BBC Singers at the Last Night of the Proms 2016 at the Royal Albert Hall in London

PA

29/30 9 September 2016

A visitor walks past a piece entitled "Fruitcake" by Joana Vasconcelo, during the Beyond Limits selling exhibition at Chatsworth House near Bakewell

REUTERS

30/30 8 September 2016

A sculpture of a crescent standing on the 2,140 meters high mountain 'Freiheit' (German for 'freedom'), in the Alpstein region of the Appenzell alps, eastern Switzerland. The sculpture is lighted during the nights by means of solar panels. The 38-year-old Swiss artist and atheist Christian Meier set the crescent on the peak to start a debate on the meaning of religious symbols - as summit crosses - on mountains. 'Because so many peaks have crosses on them, it struck me as a great idea to put up an equally absurd contrast'. 'Naturally I wanted to provoke in a fun way. But it goes beyond that. The actions of an artist should be food for thought, both visually and in content'

EPA
Daisy Wyatt
Charlie was based on my best friend from nursery at the time. When I was three, I wouldn't go anywhere without him, and my mum would have to call, "come on Daisy, come on Charlie" to get me to do anything. He always wore bright green clothes, and we once played dens together with some string. Charlie disappeared when my brother was born a few months later and my family moved house.
Rachael Pells
I had imaginary animal friends – specifically, a herd of 100 South African wildebeest. I'd feed them, chat to them and tuck them into bed at night. My parents didn't worry too much about my days spent prancing round the garden leading Wilbur and Winnie across the vast African planes. I'm sure my dad briefly considered giving me up for adoption, however, the day we were driving into town and I screamed for him to stop: we were an antelope short – Indigo had been left behind! He narrowly avoided crashing, but my zoo-keeping destiny remains unfulfilled.
Reuse content