The world has not yet become so overcrowded that children have lost the inclination to squeeze up and make room for an imaginary friend. The invisible companion is reliable in a way that other, more tangible friends often aren't. Mine was called "Mr Nobody" and could be instantly summoned for a notional drubbing at any competitive activity of my choosing. Other imaginary friends, no doubt, offer a sympathetic imaginary ear.
Some can extend into adulthood, and imaginary friends are prominent in popular culture, from Frank the scary rabbit in the cult film Donnie Darko to Bunbury, the make-believe invalid pal-in-the-country to whom Algernon Moncrieff escapes in Oscar Wilde's The Importance of Being Earnest.
Now the role of imaginary friends is to be celebrated as the theme for an exhibition at the V&A Museum of Childhood in Bethnal Green, east London. For the project, the products of the imagination of real-life children have been transformed into physical characters by leading creative artists including the Japanese artist Tsuneo Goda and the Bristol-based studio Aardman, makers of Wallace & Gromit.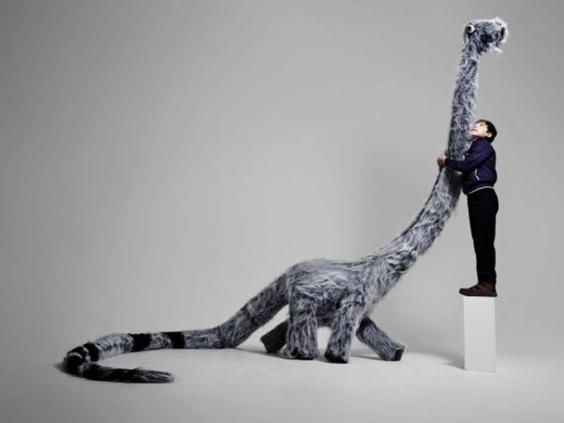 The results are fantastical enough to make Hollywood's finest animators think about early retirement. Each of the creations – from a purple-maned lion to an 8ft-high dinosaur – has been pictured by the celebrated fashion and portrait photographer Rankin.
"I have no doubt that the imaginary friends we have as kids have far-reaching influences on us, not only in developing our thirst for story-telling but in helping us to deal with all that life has to throw at us," he says. "I just wish someone had thought of this when I was a kid."
Aardman was responsible for bringing to life five-year-old Leo Georgiou's friend Monster, a three-eyed creature with four blue arms, four yellow legs, a taste for bananas, a penchant for tennis and an urgent need for a dentist.
The project began in September, when 60 children were brought to a workshop and invited to reveal details of their hidden companions, which were to feature in the museum's Imaginary Friends Collection.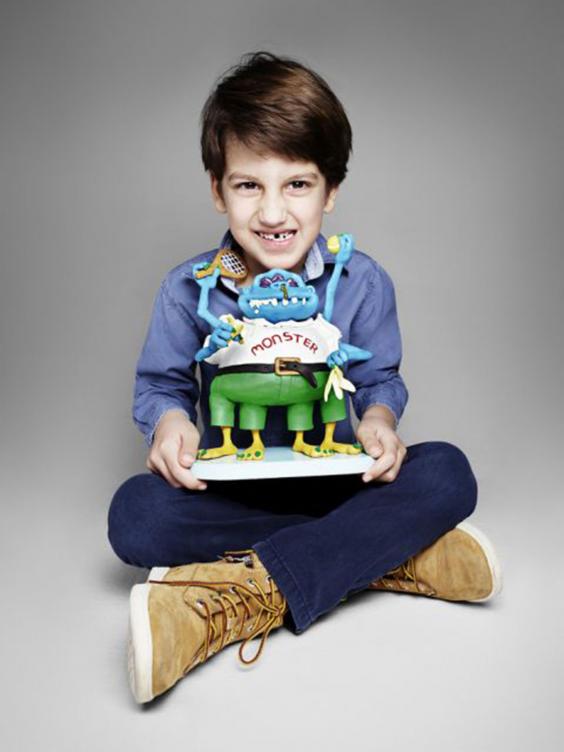 Another of the completed figures is seven-year-old Mable Brim's friend Chloe, a girl in a purple dress with a cloud in one hand and a flower posy in the other. Like Monster, she has three eyes. Chloe's creators, Becky Sloan and Joseph Pelling of the London-based creative studio Blinkink, which made the viral hit short film series Don't Hug Me I'm Scared, says: "Hopefully, bringing the imaginary friends to life won't give the children nightmares. We're not sure we would want to hang out with Chloe ourselves."
Rhian Harris, director of the V&A Museum of Childhood, says the artists have "brought to life for all to see" creations that existed only in children's imaginations.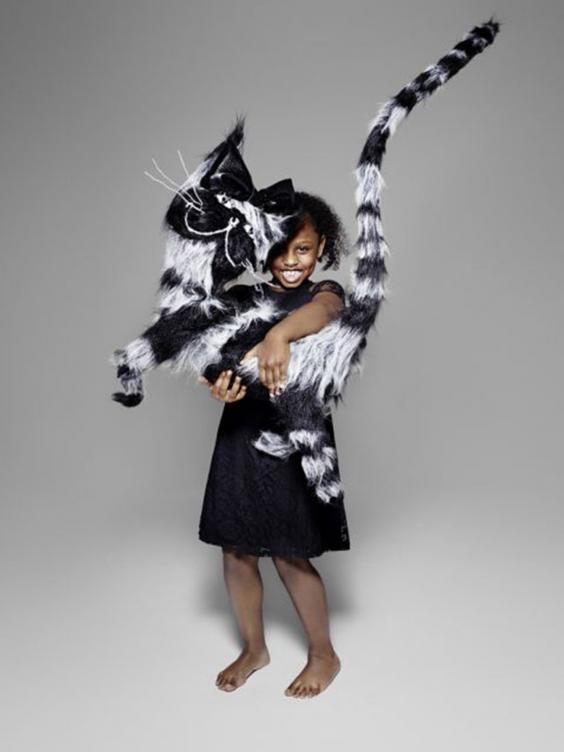 The exhibition was devised by Arvid Harnqvist and Amar Marwaha, a creative team at the advertising agency AMV BBDO, who say they hope the project will give permanence to fanciful childhood companions. "Children create many amazing things," they say. "Their imaginary friends are talked about all the time and often become part of the family. But when the child gets older, these marvellous creations fade away. This project aims to immortalise them."
Goda is known as the creator of the Japanese pop icon Domo-kun, a bear-like creature that has become the mascot of the Japanese public broadcaster NHK. For the exhibition, he made eight-year-old Lily Whitby's imaginary spectacles-wearing fox friend, Jamie.
Peter Vacz, of the London-based animation studio Picasso Pictures, made nine-year-old Eva Wood's lion, Swerl. "As an artist, it's one of the most exciting things to bring an imaginary creature to life," he says. "Especially when it comes from a child's mind."
The Imaginary Friend Collection is on show at the V&A Museum of Childhood, London E2, until 12 February. vam.ac.uk
Our brilliant friends
Susie Mesure
It wasn't your conventional two-legged imaginary friend I needed as a child: I had a real one of those, called Sarah McLean. What I lacked, what we both lacked, was one with four legs – and a mane and tail. Because we lived in Singapore, where anything to do with horses was wildly expensive and, climate-wise, unsuitable, riding lessons were out. So we got creative. Stables full of horses lived in our heads, hearts and gardens, especially Sarah's, where we'd spend endless afternoons schooling them in our adapted skipping gait. Best were the jump courses we'd erect with chairs and broomsticks, ending with the water jump into her swimming pool. I can't honestly remember what anyone thought of our make-believe friends, but they served their purpose – not least because I was allowed to have riding lessons as soon as we moved to the UK.
Tim Alden
Nicky first turned up sitting at the end of my bed as I sweltered through endless days at home during a bout of scarlet fever. My two younger siblings had inexplicably vanished from our shared room, so I chattered constantly with the cheeky, fair-haired boy who had a strong resemblance to my five-year-old self. I thought the visiting vicar surprisingly impolite when at first he refused to say hello to my new friend. But I never saw either of them again after I finally returned to school.
Culture news in pictures
Culture news in pictures
1/30 27 May 2016

An image of an indigenous Australian man is projected onto the sails of the Sydney Opera House during the opening night of the annual Vivid Sydney light festival in Sydney

Reuters

2/30 26 May 2016

A woman walks on steps lined with plastic cups, an art project of four college students, in Wuhan, China

Reuters

3/30 25 May 2016

A view of the Pyramid of the Louvre museum covered with a gigantic black and white trompe l'oeil photo of the Louvre building by French artist JR in Paris. The exhibition 'Contemporary art JR at the Louvre' runs from 25 May to 27 June

EPA

4/30 24 May 2016

Artist paints a reproduction of one of the vincent Van gogh's painting for the 'Loving Vincent' film in Wroclaw, Poland. 'Loving Vincent', the world's first fully painted animation feature film, will be about the life and death of the Dutch famous painter Vincent van Gogh

EPA

5/30 23 May 2016

John Oliver, Jimmy Fallon and Jennifer Lawrence during a taping of "The Tonight Show Starring Jimmy Fallon" in New York City

Getty Images

6/30 22 May 2016

French Moroccan director Houda Benyamina (C) poses with the Camera d'Or next to actresses Jisca Kalvanda (L), Oulaya Amamra (2ndL) and Deborah Lukumuena (R) at the Palme D'Or Winner Photocall during the 69th annual Cannes Film Festival

Getty Images

7/30 21 May 2016

Swedish artist Andreas Englund signs one of his murals at the Urban Nation museum for urban contemporary art, in Berlin

Getty Images

8/30 20 May 2016

(L-R) Autor Tom Brokaw, Legion of Honor's Grand Chancellor General Jean-Louis Georgelin, Actor Tom Hanks, Ambassador of USA in France, Jane D. Hartley and Doctor Gordon "Nick" Mueller attend Tom Hanks, Tom Brokaw & Gordon "Nick" Mueller receive the Legion d'Honneur Medal at Palais de la Legion d'Honneur in Paris

Getty Images

9/30 19 May 2016

Visitors study work by Tod Papageorge in the gallery areas at the "Photo London 2016" event at Somerset House in central London. Featuring work from some of the world's most respected photographers, the event is aiming to put London on the map as the global city of photography

Getty Images

10/30 18 May 2016

A view of the building that will house planned Urban Nation - Museum for Urban Contemporary Art in Berlin. The street art museum is scheduled to open in 2017

EPA

11/30 17 May 2016

Kate Morais looks at the 'Colossal statues of a king and a queen' (283-246 BC) - which are reflected in a display cabinet glass - which stand over five meters tall during a preview of the 'Sunken Cities: Egypt's Lost Worlds' exhibition at the British Museum in London. This is the museum's first large scale exhibition of underwater archaeological finds and tells the story of two lost Egyptian cities and their recent discoveries beneath the Mediterranean, excavated off the coast of Egypt near Alexandria between 1996 and 2012

Getty Images

12/30 16 May 2016

Kurt Cobain's Univox electric guitar played and destroyed by Cobain at Nirvana's 13 July 1989 concert at Maxwell's in Hoboken, New Jersey is displayed during Julien's Auction Music Icons Press Exhibition at Hard Rock Cafe, Times Square in New York City

Getty Images

13/30 15 May 2016

Cast of the "From The Land Of The Moon (Mal De Pierres)" attend the premiere during the 69th annual Cannes Film Festival at the Palais des Festivals

Getty Images

14/30 14 May 2016

Jamala representing Ukraine with the song "1944" celebrates with the trophy after winning the final of the Eurovision Song Contest 2016 Grand Final in Stockholm

Getty Images

15/30 13 May 2016

A mural on a restaurant wall depicting US Presidential hopeful Donald Trump and Russian President Vladimir Putin greeting each other with a kiss in the Lithuanian capital Vilnius. Kestutis Girnius, associate professor of the Institute of International Relations and Political Science in Vilnius university, said: "This graffiti expresses the fear of some Lithuanians that Donald Trump is likely to kowtow to Vladimir Putin and be indifferent to Lithuanias security concerns. Trump has notoriously stated that Putin is a strong leader, and that NATO is obsolete and expensive"

Getty Images

16/30 12 May 2016

People visit the artwork titled Seven Magic Mountains by artist Ugo Rondinone, near Jean, Nevada. The artwork was recently completed in the desert south of Las Vegas

AP

17/30 11 May 2016

Justin Timberlake attends the "Trolls" Photocall during The 69th Annual Cannes Film Festival

Getty Images

18/30 10 May 2016

Curator Ben Russell poses with a 2.4 meter robot called Cygan, built in 1957, on display at the Science Museum before announcing a new robot exhibition for 2017

Getty Images

19/30 9 May 2016

A Palestinian artist paints a graffiti on a wall of the United Nations school of Beit Hanun, in the northern Gaza Strip

Getty Images

20/30 8 May 2016

Jon Snow collects the award for best news coverage on behalf of Channel 4 during the House of Fraser BAFTA TV Awards 2016 at the Royal Festival Hall in London

PA

21/30 7 May 2016

Illustration View of the 'Empires' exhibition of Huang Yong Ping as part of Monumenta 2016 to Grand Palais from 8 May till 18 June 2016

Getty Images

22/30 6 May 2016

People, including Russian servicemen, attend a concert of Mariinsky Theatre in the amphitheatre of the Syrian city of Palmyra, Syria

Reuters

23/30 5 May 2016

A child looks at an artwork titled 'Bi-lateral Relations' by Uruguay artists Fernando Foglino and Valentina Cardellino during the Latin America and Caribbean Art Festival Visual Art Exhibition 2016 at the World Art Museum of the China Millennium Monument in Beijing. The exhibition runs until 26 May, and is part of joint activities to mark the China-Latin America and Caribbean Cultural Exchange Year

EPA

24/30 4 May 2016

(L-R) David Furnish, Lady Gaga and Macy's CEO Terry J. Lundgren attend Love Bravery by Lady Gaga and Elton John Launch at Macy's Herald Square in New York City

Getty Images

25/30 3 May 2016

The Hofburg palace is illuminated by a projection of Viennese artist Viktoria Coeln for the project Dystopia Eutopia in Vienna, Austria

AP

26/30 2 May 2016

A visitor looks at paintings by Yemeni female artists displayed at a gallery during an exhibition entitled Women Creativity for Peace in the capital Sanaa

Getty Images

27/30 1 May 2016

A man looks at an art piece during the Oshtoora festival in an open desert north Fayoum, Egypt. Oshtoora festival, or "A temporary sate," is held only once a year in a different locations within Egypt. The festival is based on expression of music, arts, and cultures in an open natural environment

AP

28/30 30 April 2016

Actress Lupita Nyong'o attends "Eclipsed" To Launch A Dedications Series In Honor Of Abducted Chibok Girls Of Northern Nigeria at Golden Theatre in New York

Getty Images

29/30 29 April 2016

Kabuki actor Shido Nakamura (in red) performs in a final dress rehearsal for the kabuki theatre show 'Hanakurabe Senbonzakura' in Tokyo, Japan. The latest digital technology kabuki theatre piece 'Hanakurabe Senbonzakura' is part of the Niconico Chokaigi festival in Tokyo. The festival was organized by video website Niconico, combining Kabuki, a traditional Japanese theatre art and cutting edge animation technology, co-starring kabuki superstar Shidou Nakamura and the popular virtual idol Hatsune Miku

Getty Images

30/30 28 April 2016

Members of the Australian ballet perform in the scene from "Scent of the Love" during the dress rehearsal for the national premiere of Symphony in C that comprises of five short ballet works at the Opera House in Sydney

Getty Images
Daisy Wyatt
Charlie was based on my best friend from nursery at the time. When I was three, I wouldn't go anywhere without him, and my mum would have to call, "come on Daisy, come on Charlie" to get me to do anything. He always wore bright green clothes, and we once played dens together with some string. Charlie disappeared when my brother was born a few months later and my family moved house.
Rachael Pells
I had imaginary animal friends – specifically, a herd of 100 South African wildebeest. I'd feed them, chat to them and tuck them into bed at night. My parents didn't worry too much about my days spent prancing round the garden leading Wilbur and Winnie across the vast African planes. I'm sure my dad briefly considered giving me up for adoption, however, the day we were driving into town and I screamed for him to stop: we were an antelope short – Indigo had been left behind! He narrowly avoided crashing, but my zoo-keeping destiny remains unfulfilled.