A French artist is living inside a bear carcass for two weeks, as part of an art performance piece that he started on Tuesday.
Abraham Poincheval is performing his Dans La Peau de l'Ours (Inside the Skin of the Bear) at the Musée de la Chasse et de la Nature (Hunting and Wildlife Museum) in Paris.
During the performance piece, which he first exhibited at CAIRN Centre for Contemporary Art in Digne last year, Poincheval will not leave the sterilised carcass for a fortnight - forcing him to eat, sleep, and relieve himself while being filmed by two cameras.
He won't emerge from the creature until 13 April.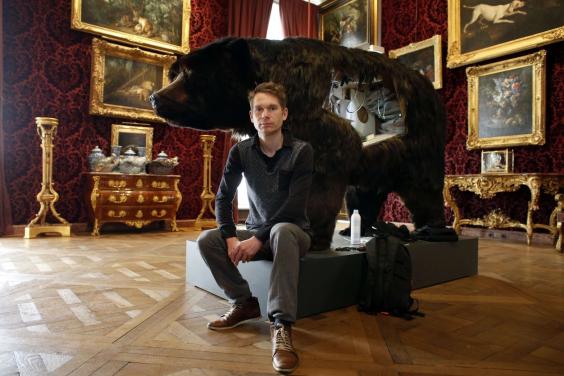 The Musee de la Chasse et de la Nature said that Poincheval is a performance artist "familiar with extreme situations." In 2012, he made headlines after he spent a week in an underground hole.
A statement on Dans La Peau de l'Ours before its debut last year explained that Poincheval was inspired by animal carcasses he encountered while performing a different piece in the French Alps.
"This transcendence between man and bears endures since the dawn of time," it reads.
"A profound symbolism has existed since prehistory, a symbolism that is still gripping the Western world's imagination today."
The exhibition will also include examinations of the constraints Poincheval is experiencing inside the bear, The National Post reported.
Born in Alencon in Normandy in 1972, Poincheval will return to his home in the Southern city of Marseilles when the performance ends.