The 11th Fourth Plinth artwork has been unveiled in London's Trafalgar Square by mayor Sadiq Khan.
Macclesfield-born artist David Shrigley's "Really Good" is a 7m-high elongated thumbs-up, described as the "tallest and most positive yet" and made in bronze to match the historical sculptures in the square.
Mr Shrigley, 48, was nominated for the Turner Prize in 2013 and is acclaimed for his bold and opinionated drawings, animations and sculptures that explore the absurdity of 21st-century society. He currently lives and works in Brighton.
"I guess this is a work about making the world a better place or it purports to actually make the world a better place," he said at the event on Thursday morning. "Obviously, this is a ridiculous proposition, but I think it's a good proposition. Artworks on their own are inanimate objects so they can't make the world a better place. It is us, so I guess we have to ask ourselves how we can do this."
The Fourth Plinth artworks
The Fourth Plinth artworks
1/6

A sculpture by German artist Artist Katharina Fritsch entitled Hahn/Cock stands on the "Fourth Plinth" after its unveiling at Tafalgar Square in London. The 4.7m high sculpture occupied Trafalgar Square's empty "Fourth Plinth" for 18 months

AFP/Getty Images

2/6

A sculpture by artist Yinka Shonibare, 'Nelson's Ship in a Bottle' is installed on the fourth plinth in Trafalgar Square in London. The piece consisted of a scale replica of Vice Admiral Lord Nelson's ship HMS Victory in a giant glass bottle and commemorates the Battle of Trafalgar

Getty Images

3/6

An artwork by German artist Thomas Schutte entitled 'Model for a Hotel' s displayed in Trafalgar Square. The glass artwork was an architectural sculpture of a twenty-one storey building, weighing over 8 tonnes

AFP/Getty Images

4/6

A marble sculpture by British artist Marc Quinn entitled "Alison Lapper Pregnant" on Trafalgar Square's Fourth Plinth in London. The statue was a portrait of disabled artist Alison Lapper, who was portrayed naked and eight months pregnant

Getty Images

5/6

A bronze sculpture of a boy on a rocking horse entitled 'Powerless Structures, Fig.101' designed by Danish artist Michael Elmgreen and Norwegian artist Ingar Dragset displayed on the Fourth Plinth in Trafalgar Square in London

Getty Images

6/6

Gift Horse, placed on Trafalgar Square's Fourth Plinth, was unveiled by the Mayor of London, Boris Johnson. The sculpture, by 78-year old German artist Hans Haacke, was the skeleton of a riderless horse with a London Stock Exchange ticker attached to its leg, intended to represent the effects of the City, power and money

Getty Images

"Really Good" replaces German artist Hans Haacke's "Gift Horse" and is the first piece of public art that Mr Khan has unveiled. "I wanted to make sure, because I'm five-foot-six, that we got the tallest artist we could, and we found him, and the tallest sculpture we could manage, and David's managed it," he said. "I wanted it to be really good, and it's 'Really Good'."
Mr Khan went on to praise the Fourth Plinth tradition, which sees contemporary artists create sculptures to fill the empty plinth in the corner of the square. "The great thing about this is that we can all be art critics. David is looking forward to your criticism, or your compliments, or your comments," he said.
"What this represents is so important: optimism, positivity, the best of us. Particularly post-Brexit, the three most important words I say are 'London is open'. This sculpture shows Londoners, visitors to London, tourists, EU citizens, immigrants that London is open."
Mr Khan counted down to the unveiling, when a black covering was unzipped to reveal the sculpture. "That's a very large set of flies, isn't it?" he joked.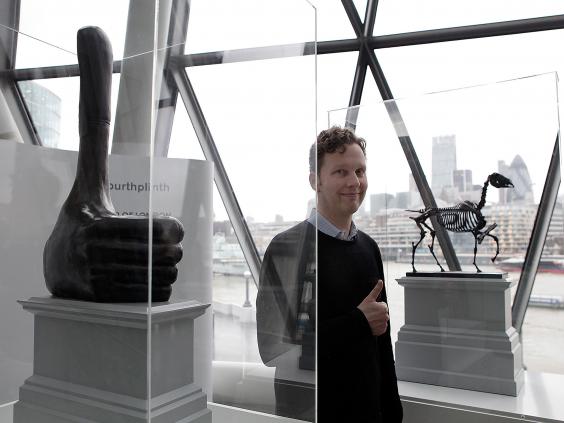 Other Fourth Plinth artworks have included giant blue cockerel "Hahn/Cock" by German artist Kathaina Fritsch (2013), "Nelson's Ship in a Bottle" by Yinka Shonbiare in 2010 and "Alison Lapper Pregnant" by Marc Quinn in 2005.
Reuse content