Picture this: four performers – not the best dancers, not the best singers, but any lack of talent more than compensated by commitment and enthusiasm – throwing themselves around to corny songs in ridiculously over-the-top costumes. What is it?
Well, it could be your average cringe-tastic Eurovision entry – or it could be a scene from Priscilla, Queen of the Desert. Or Muriel's Wedding. Or Strictly Ballroom... or any of number of the Australian film industry's greatest hits.
Even Mad Max could be mistaken for that legendary Finnish heavy metal entry (Lordi, 2006).
So no wonder Australians love Eurovision – the whole thing looks like they have directed it. And this was the country that treated ABBA like The Beatles. They seem programmed to love corny and catchy European tunes.
"Aussies do not suffer from an irony deficiency," says all-Australian London resident author, Kathy Lette. "We also adore kitsch, and approach all artistic endeavours tongue in chic. Sydney is the gay capital of the world and a camp, irreverent, mischievous sensibility has permeated our tastes. At the Olympic closing ceremony, Kylie rode into the arena on a giant flip flop with singing prawns. Need I say more? An over-the-top, sequin-splattered, high kicking, bum-jiggling, tune-slaughtering, camp song fest is right up our boulevard."
Eurovision 2015 contestants
Eurovision 2015 contestants
1/38 Serbia's Eurovision 2015 entry: Bojana Stamenov

Serbia's larger-than-life entry Bojana Stamenov has a big voice and a sense of humour to match (assuming she's not taking herself seriously in her promotional photos). The former Serbia's Got Talent finalist says: "I know how to knit and cook…But, watch out, my voice will blow up your mind."

Slobodan Sarić

2/38 Poland: Monika Kuszynska

Poland's contestant, who has been a wheelchair user since 2006 after being partially paralysed in a car crash, hopes to "build the bride of tolerance" this year with her song "In the Name of Love".

Stanisław Leszczyński

3/38 Austria: The Makemakes

The Makemakes were chosen out of an initial 16 candidates who participated in the Austrian national selection this year. Their name is derived from the dwarf planet Makemake

Copyright: Milenko Badzic

4/38 Italy: Il Volo

Pop opera trio Il Volo have performed all over the world, released massively-selling albums and joined songstress Barbra Streisand on tour

Credits: Daniele Barraco

5/38 United Kingdom: Alex Larke and Bianca Nicholas of Electro Velvet

Electro Velvet, a musical duo with an electro-swing sound, will be performing "Still in Love With You", which has already had over 1.6 million views on YouTube.

BBC

6/38 Russia: Polina Gagarina

Polina is a well known actress and model as well as a singer. She has released two albums and lent her voice to the Russian dub of Oz the Great and Powerful in 2014.

Copyright: Respective broadcasters

7/38 The Netherlands: Trijntje Oosterhuis

Well known in her home country, Trijntje Oosterhuis has previously served as a judge on The Voice of Norway. She has also shared the stage with the likes of Lionel Richie and Herbie Hancoc.k

Copyright: Carin Verbruggen

8/38 Armenia: Genealogy

Genealogy consists of six singers who were internally selected by the Public Television of Armenia to sing Face The Shadow in Vienna, a "powerful anthem about peace, unity, and love"

Ruben Martirosyan, Public Television of Armenia

9/38 Switzerland: Mélanie René

Twenty four year old singer Melanie is originally from Mauritius. She wrote her entry song "Time to Shine" while studying contemporary music in the UK.

Copyright: SRF/Oscar Alessio

10/38 Slovenia: Maraaya

Married couple Marjetka and Raay have come together to form indie pop band 'Maraaya'. Raay is better known as a producer, while Marjetka likes to perform wearing her headphones on stage to "evoke the same emotions in the studio".

Copyright: Tanja Zrinski

11/38 San Marino: Anita Simoncini & Michele Perniola

Yes, San Marino - the tiny Italian microstate with a population of 32,000 people - will be competing at Eurovision this year. They will be fielding two 16 year olds who previously competed at the Junior Eurovision Song Contest.

Copyright: Carlo Terenzi

12/38 Romania: Voltaj

Voltaj are one of the most popular bands in Romania, and are using the Eurovision stage to raise awareness of children left alone by parents who leave the country to work abroad.

Copyright: Respective broadcasters

13/38 Montenegro: Nenad Knežević Knez

'Knez' is one of Montenegro's most popular artists, having released 10 albums 23 years.

Copyright: Bojan Stnic

14/38 Portugal: Leonor Andrade

At the age of 21, Leonor Andrade has been performing since the age of four. Like almost every Eurovision 2015 contestant, she has also taken part in The Voice of Portugal.

Copyright: Edgar Vale Fonseca

15/38 Norway: Kjetil Morland & Debrah Scarlett

Morland was born in Norway but has lived in the UK for most of his life and is part of the British band Absent Elk. Debrah is best known in her country for taking part in The Voice Norway in 2013.

Copyright: NRK/Julia Naglestad

16/38 Moldova: Eduard Romanyuta

Ukranian-born Eduard Romanyuta has been performing on stage since the age of four. After Ukraine withdrew from the competition he decided to compete for Moldova

Copyright: Respective broadcasters

17/38 Malta: Amber

Amber is 23 and has competed to represent her country at Eurovision five times before. She was a backing singer for Malta's 2012 entry Kurt Calleja

Copyright: Aaron Briffa & cngfotography

18/38 Lithuania: Monika Linkytė and Vaidas Baumila

Monika Linkytė has previously attempted to represent her country in the Song Contest in 2010, 2011, 2012, 2013, 2014 and in the Junior Eurovision Song Contest in 2007

Copyright: LRT

19/38 Latvia: Aminata

Born in Riga in 1993 to a Latvian mother of Latvian and Russian descent, and a father from Burkino Faso, Aminata thinks of herself foremost as Latvian

Copyright: Martins Cirulis

20/38 Israel: Nadav Gudej

Nadav Guedj, 16, is a French-Israeli singer who will be performing "Golden Boy" in Vienna

Copyright: Ronen Akerman

21/38 Ireland: Molly Sterling

Self-taught 17-year-old musician Molly Sterling is at her happiest when she's singing and playing her piano in her County Tipperary home

Copyright: Richie Mooney

22/38 Iceland: Maria Olafs

Maria Olafs is an actress, singer and songwriter who will be representing Iceland with her song "Unbroken"

Copyright: Jonatan Gretarsson

23/38 Hungary: Boggie

Boggie is a jazz musician best known for her music video Nouveau Parfum, which has been watched over 6 million times on YouTube

Credits: Enikő Vár

24/38 Germany: Ann Sophie

Born in London but raised in Hamburg, 24-year-old Ann Sophie will be representing Germany with "Black Smoke"

Photographer Rolf Klatt | copyright eurovision.de

25/38 France: Lisa Angell

On stage, the French participant will perform N'oubliez Pas - a song of "hope and peace, of courage and solidarity"

Copyright: Nathalie Guyon / France TV

26/38 Finland: Pertti Kurikan Nimipäivät

"The members of our band are four middle-aged, mentally handicapped men. The music is, of course, Finnish punk," – Sami Helle, Pertti Kurikan Nimipäivät

Copyright: Anton Sucksdorff

27/38 Georgia: Nina Sublatti

Former model Nina will be performing her self-written song "Warrior", a song in which she shows her "power and strength, both vocally and personally"

Copyright: Levan Leko Chkonia

28/38 FYR Macedonia: Daniel Kajmakoski

Daniel is a Macedonian-born pop & rock singer, composer, songwriter, and guitar and piano player living in Vienna, where he moved with his family at the age of six. He was named after Daniel Popovic, who represented Yugoslavia it the 1983 Eurovision Song Contest

Copyright: Andreja Damjanovic

29/38 Estonia: Elina Born & Stig Rästa

Three years ago Estonia's hottest songwriter Stig stumbled across a young girl's video on YouTube, where she was singing Christina Aguilera's song Cruz. It was Elina - and the rest could be sweet Eurovision history

Copyright: Stina Kase, Stig Rästa & Elina Born

30/38 Denmark: Anti Social Media

Anti Social Media is a pop/rock band inspired by the warm sounds of the Sixties. Their mission is to revive the simple and happy spirits of bands such as The Beatles

Copyright: Ditte Chemnitz, Anti Social Media

31/38 Cyprus: John Karayiannis

John Karayiannis is 20 and comes from Limassol in Cyprus. In September he will be moving to London to continue his music studies and record his first album

Dre Photo work

32/38 Czech-Republic: Marta Jandová and Václav Noid Bárta

Marta Jandová is a well-known singer in the Czech-Republic and Germany, while Václav Noid Bárta is a popular composer, actor, arranger and singer

Copyright: Monika Navrátilová, Václav Noid Bárta

33/38 Belgium: Loic Nottet

Seventeen year old Loic was a finalist during the third series of The Voice Belgique and has since signed to Sony Music. His favourite artists is Sia

Photography & Art Work by Josh Brandão

34/38 Albania: Elhaida Dani

Elhaida Dani is a real star not only in her home country, but also in Italy where she won The Voice of Italy in 2013

Class Photography

35/38 Belarus: Uzari&Maimuna

Pop music composer and classically trainer lead violinist Uzari and Maimuna share a joint love of Lord Of The Rings

Credits: BTRC

36/38 Eurovision 2015 contestants

Greece's entry was born in Cyprus but has lived in Greece for most of her life. In 2014 she won the Voice of Greece TV show

Copyright: Sophia Dranidou

37/38 Azerbaijan: Elnur Huseynov

Elnur has previously sung in the Eurovision Song Contest in 2008, representing Azerbaijan along with singer Samir

Copyright: Magnus Ragnvid

38/38 Australia: Guy Sebastian

Former Australian Idol winner Guy Sebastian will be representing Australia, which has been invited to take part for the Song Contest's 60th anniversary

Respective broadcasters
So, for many years, it has been a tradition for Australia to settle down, in groups of friends and family, well furnished with drinks and snacks, as per the UK tradition, to watch a recorded screening of the distant chansons sans frontières.
And this year, keen Aussies can watch live from 5am to cheer for their first-ever entrant, Guy Sebastian, as always tuning in on the SBS channel. This stands for Special Broadcasting Service and it was set up in 1979 specifically to cater to Australia's fast-growing and diverse multicultural communities, providing programmes in different languages and of interest to minorities (and to those interested in minority interests – it has great ethnic cooking shows). And this connection between SBS and Eurovision – which it has been airing in Australia for 32 years – gives another hint at the reason for the Northern Hemispheric competition's popularity on the Pacific Rim. It's a taste of home.

"Eurovision is big in Australia because it's a nation with a rich and complex immigrant population," says Michael Idato, television critic of the Sydney Morning Herald, speaking from Vienna where he is covering the event. "Particularly for European Australians, Eurovision is a gentle exploration of their identity and ancestry, decorated around the edges with strange and eccentric songs and performers.
"The immigrant experience in Australia is very connected to an older Europe, rather than the Europe of today, and Eurovision uniquely bridges that, with a history that stretches back to 1956 and a story which seems to tell, oddly, the story of Europe."
Like Kathy Lette, Mr Idato also cites the role of Australia's vibrant gay population in Eurovision's nationwide popularity: "Australia has a loud and proud gay community, which has also become a large and significant audience for Eurovision.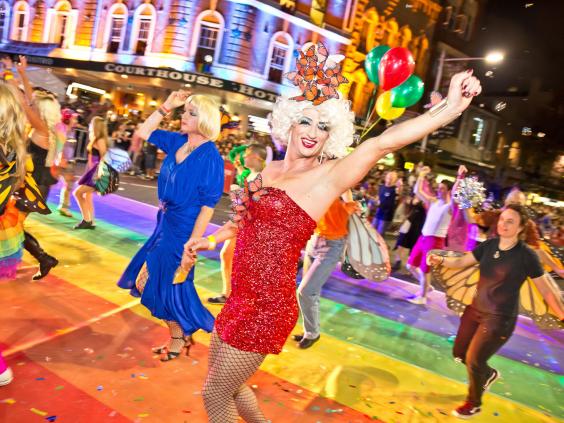 The two groups share certain qualities that seem to touch the thematic heart of the Eurovision Song Contest: a desire and hope for inclusion, and an intimate understanding of those who have undertaken a journey from the fringe of a society to its heart."
Which would make you expect them to enter their campest Mardi Gras drag queen, styled and directed by Baz Lurhman in an extravaganza of Down Under kitsch. Instead, they have chosen their 2003 Pop Idol winner, a serious player on the Australian music scene.
Now a judge on X Factor, with many multiple-platinum singles and albums to his credit, a musician, songwriter and producer, Guy Sebastian is a seriously good singer, with a seriously good song.
Which just goes to show that while they may relish the hokey camp of the other entries, when it comes to actually taking part, in Eurovision – as in so many sports – Australia really just wants to win.
Eurovision showstoppers
The contest has always been a home to eye-watering kitsch, but the desperation to get noticed among a vast field of brightly coloured clowns and fabulous transsexuals has increasingly led entries to slip over the line into the sinister, unsavoury and blatantly over- sexed. After 60 years, there are too many moments to list comprehensively, but here are five from the last decade.
Lordi, Finland 2006
Death metal came to Eurovision and took it by storm. Or possibly by force. The Finnish version of Slipknot actually won with "Hard Rock Hallelujah", stunning viewers – and not necessarily in a good way – with their terrifying fright masks and Orc costumes. Is Middle Earth now part of the ever expanding "Euro" zone?
LT United , Lithuania 2006
The six men in black were early exponents of Euro-irony with their provocative song "We are the Winners", the lyrics then expanding to "of Eurovision…". It started with some promise but, by the time one chap was shouting "WE ARE THE WINNERS" through a megaphone, it was feeling less like post-modern wit and more like post-Soviet aggression.
Scooch, UK 2007
A fresh low point in our woeful Eurovision record. "Flying The Flag" was an inoffensive ditty that reached number five in the charts. It was just unfortunate that a literal-minded producer decided to style the group as though they were actually – geddit? – flying. This was unsubtly rendered with tight hostie uniforms, Mile-High-Club dancing, a mincing steward and six-year-old-boy airplane-arm movements. Doors to manual, indeed.
Dustin, Ireland 2008
An attempt at double irony from their TV comedy star and ventriloquist's dummy Dustin the Turkey – by deliberately being badder than bad – turned out to be as disappointing as an unthawed bird on Christmas morning. The overly knowing song was called "Ireland, Douze Points", a reaction to the previous year, when the Land of Song's entry failed to make it to the final. Nor did this turkey.
Donatan & Cleo, Poland 2014
How many parents sustained injuries diving for the remote, to save their kids' eyes from this blatant porno? Lavishly endowed milkmaids churned butter with an up-and-down motion that could have been choreographed by Benny Hill. The official Eurovision website reports that the video clip has been viewed on YouTube more than 40 million times.
Reuse content