Bestival co-founder and electronic dance music-loving Radio 1 DJ Rob da Bank was a bit gutted when his seven-year-old son asked him for a One Direction CD. This is a man who, with his wife Josie and another couple, founded Isle of Wight-based festival Bestival a decade ago this September, and made his name by residing at the cutting edge of cool, organising weekly club nights.
"I found it quite difficult buying my son a One Direction album as it was the first CD he'd asked for. I'm a supposedly trendy Radio 1 DJ and my son's first CD was One Direction… But it's growing on me. Constantly playing it in the car every day on the way to school has made me realise it is good pop music."
Da Bank "still keeps [his] ear close to the ground" in the music scene, booking emerging bands, telling radio listeners who they should tune into and spending "months and months" of the year doing his darnedest to persuade the biggest names to headline at Bestival. This year he has bagged Sir Elton John ("he wasn't diva-ish at all"), Snoop Lion and Fatboy Slim.
But having moved from London to the Isle of Wight full-time a year ago to bring up three kids – and having established one of the most family-friendly festivals this country has to offer, Camp Bestival, five years ago – da Bank, 40, is getting a taste of a rather different life from the weekly South London clubbing institution of Sunday Best from which Bestival was born in 2003.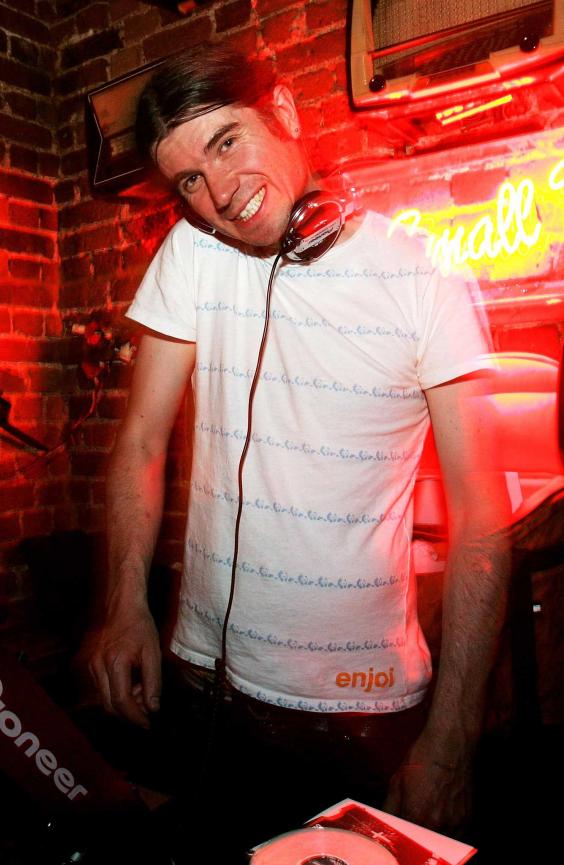 His life now revolves around school-runs with One Direction blaring from the stereo and one of the bestest Bestival highlights is actually the Women's Institute tea tent, he tells me (more on this later on).
Bestival is one of the more established UK music festivals in an increasingly rammed marketplace. Each year 50,000 people descend on the Isle of Wight wearing fancy dress for what da Bank describes as "a crazy, hedonistic adventure in an other-worldly magical kingdom".
Each year the organisers establish a dress-up theme and in the past have welcomed scores of pirates, cowboys and Indians, fairies and goblins and more to the parade. This year's theme is a nautical one and da Bank, as the captain of HMS Bestival, is already at the helm.
But things have not all been plain sailing for the event which was marred last year by a tragic bus crash. A coach carrying revellers home hit a tree on the A3 at Hindhead on 10 September 2012, causing the deaths of the driver, 60-year-old Colin Daulby, two passengers and injuring an additional 50 people.
Da Bank was "devastated" by the accident, particularly the deaths of two young Bestival-goers, Kerry Lynne Ogden, 23, of Maghull, Liverpool, and, Michael Molloy, 18, from Woolton, south Liverpool.
He has since been involved in fundraising for the victims and their families and also supported the release of songs written by budding musician Molloy the year before he was killed. His single "Rise and Fall", recorded with his friend Alex Evans, shot straight into the top 40 when it was released on Da Bank's label Sunday Best in May.
"When we heard what had happened it was devastating for all of us at Bestival," Da Bank says. "In a way it was nothing to do with us directly, but those two young kids, everyone on the coach, had been having a whale of a time at Bestival."
He is planning "something permanent" at the festival to commemorate the victims: "We put on a big night for them in Liverpool a few months ago. We've had people [from his team] going up [to Liverpool, where most of the victims were from] since the crash just to keep in touch. It's not a cynical thing, 'we'd better be nice to these guys to protect ourselves.' Bestival's a kind of family. This is a tragic part of its history now."
Family, whether it's the 25-strong team of organisers who run Bestival, his wife, or his own children, is the axis upon which da Bank's world revolves. During our interview he repeatedly mentions Glastonbury and the legacy the Eavises have built there. Is it his plan to pass the Bestival Empire onto his sons à la Michael and Emily Eavis?
"Yeah possibly," he concedes. "I don't look at my kids and think 'One day you're going to own all of this.' They are seven, five and two so they're not really into raving yet. They love Camp Bestival but I think Bestival is still a bit racy for them."
"What Michael and Emily and their whole Glastonbury crew has done is phenomenal. I don't think we'll ever achieve what they've achieved in festivals. But yeah, it's the same ethos. It's me and my wife and our partners, another married couple. The four of us created it together, we run it together."
Da Bank's first festival was Glastonbury when he was 17. "I remember jumping over the fence and thinking 'This is the best thing I've ever done in my life,'" he says. So you didn't buy a ticket then? "Yeah, years later I told Michael Eavis that to his face. He just sort of tutted."
In 10 years Bestival has grown beyond recognition from the 4,000-strong posse of revellers it started with. But despite having capacity to expand beyond 50,000 ("we're smack in the middle of the Isle of Wight, there's loads of room"), da Bank is keen to keep it manageable.
"Glastonbury is the only festival I know that's bigger than 50,000 people that retains its cool feel. I reckon we'd start losing that intimate vibe if we expanded. We want people to be able to lose a mate and find them again the same day, rather than three days later. I think that's quite important," he says.
What do the Isle of Wight locals think of da Bank bringing thousands of foreigners onto their turf for a three-day party every year? " The islanders are a mixture of ultra-conservatives and some very hedonistic ex-hippies. It definitely took a few years for them to get their heads around Bestival. But it is very good for the economy."
One particular triumph is Bestival's relationship with the Isle of Wight Women's Institute. "They absolutely love it. The Isle of Wight WI are held up around the country as one of the most dynamic. They started with us 10 years ago and do thousands and thousands of cups of tea and cakes."
"You see some deranged raver who's been up all night discover they can get a cuppa and a cake for 50p and they're suddenly so sweet and polite. Joan Finch, the lady who runs it, says they've never had a bad word, or any horrible people."
Will Da Bank respond to his children's influence and book One Direction next year? "I think I'd get a bit of flak for that one, but they'd be great for Camp Bestival."
Bestival, Isle of Wight (www.bestival.net) 5 to 8 September