Few musical reinventions are as successful as Nick Mulvey's.
Back in 2008, he was celebrating being nominated for the Mercury Prize for the album Knee-Deep in the North Sea by Portico Quartet, the jazz outfit he founded and for which he played the hang – a drum that resembles a giant wok.
But by 2011, tired of the hang drum and missing the guitar, and as songs of his own continued to bubble away inside his head, Mulvey quit and pursued a new career as a folk-rooted, solo singer-songwriter. And now, with his debut album First Mind, released in May of this year, he finds himself once again nominated for the Mercury. This time he's up against Damon Albarn and FKA Twigs and the winner will be crowned tomorrow.
"I had a real desire to follow the guitar and get back to writing lyrics, and all of that was dovetailing with a dissatisfaction with the hang drum and the low ceiling of the jazz world", he recalls over coffee. "With Portico Quartet, we would often make music where we were pulling in different directions, and I realised that all this was doing was flummoxing the listeners' expectations. I got bored of tricksy music. I wanted to pull the listener in. I thought, 'I want to warm the room.' You come in and sit down and you're never unsure what key we're in. "
Months of dissatisfaction went by, and when Mulvey finally parted ways with Portico Quartet, the result was pure relief. "I noticed a lot of changes in my life", he says. "I relaxed as a person, relationships changed and moved on, I met so many interesting people. I had a skin pigment disorder that went when I started writing my own songs. There's not much you can do about it, it's auto-immune. They can give you steroid cream, but they can't solve the problem and, who can say, but it did go. … So from what domain does that problem arise? It's about really living inside the truth." He smiles. "I'm much happier."
When he went solo he wanted to avoid the pitfalls of being a confessional troubadour. He spent time learning "the discerning difference between good songwriting and confession. A really well-written song will totally protect you as a songwriter and also the people nearest and dearest to you. I love how specific Paul Simon's writing is with location, yet he's protected."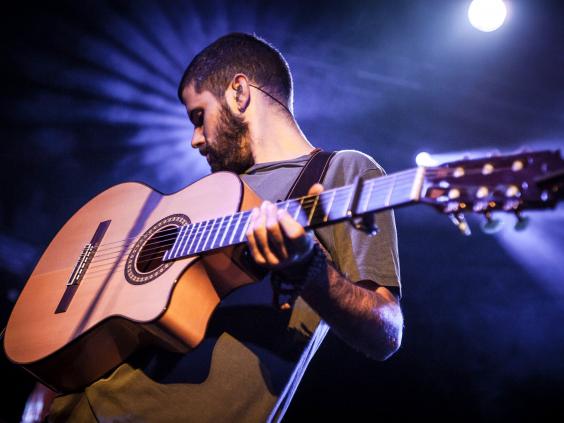 The wonder of Mulvey's debut album is how it does exactly what he wanted it to: pulling in the listener, and warming the room. With little percussion adorning his songs, he draws lilting rhythms and mesmerising, trance-like, melodic patterns from his acoustic guitar, reflecting remnants of the deep-rooted love of African music he developed on a Cuban guitar course. Laura Marling is a fan. Not long after the release of his EP Fever to the Form last year, she invited him to fill in for a last minute cancellation at her immersive live show for Secret Cinema, and stood listening to his performance. The next day Marling invited him on her entire tour.
Mulvey, now 28, grew up in Cambridge. He started on the piano, and the first time he picked up a guitar was when he found one lying around while holidaying in France with his family, aged 16. He quickly became "obsessed, in a teenage way". His father, a biologist turned yoga teacher, and now a guide at the gardens in Kenwood, taught him the rudimentary chords, while his natural aptitude for music also came from his mother, a former professional singer. Not that he enjoyed the structured approach of learning music academically. "I was much more drawn towards my dad's informal approach to music; he would play songs and entertain us. There was always blues-based music [at home] and I loved it intuitively as a kid – Chuck Berry, Bob Dylan, Dire Straits..." More modern pop he picked up from his older sister, who introduced him to Massive Attack, Portishead, and Nineties dance and trance music, which finds a way on to First Mind in the form of a cover of Olive's "You're Not Alone".
Songwriting followed not long after he picked up the guitar. Instead of reading music traditionally, he started developing guitar patterns that would prove to be the secret of his trance-like melodies in songs such as "Fever to the Form". It's clear he takes his guitar-playing techniques seriously. "There were lots of things I was discovering about chord patterns and how to make simple sequences…" He breaks off. "I don't know how much you want to talk about that". A suggestion that we bypass the exact technical workings of his guitar sequences prompts today's only sign of irritability from this otherwise mellow musician. "That's what I like to tell everybody", he says, indignant. "Sometimes you get radio interviews where you can sit down for an hour and talk about the detail. That's how it should be."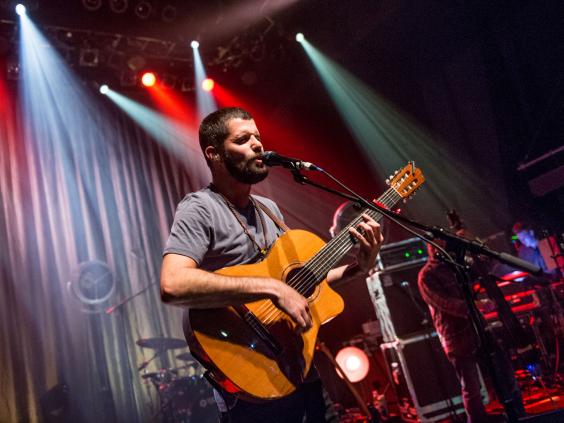 During his last 18 unhappy months in Portico Quartet, Mulvey immersed himself in books, films and music, soaking up the documentaries and books on artists or songwriters that would influence his own writing.
"I remember really enjoying Alice in Wonderland. The way Lewis Carroll plays with words – that would resonate with my nascent intention to make that a key element. I would get Richard Thompson up on Spotify, open a chapter of his book and read his stuff about Fairport Convention. Not that you'd ever hear it in the album, but I've drawn loads from that." He's back into that same process again, absorbing the ideas that will go on to form elements of his next album.
He moved to London to study ethnomusicology at the School of Oriental and African Studies, and met his Portico Quartet bandmates. Now he lives in Stoke Newington with friends and his girlfriend, Isadora Tanner, who contributed photography to the artwork of First Mind, and whose vocals can be heard on the album. She sometimes accompanies him live on stage.
Now that he is finally content in the music he is making, what next? "My aim as a songwriter is to tell the truth, to connect and communicate. I want to make exactly the kind of music that satisfies me, that's uninterfered with by what it takes to sell it, but I also want to sell it. I want everything." 
Reuse content