Fans of the Nashville folk duo The Civil Wars will know that they broke up, or maybe imploded would be a better word, in 2014. But the band's deterioration began two years before. Joy Williams and John Paul White's final gig was at the Roundhouse in Camden, London, in 2012.
On-stage chat was frosty and they announced on Facebook almost as soon as the gig was over that they had cancelled their tour, citing "internal discord and irreconcilable differences of ambition". They proceeded to make a second self-titled album together, but they weren't speaking to each other at the time. Williams would leave the studio every 45 minutes to feed her newborn son, Miles. In 2013, she told The New York Times, "I have a lot of ambition. I personally felt like John Paul was more of the ilk that things would happen organically and 'if it ain't broke, don't fix it'." In August last year they announced their split. At the time Williams said: "I would be open to trying to mend the bridges that I think we both burned. It takes two." Now, she is finally ready to let go.
"You can't have that much tension without something changing and it did," she says when we meet at a private members' club in London. "That intensity – I don't think was sustainable." When she's talking about the break-up she mutters under her breath "only speak for me", a mantra reminding herself not to complain about her former partner.
"I made attempts to reach out but the last time we spoke properly was at the Roundhouse. It's not easy when you don't get to resolve something even when you try but you have to learn to know when to let go of things that don't serve you any more."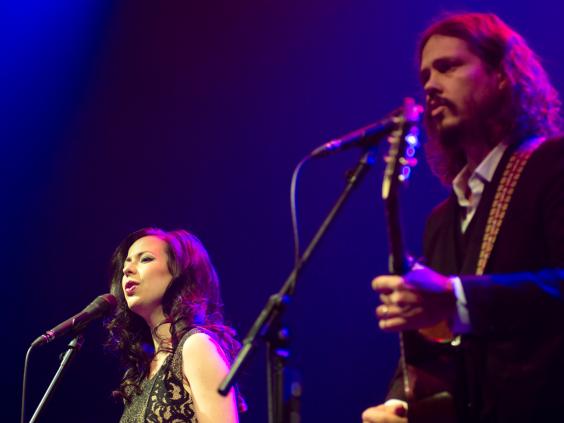 There were several theories as to why the duo broke up – one that giving birth changed her priorities. "It was far from it," she responds evenly. "I have become more of a soulful artist because of having my son."
Williams' new solo record, Venus, is a celebration of womanhood and motherhood. It's been a cathartic process for her, and explores themes of "accepting, transcending, moving on, forgiving and starting anew, letting go and knowing when to hold on", she explains, her eyes shining. "The moxy was just to be very honest, starting with myself."
In the time between the band's split and making her album, she became a mother, her relationship with husband Nate Yetton was on the rocks and her father was diagnosed with terminal cancer and died. But this isn't a maudlin record. It focuses on hope.
"I wanted it to be a healing process and to write in a way that I found the glimmers and flickers of hope and fight, and letting go, and accepting and forgiving, and finding that there actually is another side once you move through the darkness, sometimes even more vivid and colourful than any place you were before." She finally takes a breath and smiles ruefully, then mutters: "Hard fought, hard fought."
After the band dissolved, Williams got in touch with Justin Timberlake to get some advice on how to become a successful solo artist, and he in turn put her in touch with producer Matt Morris, who's worked with Timberlake and other solo artists including Cher, Christina Aguilera and Mary J Blige. They met at a friend's house in Laurel Canyon in Los Angeles and it was "like a first date". Williams showed him some of the 50 songs she'd been writing since The Civil Wars' break-up and he told her: "You're so afraid to say something wrong that you're gonna end up saying nothing at all."
"That's when I cried," she says, "and he is such an evolved man that he just let me cry and when I had done ugly crying he asked what song I wanted to write and I said, 'I would just love to write a happy song and one day I will.' That was a chapter I needed to get to."
There's a beautifully soulful number on the album called "Sweet Love of Mine", which was written for her son, who is now two. "I remember being out in the porch in July with Miles all squishy and pink and asleep in my arms and I felt this melody come to me, which doesn't happen to me a lot, not at all, and I quickly picked up my phone to record it. I kept it to myself for two years and you can hear these tiny infant coos on the recording." She begins to well up and I ask if she wants a break. "No it's fine! I'll blame it on the jetlag, or my total maternal love, but he was such a rare light in the midst of a season that was just so dark and so hard."
"Sweet Love of Mine" has an R&B beat overlaid with a lullaby song. The lyrics seem to hark back to Williams' beginnings making modern Christian music for the Reunion label. "I heard your voice sing like heaven's choir/ Gathered up my fears and threw them in the fire".
"It's not about God," she says flatly. "But I like to think that all things are interconnected."
Pop music: Good years and bad years
Pop music: Good years and bad years
1/6 Good year: 1963

The breakthrough year for pop. The Beatles and The Beach Boys (pictured) released their debut albums three days and 5,000 miles apart, while Bob Dylan kick-started the folk boom with the single "Blowin' In The Wind" and the album The Freewheelin' Bob Dylan.

Hulton Archive/Getty Images

2/6 Bad year: 1960

It might not have been as bad were it not for what happened in 1958, when Elvis Presley was drafted into the US Army. He was replaced by prefabricated teen icons like Fabian, Pat Boone (pictured) and Frankie Avalon, and pop again became the province of Middle of the Road novelty pap.

Hulton Archive/Getty Images

3/6 Good year: 1975

The high watermark of pop's diversity: stadium rock (Born To Run); stadium prog (Wish You Were Here); Krautrock (Neu!'s 75 and Kraftwerk's Radio-Activity, pictured); confessional songwriting (Blood On The Tracks and Tonight's The Night); proto-punk poetry (Patti Smith's Horses); art-rock sophistication (Steely Dan's Katy Lied and Joni Mitchell's The Hissing Of Summer Lawns).

AFP/Getty Images

4/6 Bad year: 1985

Some measure of how bad the year was can be gleaned from knowing that of the year's top 10 best-selling albums four were Now That's What I Call Music and Hits compilations. Anthems abounded: "We Are The World", "Shout" and "I Want To Know What Love Is" were the biggest singles, while album were dominated by Dire Straits' Brothers In Arms and Phil Collins' (pictured) No Jacket Required.

AFP/Getty Images

5/6 Good year: 1997

The last great heave of BritPop saw the mandatory No 1 albums for Blur and Oasis. But the genre was bursting at the seams, struggling to accommodate the huge success of Radiohead's (pictured) neo-prog milestone OK Computer and the soundscaping innovations of The Prodigy and The Chemical Brothers.

Hulton Archive/Getty Images

6/6 Bad year: 2011

2011 really stands out for the cumulative impact of Cowellism, as the album charts were littered with the output of his telly talent shows, such deathless innovators as One Direction, Susan Boyle, JLS, Alfie Boe, Olly Murs (pictured), Joe McElderry, Matt Cardle, Rebecca Ferguson and Will Young.

Getty Images
When Williams began making Christian pop she was just 17. On her old album covers she looks like a different person – a soft round face, light blonde hair, ridiculously wholesome. She's 32 now, strikingly beautiful and thin, with a Hollywood smile and huge brown eyes. 
She was 22 when she married Yetton in 2005. "When the band imploded it wasn't just a business implosion, it was a massive life disruption in every way and our marriage was almost a casualty of that. " Her marriage is back on track now and the couple have moved to Venice Beach, California, where much of her album was recorded. They also keep a home in Nashville, where her mother lives.
"Miles was in my belly when my father was going through chemo," she says. "God, I have been broken open by so many things I have experienced in the last few years, but when my dad could touch my belly and feel my son in there kicking, that was a great and beautiful undoing in all the right ways," she wells up again but keeps talking. "I miss him. I was laying next to him with my hand on his heart when he passed away and I sang him some of these songs on the record. He loved them.
"It changes you so much, losing someone who was a part of giving you life, and also giving birth in the same span of time. It changes you for ever."
'Venus' is released Monday 29 June on Sensibility Music/Columbia Records
Reuse content