On Tuesday night, 300 lucky sods watched Prince play his first UK show since 2007. The last time you could have seen him perform was during his 21-night residency at London's O2 Arena, along with 20,000 other folk each night.
This, however, was a secret show. The "Purple Rain" star appeared on stage in north London, at Camden's Electric Ballroom (capacity 1,000), at about 11pm to sing for a few journalists and a bunch of astute fans who had managed to pick up enough clues about the existence of the show. By the time Prince was belting out his new single, "PretzelBodyLogic", a huge crowd had assembled outside the venue.
That's the thing about the secret show, of course; it isn't supposed to stay that way. It's a secret that's meant to be spilled. And record labels love them. Not only are they cheap and easy to pull off, it's a sure-fire way for an artist to secure buzz; Prince's unannounced appearance created a hell of a lot more publicity for his new album than if he had played a show you could have got into with a Ticketmaster account.
And it's a stunt we're seeing more frequently. Last October, Paul McCartney gave the Covent Garden buskers a run for their money when he pitched up in the cobbled piazza to perform to puzzled shoppers (although they probably left a little disappointed after they realised he was eschewing Beatles hits for tracks off his latest album, New.)
The Stone Roses made their comeback after 16 years in 2012 with a secret show in Warrington. Fans were told the same day to turn up at Parr Hall with a copy of the group's CD to gain entry. Naturally, thousands did.
Secret gigs are so expected these days that half the time the punters are on to them anyway. When a band called The Reflektors were booked to play London's Roundhouse last October, everyone knew it was actually Arcade Fire. Tickets for Rihanna's "secret London show" during her 777 promotion were actually advertised.
The earliest known secret gig was in November 1968, when Jefferson Airplane (at the suggestion of Jean-Luc Godard, no less) illegally set up their equipment on a hotel rooftop in Manhattan one lunchtime. New Yorkers stopped in their tracks as "The House At Pooneil Corners" blasted down from on high. The NYPD shut down the performance and threatened to arrest the band for noise disturbance.
The following year, the Beatles pitched up on the roof at 3 Savile Row for what would be their final live performance. Again, police shut them down.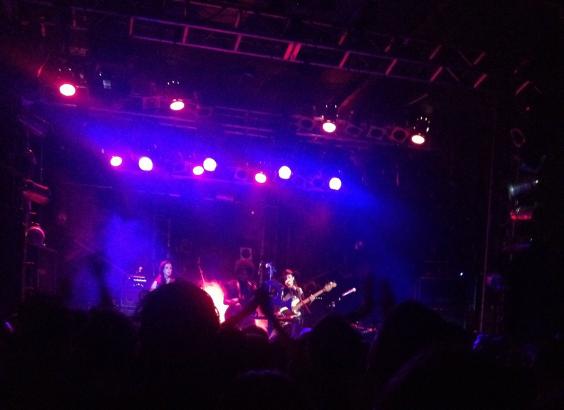 And so, with the birth of the secret gig, Jefferson Airplane and the Beatles also instigated one of its cardinal rules: if the emergency services aren't required at some point, you probably shouldn't have bothered in the first place. These gigs aren't supposed to create a "ripple of excitement". Labels want mayhem; roads shut; possibly some arrests.
Of course, now even festivals have got in on the act. Glastonbury's park stage is famous for putting on shows that you won't find listed on the line-up. That hardly anyone could get anywhere near Radiohead's "surprise" set in 2011 suggests someone in the camp was loose-lipped.
SXSW, the festival that takes over Austin, Texas, every March has so many clandestine shows on its programme it's a wonder anyone actually gets to see any music at all.
And you don't have to be the biggest band in the world to carry out guerrilla gigs; smaller acts can use the format to their advantage, too. The Libertines used to post clues on a fansite forum about where they would be performing later that day. Keen trilby-sporting youngsters would flock down to the site – be it grotty pubs such as Filthy MacNasty's or Pete Doherty's living room in Whitechapel – to get closer to their idols. The intimate nature of such exchanges meant that the band's followers would exhibit a kind of fandom usually reserved for Disney stars.
But if you are planning to put on a secret show, just remember to at least tell someone. Because, as the saying goes, if a gig happens in a wood, and no one is around to hear it, does it get any column inches?
Reuse content