Lianne La Havas has never shied away from putting her most intimate moments into her songs. Her first album, the Mercury-nominated Is Your Love Big Enough?, was about an ex-boyfriend who treated her badly, and an older man who became her lover. Now, three years on, there's a new man in the picture. Her second album, Blood, sees her falling out of love with her boyfriend (who played bass in her band for two years), discovering the joys of living alone and then meeting a new man. There was also a fuzzy bit in the middle, where she thought she wanted the ex-boyfriend back.
"Yes, we were lucky enough to be always together when we were touring, but last year, when I wasn't touring, I realised that I maybe wanted something other than what I had, so I broke up with him," La Havas says, sadly. She almost seems to be transported back in time as she explains it to me, much as she does when she performs on stage, when every inflection of her voice conveys pain or joy. We are sitting side by side at a restaurant in London's Kensington, where she sips a cappuccino with soy milk and stows the biscotti that accompanies it under a napkin, saving it for later.
"I was breaking away and I had all these writing trips. I was going to Los Angeles and I thought, 'I can just do what I want', and so I did, and then when I got back I thought, 'I can't do what I want any more'. It was tough to balance the two things and then I thought, 'Maybe I need to be on my own', so then I did it and I hated it. But I was still writing, and so there was beginning to be a chunk of songs that were like, 'I'm really happy on my own; I'm really independent' and then the next ones were like, 'I'm really independent but, well, that was really nice when we were together, wasn't it?' and then there were songs that were 'I really want to get back together with you' songs and then... 'Unstoppable'."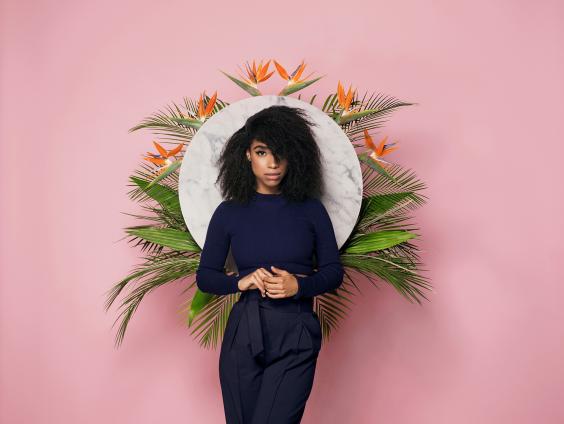 The Paul Epworth-produced tune "Unstoppable" begins with a synthy intro, where La Havas's voice, high and soft, is layered on top of itself multiple times before bursting into a jazz-infused track about floating through space and being pulled together by gravity. That was La Havas's "take me back I'm really sorry" moment, and it worked; within a week they were back together. But then, alas, they realised they weren't in love any more and the reunion ended after two months.
During that time, La Havas moved out of the flat she shared with friends in Leyton, east London (where Prince famously played a 10-person gig in February last year before including La Havas on his album Art Official Age) and into her own place. "I [said] 'You know what? I'm really happy right now on my own.' I've always lived with people but then I realised how sacred my own time was."
Luckily for us, the 25-year-old singer wasn't compelled to write a hit about the security of living in a one-bed flat; fate had more in store for her. She fell in love, again, with a "recording mixer engineer extraordinaire" called Ben, who she met on her travels. "We were so in awe of each other's jobs. I had all these crazy experiences in the studio, where I was like, 'What does that button do? What does this button do?' Then before we knew it we were talking every day for eight weeks and then I thought, 'This is a bit silly – we should probably meet' and then I was going to America. For our first date we went to LA for the Grammys. We had this amazing first date and since then we were inseparable. I had all these feelings that I had never had that made me think, 'I've never been in love like this before' and I just wanted to be the best version of myself and I still feel like that, I mean, for him, everything is for him and he feels exactly the same and it is just fresh and beautiful and it's the best thing in the world it's the most beautiful..."
I was forced to cut her off by making gagging noises at this juncture, but she was not deterred.  "But that's the thing, that's just it. I fell in love." She lights up like a Christmas tree. "What You Don't Do", the forthcoming single, is about this new relationship, a made-for-radio pop tune featuring horns and a gospel choir backing.
"It's basically about being so sure about the love you have for each other that you don't need to say it to each other any more, you know what I mean? You just know by how they are with you."
But it's not all lush tunes about being disgustingly happy. As the album title suggests, Blood is also about La Havas's family. Her father is Greek and her mother is Jamaican. They split up when La Havas was a toddler and after that she was raised by her maternal grandparents in south London. "My mum was around," says La Havas stoically. "I was just very close to my grandma and my granddad. They were like my two parents."
Although she knew a lot of her father's side of the family from holidays to Greece when she was little, she didn't know her Jamaican side so well. Once she had finished touring to promote the last album, she took a trip with her mother to Jamaica to find out more about her heritage. But the big discovery was getting to know her mum again.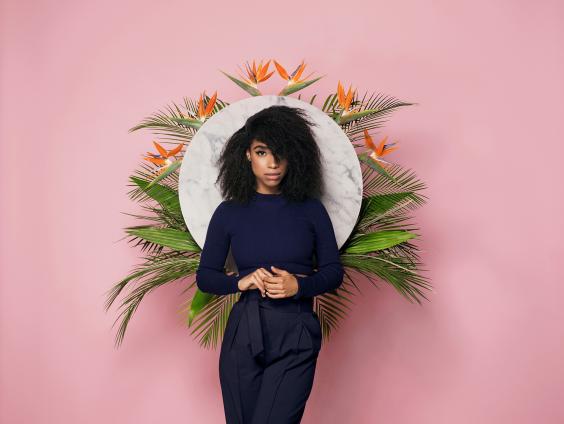 "Going with my mum was very emotional because I had never been anywhere with her for longer than a week before. Being with her I realised how cool she was. You realise how [your parents] have done so much more than you have done, and I have all this newfound respect for her. She is the most beautiful woman I've ever seen and so being with her we just bonded big time." There's that big, happy smile again. La Havas is certainly a glass-half-full sort of person.
Although she is now secure about where she comes from, the rest of her identity is harder to pin down. She refuses to be pigeon-holed and calling her music "neo-soul" makes her bristle. "The connotation is that you are some sort of militant black figure; a diva who sings soul and wails, but I like singing big as much as I like singing small... I just I think it's now getting less and less necessary to put music into categories."
Her recent Glastonbury show, surely her biggest and most confident performance to date, saw her covered in glittery body tattoos and a floaty dress, wailing and whispering. There were echoes of Nina Simone, Kate Bush and Björk – but the gig didn't neatly fit into one category. It turns out that the theme for that show was a reaction against another attempt to box her in: she was asked to participate in a panel discussion for the BBC about women in music, but turned it down.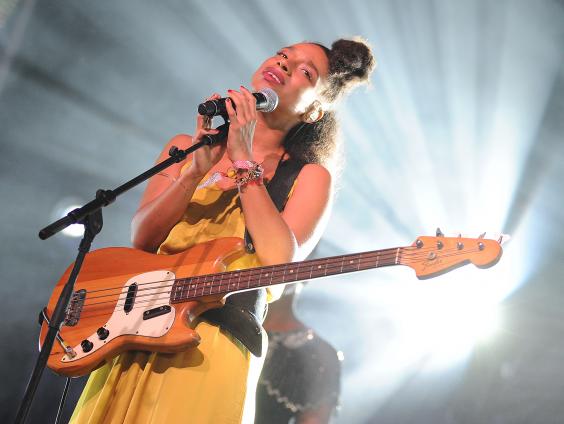 "The tagline for getting us to talk on the show was something like: 'Girls are fierce now, no longer chirping sweetly in floaty dresses'. And I was like, why can't you still be a strong, fierce woman and wear a floaty dress? So I thought, 'You know what, f*** it, I'm going to wear a floaty dress. I'm going to have loads of flowers around and I'm going to chirp'. And I did, but that didn't mean I was any less strong. I love flowers as much as I love Doc Martens. I love piercings and playing guitar. Why can't you have all of these things?" asks the girl who already has it all.
There might not be a convenient, shorthand description for critics to describe La Havas's sound, but that doesn't mean she's not worth listening to.
Reuse content