Marina Diamandis bounces on to the sofa to meet me at her label's offices in Kensington. She's wearing a shiny charcoal pant-suit with a Moschino belt emphasising her miniscule waist, and an updo with tendrils of dark wavy hair that frame her heart-shaped face.
Disarmingly, she asks me for a sheet of paper from my notepad and neatly folds her chewing gum into it, swinging her knees round to point toward me.
We're here to discuss her third album, Froot, released on 3 April, though three of the tracks, "Happy", "Froot" and "I'm a Ruin" have already been released online. The plan is that each track appears in instalments over six months, so fans receive half the album before it's officially released. Originally Diamandis wanted to release two tracks per month but "iTunes wouldn't let us do that", so she came up with one a month, calling the releases "froots".
The 29-year-old's last album, Electra Heart, went to No 1 in the UK album charts, but, in spite of the album's success, Diamandis wasn't keen to go through the experience of putting out a record in the same way again. "I didn't really want that commercial pressure on me," she says, "especially as there wasn't any need for it because I have quite a hardcore fanbase."
Rock and pop highlights of 2015
Rock and pop highlights of 2015
1/5 Mark Lanegan Band - touring from 20 January

The most intriguing performance prospect of a fairly docile January is the arrival of the Mark Lanegan Band for a clutch of shows in support of the recent masterly album Phantom Radio. Expect soul-ravaged blues fatalism as Lanegan confronts dark memories and apocalyptic visions with apparent sangfroid, his baritone croon traversing soundscapes of chugging electropop, spiralling guitars and courtly pop melancholy.

Kevin Nixon/Future Publishing/REX

2/5 Bob Dylan - Shadows in the Night released 2 February

An album on which Dylan sings Sinatra, a performer in whose voice he claimed to hear "death, God, the universe, everything". He's eschewing the usual swaddling orchestrations in favour of relaxed small-combo versions, recorded with his own band. They're not cover versions, he explains: "They've been covered enough. Buried, as a matter of fact. What me and my band are basically doing is uncovering them. Lifting them out of the grave and bringing them into the light of day."

Getty Images

3/5 The War on Drugs - touring from 16 February

2014's breakout US indie band will arrive for a string of British dates. Songwriter/frontman Adam Granduciel's blending of Dylanesque vocals, stadium-pop melodies and guitar drones should appeal to fans of Neil Young and My Bloody Valentine alike, and these shows offer the perfect opportunity to check whether they're as loud and overbearing as Sun Kil Moon's Mark Kozelek claims in his amusing song "War on Drugs: Suck My Cock". Thankfully, music is big enough to accommodate both.

Rex Features

4/5 The Jesus and Mary Chain - touring from 16 February

Having bowed to the demand to perform their debut Psychocandy in its entirety – a move that places them firmly in the rock-heritage classicist ranks, rather than the punk-nihilist cadre of their original 1980s inception – the re-formed Mary Chain take their sweet white whine around the country. Expect: great tunes; loud feedback. Don't expect: a revolution.

5/5 Nicki Minaj - touring from 28 March

Initial reaction to Nicki Minaj's new album The Pinkprint is mixed, but however its more assertively autobiographical songs transfer to the live arena, bangers like "Want Some More" and "Anaconda" suggest that her upcoming shows should pack some punch. And the flamboyant diva can surely be relied on to put on a show. But what will be the colour-scheme? Think pink.

Getty Images
She's very connected to those fans; they are the "Diamonds" referred to in her stage name, Marina and the Diamonds, and they've already helped push Froot up to the top ten on the iTunes preorder charts.
She uses her YouTube channel, which has had nearly 190 million views at time of writing, to connect with her Diamonds through teaser clips, music videos and her "FAQin' Hell" videos, in which she candidly answers tweeted questions which range from the silly to the serious, like "why are your boobs so big?" and "on a scale of one to 10, how bad did middle school or high school suck for you?".
With refreshing curiosity, she also regularly checks her social media channels to see who her latest followers are. "It fascinates me," she says. "If I can't sleep I go on my latest followers and it tickles me that some 13-year-old in Ohio just followed me."
Her most recent celebrity follower was the original Darth Vader, David Prowse. The 79-year-old actor has been promoting Froot online. She proudly pulls out her phone to show me a mocked-up image of herself standing with Darth Vader, with the caption: "Vader highly recommends FROOT".
She's clearly thrilled but he's certainly not representative of her fanbase, which predominantly consists of 18- to 24-year-old women, though that might change with Froot, which is likely to draw in a broader demographic due to its darker, more textured sounds.
Thematically too, it's very different from her previous work. Froot is more about self-confidence, whereas her second album, Electra Heart, dealt with broken relationships.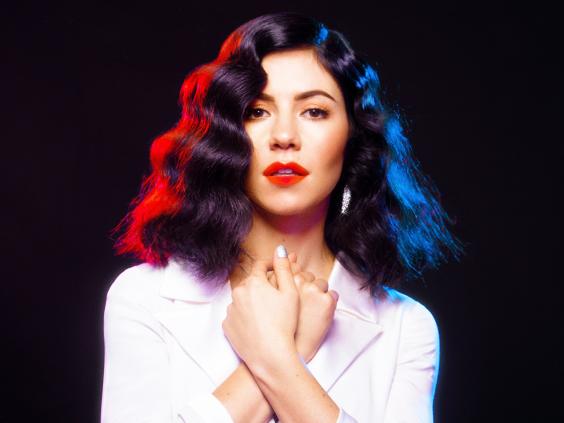 "[Electra Heart] was about love and rejection and all those kinds of themes and insecurities and this is more, I suppose, talking about somebody's outlook on the world," she says. But she still has a difficult relationship with the album that propelled her to fame. "Even though I love the production, it's not my sound and that's what you get with big pop producers. A lot of what they focus on is money and that's not cynicism, it's just the truth, so whatever dictates popularity dictates their sound."
Froot was written over the course of two years, from 2012 (two months after Electra Heart was out) to the start of 2014. The confidence she gained from Electra Heart's success helped Diamandis to stand her ground over her goals for Froot. "Before, I was always trying to find this middle ground between what my team at the time thought and what I was trying to do as an artist," she says. The result is an exciting new direction.
Diamandis brought in Marcus Lundqvist, who also directed the sombre promo for Interpol's "My Desire" single, to direct the video for her tune, "I'm a Ruin". The imagery nods to Kate Bush and Björk; Diamandis is swathed in a black cloak with a red scarf, which frequently obscures her face as she performs interpretative dance on dark rocks. It finishes with a psychedelic montage of glowing jellyfish as Diamandis floats in inky black space.
On the whole it's more surreal than the videos we're used to from the singer, which often feature bright colours, close-ups of her face and Fifties and Sixties-inspired costumes. She seems savvy and self-assured now but it has been a swift learning curve for the singer, who a decade ago had no music experience whatsoever.
In 2005, she had just returned to her home town in Wales after studying in Greece (her mother is Welsh and her father is Greek) and was "obsessed with becoming a singer, almost as if it was a disease."
She worked in a petrol station for two months to save up enough cash to move to London and once there she put herself forward for lots of auditions, including one for a reggae boy-band advertised in The Stage which was held at a record label's offices. She went and left a letter with the security guard, which made its way to the A&R team and she got a meeting out of it.
"It's a very old-school way of doing it but I was really determined," she says. It was only her first week in town, and even though the meeting didn't lead to anything, it made Marina feel that becoming a pop star was an achievable goal. "I was like, 'I can do this'," she laughs.
The only problem was she didn't have any material. "I had more the desire than the confidence," she admits, "but I always loved words and I loved writing at school, so the actual lyrical side of it made sense, it's just I didn't really sing," she says.
She started songwriting and going to open-mic nights. It took about four years to be signed by her current label, Atlantic. "But I needed that time to grow and write and establish what I wanted to do," she says, "because I came with absolutely nothing."
One thing that she has always been sure about though is her unconventional fashion sense. She hasn't bowed to the pressure on female artists to bare all. In her video for "Heartbreaker", for example, in which she plays a coquettish femme fatale, the male models wear tiny black pants but Diamandis is fully clothed in a black top and leather skirt. She says she got a lot of stick "from male You Tubers" for the video.
"Afterwards, when I looked at it, I thought, 'yeah, I suppose it is subverting the norm'," she says. "I don't think it suits me to wear very little clothing, it just wouldn't feel right. I'd rather people listen to what I have to say instead of staring at my bum."
We start to discuss what she'll get up to next and she teasingly hints at a collaboration. "I am scared of writing in front of other people, it's such a private process," but, "I have been starting and quite enjoying it," she says. "Maybe in the next few years I'll do some slightly weird experimental things. I just really can't see myself doing this album, tour, rest, album, tour, rest, routine. I'm like kind of done with it."
She won't reveal who she's currently working with, although her dream collaboration is with Röyksopp. "I just love them, it's just very weird, dark electronic music," she says. If she pulls it off, it'll be another radical departure from her back catalogue, but her Diamonds have come this far with her, they're sure to keep following Diamandis' artistic journey into interesting new territory.
Marina and the Diamonds' next 'froot' is out on 3 March
The album 'Froot' is released on 3 April
Reuse content