The tourists witnessing this cultural skirmish in Ruse's city square are beginning to wonder if they're on Candid Camera. "Ooh!" A classically-trained singer, Ana-Mariq Spataris, concludes her solo operatic squeak by collapsing in giggles, and 30 other girls echo her: "Ooh!" A local big band, featuring hefty trumpet players and even heftier saxophonists, play an eerie, sustained chord. A dishevelled, beer-swilling string quartet joins in, tentatively. The unorthodox open-air rehearsal gathers pace as the girls break into Bulgarian folk song, skipping around the intrigued onlookers.
Then, from the other end of the square, comes the unexpected, blaring sound of an annoyingly-timed rally by an ultra-nationalist Bulgarian political party ahead of forthcoming elections. For those of us caught in the audio crossfire, it's like a battle between new and old, between progressive and conservative, optimism and fear. Tim Steiner, the British director of the rehearsal, looks around and signals an increase in volume. His musicians obey with gusto, drowning out the rally. It's cacophonous, joyous, ridiculous. "One hundred things that Ruse brings!" sing the girls, in English. "Our home town! Free spirit!" they continue, in Bulgarian.
Ruse, situated in the economically-troubled north-east of the country, just across the Danube from Romania, is a city trying to regain some of its past glory. The girls are singing of the "one hundred" contributions that Ruse is proud to have made to Bulgarian history, from its first bank to its first sock factory. But the establishment of Sofia as Bulgaria's capital in 1879, the subsequent arrival and departure of communism, and the recent joining of the EU have ripped the heart out of the city. "Young people are leaving Ruse, leaving the country," says Blagovest Nikolov, who works at Ruse's city hall. "Two million Bulgarians have left in the past 20 years. Why don't they stay and help to make Bulgaria as great as the places they're emigrating to?" He tails off. "It's a demographic catastrophe. We have to do something."
Many such "somethings" have been devised within City Hall and implemented by the city's Deputy Mayor, Strahil Karapchanski. A non-political appointee, Karapchanski has a remarkably progressive vision of establishing Ruse as a cultural magnet, motivating young people to stay and overcoming economic problems through the expansion of cultural and creative industries. He recently outlined his ideas in an application for the city to become European Capital of Culture 2019. "Unfortunately," says Karapchanski with a wry smile, "the judges thought it was too avant-garde." It was during a > fact-finding trip to the Portuguese city of Guimarães, European Capital of Culture 2012, that Karapchanski encountered a concert directed by Steiner, a professor at London's Guildhall School of Music who specialises in large-scale performances involving both amateurs and professionals.
In pictures: Mission Ruse
In pictures: Mission Ruse
1/7 Mission Ruse

Mission Ruse in rehearsal in the city square (Petrut Calinescu)

Petrut Calinescu

2/7 Mission Ruse

"We're on Earth once, then we die. Shall we spend our life doing this, or shall we see what happens if we replace 25 violins with 25 electric guitars?" (Petrut Calinescu)

Petrut Calinescu

3/7 Mission Ruse

Tim Steiner rehearses with his Ruse musicians (Petrut Calinescu)

Petrut Calinescu

4/7 Mission Ruse

As rehearsals progress, it's evident from the players' enthusiasm that Steiner has earnt their trust (Petrut Calinescu)

Petrut Calinescu

5/7 Mission Ruse

Mission Ruse in rehearsal in the city square (Petrut Calinescu)

Petrut Calinescu

6/7 Mission Ruse

Mission Ruse on the day, in the city square (Petrut Calinescu)

Petrut Calinescu

7/7 Mission Ruse

Anekdot Bulgarian Rock Band (Petrut Calinescu)

Petrut Calinescu
"They were gobsmacked," says Steiner. "We had 300 musicians onstage, 5,000 people rolled up in the park, and we ended up in this situation where everyone was singing together." He grins. "I think they thought I was the Messiah." Karapchanski cold-called Steiner and asked him to work his magic in Ruse. "The aim," says the Deputy Mayor, "is to unite musicians and audiences of this city. But it's not just about this event. We need an integrated society, not a fragmented one. This is an experiment where people of different ages and backgrounds come together, and hopefully it'll demonstrate that there are a lot of incentives for people to stay here."
This kind of thing is Steiner's bread and butter. Across Europe, from the Arctic to the Algarve, he's spent 15 years putting together spectacular concerts with seemingly unspectacular resources, a kind of roving Gareth Malone character, but with impeccable artistic integrity, marshalling the talents of whoever shows up. Examples of his work include directing STOPESTRA, a collective of 100 rock musicians who rehearsed in downtown Porto, and Hear & Now, his song cycle devised for a mix of communities in Bedford, including a singing group of Alzheimer sufferers, a late-starter string orchestra and a youth gospel group. "These people, this place, this time," he says. "Who's here, what do they have to offer. It's a unique moment of opportunity."
Steiner's approach is about as distant from traditional rehearsing and concert-giving as you can get. His musical ideas are simple and quick to learn, but his physically expressive direction, using hand signals to cue various themes, chords, rhythms and improvisations, results in music that's rich, complex and hugely entertaining. "And it involves everyone," he stresses. "I want people there who wouldn't normally perform, dads who haven't played their guitar since they were 15. The necessary standard is a willingness to be involved." But what if they can't play? "That's my problem, not theirs," he says. "If you go to a concert with 30 recorder players who've been playing for six months and it sounds shit, that's not their fault. It's the fault of the people telling them what to play." Steiner has five days to rehearse the 400 musicians due to take part in the project, named Mission Ruse.
On paper, the ensemble awaiting him looks astounding: a pop choir, a traditional Bulgarian choir, operatic singers, 100 acoustic guitarists, the Ruse Big Band, a tambura ensemble (a Bulgarian stringed folk instrument similar to the mandolin), traditional Bulgarian pipers, the local Philharmonic orchestra and five local metal bands – Anekdot, Power Enslave, Explicit, Guns Without Bullets and Claymore.
Days before his arrival, however, he hears that the orchestra has pulled out. "I'm disappointed," he says, "but I'm not surprised. Orchestras have this deeply-rooted conservatism. They're regarded as being at the high end of culture, but they play old pieces that have lost much of their potency, in concert halls, between 7pm and 10pm, with an interval where we go to the bar." Steiner's exasperation is evident. "We're on Earth once, then we die. Shall we spend our life doing this, or shall we see what happens if we replace 25 violins with 25 electric guitars? But orchestral management say, 'Well, how about we start our concert at 10pm, and let people bring in drinks?' That's as radical as they get."
But it's not just the orchestra showing resistance. Vesela Todorova, conductor of traditional Bulgarian choir Danube Waves, has expressed concern to Steiner that her girls simply won't be able to do things his way. Some of the metal bands, meanwhile, have been showing a perhaps understandable suspicion of a musical event put together by the City Hall. As rehearsals with the various individual groups finally begin, the faces of the organisers – Karapchanski, Nikolov and their colleague, Boryana Stancheva – are calm and inscrutable, but the number of whispered conversations and tense phone calls taking place indicates a background anxiety that doesn't go unnoticed by Steiner. "It is what it is, though," he reassures himself, repeating his mantra. "These people, this place, this time."
Steiner decides to base Mission Ruse around four simple themes; two Bulgarian folk songs sung to him by Danube Waves, Shostakovich's Waltz No 2, and a stirring anthem for Ruse penned by Steiner, translated into Bulgarian and based on a Brahms piece from the tambura ensemble's repertoire. "It's a great tune," says Steiner. "The anthem might look cheesy on paper, but in context it'll be fantastic."
As rehearsals progress, it's evident from the players' enthusiasm and the nods of approval from Todorova and other group leaders that Steiner has earnt their trust. A classroom session with four of the metal bands is a brutal but musical exploration of Bulgarian melody and meter through a variety of amplifiers, some homemade. Unruly tambura players find themselves scolded by their leader, Nataliya Konstantinova, a formidable woman whom Steiner describes as "terrifying but lovely".
The director of the 100 acoustic guitarists, Ivan Kotchev, is also a stickler for discipline. "If you get your notes wrong again," he shouts in Bulgarian, "I will get my penis out!" Nikolov reluctantly explains to me what Kotchev said. "It's a figure of speech," he mutters, embarrassed. "It doesn't sound as bad in Bulgarian."
A final rehearsal in the Philharmonic Hall unites all the disparate groups, giving a glimpse of what the concert might be like. The only remnants of the orchestra are that dishevelled string quartet (still with beers on the go), so we're down to a still-impressive 300 musicians; they watch Steiner intently as he directs them, bouncing metal riffs off operatic warbles and tambura twangs off parping horns. It may be experimental, but it's hummable, clappable and highly infectious. Aside from a tantrum thrown by Kotchev when his guitarists are asked to change something they've painstakingly learnt, the rehearsal is an unalloyed triumph.
Afterwards, Steiner gives everyone a pep talk, translated by one of the guitarists, Joshua Iliev. "The concert will happen the same way we rehearse," he says, the musicians realising with some amazement that they're not even going to have a full run-through. "The aim is to have fun and to inspire the people of the city: music of all different backgrounds, working together." Afterwards, I ask Iliev whether he's nervous about the concert. "No, it will be fine," he says. "Our national anthem says 'From unity comes power', so all these musicians playing together is just perfect."
'Ruse is a beautiful city," says Boyan Dochev, lead guitarist of Anekdot, after the rehearsal. "But the people... it's like they're living in a film. They're only acting." There's evidently concern among the younger participants about their prospects in this struggling city, but some recognise the work that City Hall is doing. "Since 2011, Ruse has been growing culturally," says Power Enslave's 17-year-old guitarist, Kaloyan Itov, as he puffs an e-cigarette. "The unemployment situation is serious, but I want to stay here. The atmosphere is good. I'd say to other young people: stay with yourself. Think about it. Find a peace."
Concert day is not without its trials. The PA system arrives late, the weather forecast is bad, and the local police decide to enforce a bylaw that prohibits noise between 2pm and 4pm, badly affecting preparations. But as 6pm rolls around, the city square begins to fill with people of all ages. The clouds part, the musicians take the stage, and Steiner walks to his podium wearing an extraordinary pink shirt ("It's important that I'm visible," he explains). The concert is electrifying; from a solo Bulgarian folk melody sung from the balcony of the town hall, to a beatboxing flautist, to the haunting sound of the Bulgarian pipes, to the explosive power of five metal bands riffing as if their future depended on it. Midway through, Steiner does an impromptu waltz with the "terrifying" Mrs Konstantinova, while Karapchanski and Stancheva also dance together, beaming with relief that everything has worked out.
The concert concludes with Steiner's anthem, sung by Ana-Mariq Spataris and then sung back to her by a huge crowd who've lost any musical inhibitions they may have arrived with. "The city we know, the city we love," runs the translation, "it is real, it is free, and we all sing as one: Ruse, Ruse, I keep on calling for you." Steiner's right – it's cheesy on paper, but as the sun sets across the square and some two thousand people cheer enthusiastically, it feels like a potent expression of civic pride. But will it make a difference? Karapchanski is optimistic that his strategy will work in the longer term, with student numbers rising and companies setting up in the region to employ graduates. In the shorter term, the metal bands have apparently agreed to form an alliance ("Something will happen," says Itov, cryptically).
Right now, however, in the concert's aftermath, it's smiles, tears and congratulations. "It was great," laughs Maya Bogdanova, whose daughter, Polina, plays in the tambura ensemble. "Different, unusual, amazing!" An elderly German couple who stumbled across the performance were similarly enchanted. "We were singing along," says the woman. "Oh, I could cry. It was wonderful." Steiner's delighted with the way things went. "We created an atmosphere where everyone felt special," he says, "a real shared emotion."
Ivan Kotchev has long since got over his tantrum of yesterday. He shakes Steiner's hand. "Thank you," he says – the first words of English I've heard him speak – before invoking the spirit of his fellow European citizens, Abba. "Thank you for the music," he sings, before walking off, whistling.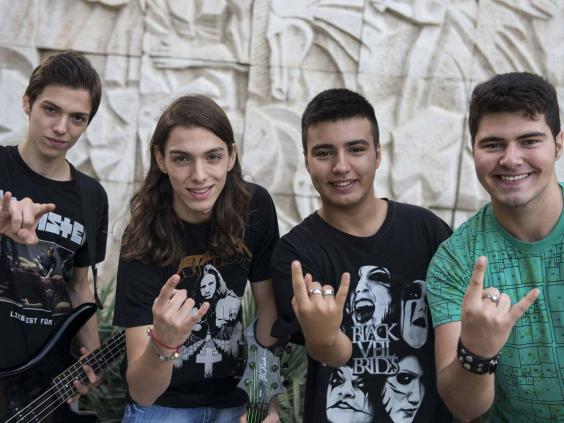 Large-scale performances
Arseny Avraamov: 'Symphony of Sirens' (1922)
Avraamov was an avantgarde composer, fascinated with everything from circus performance to magnetic tape. His most famous work, 'Symphony of Sirens', was performed in Baku 1922; directed by teams of conductors using flags and pistols, it featured choirs of thousands singing 'The Internationale' and 'Le Marseillaise', infantry regiments, artillery batteries, 25 steam locomotives, whistles and sirens from factories across the city, and the foghorns of the entire Soviet flotilla in the Caspian Sea. Avraamov did not want spectators; he wanted everyone involved, "united with the same revolutionary will".
Christian Marclay: 'Berlin Mix' (1993)
Turntablism – the use of vinyl records as instruments – is central to much of the work of Marclay, a Swiss/American composer, but for 'Berlin Mix' he used human sound sources and 'mixed' them himself. First staged in 1993 in an old tramshed in Berlin, it featured over 180 musicians including a string orchestra, a funk group, a barrel-organ player, choirs, an accordion orchestra, a klezmer duo, opera singers, ethnic ensembles and many others. The musicians played their usual repertoire of music while Marclay directed them using pieces of cardboard with numbers written on them.
Rhys Chatham: 'A Crimson Grail (For 400 Electric Guitars)' (2005)
Chatham was commissioned by the City of Paris to compose a piece for La Nuit Blanche, an all-night festival taking place on 1 October, 2005. He came up with a piece for 400 electric guitars, a bass player and a drummer equipped with just a hi-hat, directed by four leaders who took cues from Chatham over headphones. The piece, performed at the Sacré-Coeur and televised throughout France, lasted 12 hours, and has been described as a "vibrant, shimmering sound-cloud".
Reuse content