Miley Cyrus and Madonna will be joining forces for a country-western themed performance on MTV, it has been confirmed.
The 55-year-old pop icon will team up with the controversial "Adore You" singer, 21, during the forthcoming acoustic special, Miley Cyrus: MTV Unplugged.
The duo was spotted rehearsing a mash-up of Madonna's song "Don't Tell Me" and Cyrus' "We Can't Stop" in Hollywood earlier this week.
Cyrus will also perform "Do My Thang", "Drive" and a stripped-down version of "Wrecking Ball", the video for which saw her licking a sledgehammer seductively and swinging naked on a giant steel ball.
"The performance will showcase a more intimate side of Cyrus and feature surprise guests for an unexpected re-invention of the songs that have defined her career, including several from her number one critically-acclaimed album, Bangerz," an official statement ahead of the show read.
"The Unplugged stage will serve as the perfect platform for her to show viewers what inspires and ignites her music and her passions," it continued.
The press release went on to honour the "intimate and direct connection" that Cyrus shares with her fans, through her "music, personality and no-holds-barred attitude".
Madonna hit headlines on Sunday night when she collaborated with Macklemore and Ryan Lewis at the 56th Grammy Awards. During their performance of the hip-hop duo's marriage equality track "Same Love", 33 couples were married live on-stage by Queen Latifah at the Staples Centre in Los Angeles.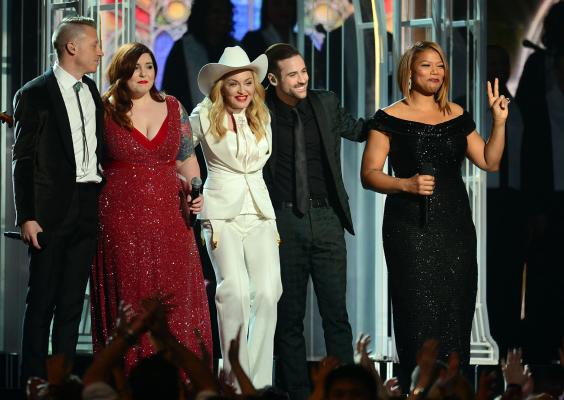 Cyrus, meanwhile, will start her 38-city Bangerz tour in Vancouver, Canada on Valentine's Day.
Following her infamous twerking session with Robin Thicke at the MTV Video Music Awards last summer, Cyrus referenced Madonna in an interview with the New York Times.
"No one even thinks about when (Madonna) did, "Like A Virgin" at the VMAs," she said. "That just becomes a standard, where it's just like, 'Oh, that's her thing'. So, I feel like now that I did the VMAs, that just kind of became a standard for me, and then anytime I do anything else, they're like, 'Miley kept it tame tonight'."
Cyrus certainly kept it tame at the Grammys – for some unknown reason she snubbed the ceremony and stayed at home to play Guitar Hero instead.
Miley Cyrus: MTV Unplugged will air in the US tonight, on MTV at 9pm
Reuse content