Kendrick Lamar has revealed the title of what we're to assume is his hugely craved fourth album: DAMN.
The 14-track album contains just two listed features, Rihanna and U2.
The song titles don't give a lot away and are mostly monosyllabic, referencing seven deadly sin-style emotions like 'lust', 'pride' and 'fear'. The album's closer is 'Duckworth' - Kendrick's surname.
The artwork, meanwhile, is really intriguing and a world away from the White House tableau on the cover of To Pimp a Butterfly. The word 'DAMN.' is emblazoned in flat red, serif lettering and doesn't even fit properly within the square. Kendrick looks dazed in a straightforward portrait of him in a white tee next to a wall and the Parental Advisory logo is positioned awkwardly.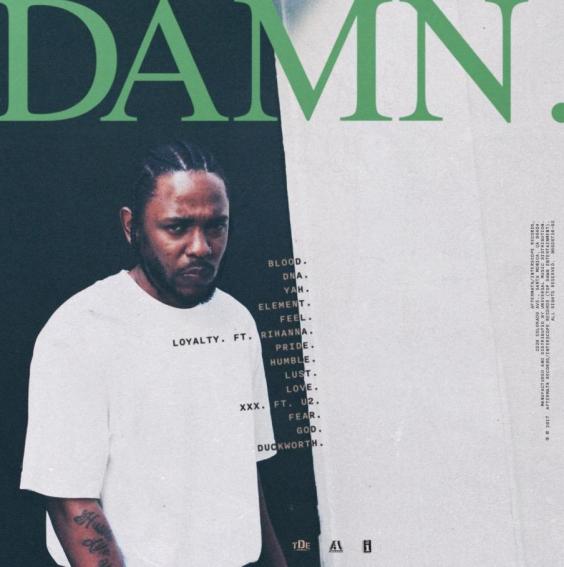 The reverse has a yin-yang element to it, K-Dot standing in angelic white in front of a dark black background.
DAMN. will be released on 13 April at 9pm PST everywhere, delayed from its original 7 April launch date.
That means LA will get the new record at 10pm on 13 April, New York at 1am on 14 April and London later at 6am. We're chasing up which streaming services will carry it straight away.
Other collaborators listed on the album's notes are James Blake, BADBADNOTGOOD, Mike Will Made It (who produced 'HUMBLE.') and The Alchemist.
It remains to be seen what genre the record will be. 'HUMBLE.' suggested a departure from the jazz and funk of TPAB and untitled. unmastered. toward something more stripped back, - this artwork and these simplistic song titles would seem to continue that.
The DAMN. tracklist is as follows:
1. BLOOD.
2. DNA.
3. YAH.
4. ELEMENT.
5. FEEL.
6. LOYALTY. FT. RIHANNA.
7. PRIDE.
8. HUMBLE.
9. LUST.
10. LOVE.
11. XXX. FT. U2.
12. FEAR.
13. GOD.
14. DUCKWORTH.
Kendrick Lamar's albums, ranked
Kendrick Lamar's albums, ranked
1/4

4th: Overly Dedicated (technically a mixtape, but the breakthrough one) - Tracks like 'Michael Jordan' and 'Alien Girl' felt a bit stock and Kendrick had yet to really find his voice and musical style, but you could see the potential there on this debut. P&P is still a banger, the use of samples is so effective in 'Opposites Attract' and on songs like 'Average Joe' he cut his teeth on recounting stories from his gangbanging days with a critical eye. "I don't do black music, I don't do white music, I do everyday life music." - prophetic.

2/4

3rd: Section.80 - Kendrick's storytelling really came into its own with this record, telling the stories of beaten girlfriends and prostitutes solicited by corrupt police. Bangers were plentiful ('A.D.H.D', 'Ronald Reagan Era', 'The Spiteful Chant'...) and K-Dot's interest in jazz started to blossom in songs like 'Rigamortus' and the incredible 'Ab-Souls Outro'. "I'm not on the outside looking in / I'm not on the inside looking out / I'm in the dead fuckin' centre, looking around"

3/4

2nd: To Pimp a Butterfly - The fact that this is one of the best albums of our generation and yet only Kendrick's second best album (imo) speaks volumes. An unbelievably well-orchestrated odyssey of a record that came as such a fresh and different proposition when we were all busy bumping dancefloor-orientated Drake tracks. 'Alright' became anthemic for the movement against police brutality, and 'u' gave us one of the most tearjerkingly personal insights into the human psyche ever committed to record. Masterful instrumentation pinned down by an intricate flow. I immediately wanted to hear it on vinyl and I don't even buy vinyl.

4/4

1st: good kid, m.A.A.d city - You could very legitimately argue that TPAB is Kendrick's finest album to date, but to me, GKMC is just absolute magic. It is such a cohesive record from start to finish, transporting you from wherever you are listening to the streets of Compton, a real 'day in the life'. I'm as rapt listening to 'The Art of Peer Pressure' as a child is to a ghost story, and 'Sing About Me, I'm Dying of Thirst' manages to completely enthrall for all of its 12 minutes. 'Backseat Freestyle', 'Money Trees', 'Swimming Pools' and 'm.A.A.d City' were all people were waiting for to come on at house parties that year, the pitch-shifting verse in the latter being a huge highlight for me. TPAB's politics was overt, but I like how subtly it was embedded in this record.
Read more: Frank Ocean and Kendrick Lamar both got angry about the Grammys, they shouldn't have bothered
Reuse content