US rapper Tyler, The Creator, a member of quirky LA hip-hop collective Odd Future alongside Frank Ocean and Earl Sweatshirt, has unveiled a video for two songs from his newly-released album Cherry Bomb.
The critically-acclaimed rapper performed the two tracks -  "Deathcamp" and "F***ing Young" - during his set at the Coachella music festival in Indio, California on Saturday night.
Largely self-produced, Cherry Bomb is Tyler's fourth solo studio album and includes guest spots from Kanye West, Pharrell, Lil' Wayne and Kendrick Lamar-affiliate Schoolboy Q.
Keeping in line with Odd Future's dark and often absurdist approach, "F***ing Young" sees Tyler spin a somewhat awkward love story while "Deathcamp" is altogether more hardcore and abrasive, its video echoing the cult Australian '70s futuristic action thriller Mad Max.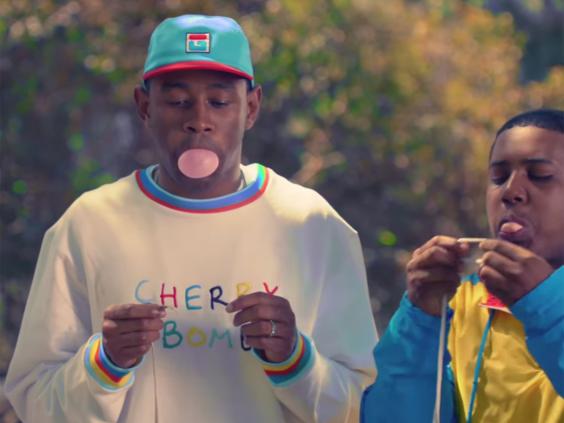 In the past, Tyler has drawn criticism for his alleged violent and misogynistic lyrical content. In 2012, when quizzed by BBC Newsnight's Stephen Smith about what Odd Future's lyrics were about, Tyler replied: "Nothing - s*** to p*** old white people off like you", before declaring his lyrics were not offensive.
Later this month the west coast star will kick off a world tour across North America, Europe and Asia, performing four dates in the UK in May.
The rapper is also set to appear at the Reading and Leeds Festivals in August as part of a heavyweight hip-hop line-up that includes Kendrick Lamar, Run The Jewels, A$AP Ferg and Flatbush Zombies.
Reuse content