Atomic Bomb! is a supergroup put together by David Byrne (who curates this year's Meltdown Festival) after he discovered the music of William Onyeabor through his world music record label Luaka Bop. The Nigerian musician has since achieved a cult status; he very rarely grants interviews and has never performed live, yet he produced some of the most forward-thinking music of the Seventies, involving synthesisers on an epic scale.
Tonight's show opens with a rare treat: saxophonist Charles Lloyd working a wriggling blues from his tenor sax. Seeing Lloyd in itself is a special event, but if the crowd thought Byrne had blown his load of special guests too early, they were soon proven wrong. Lloyd was joined by Moses Sumney, offering earthy vocals and Sarah Jones, the awesome drummer from Hot Chip, along with that band's frontman Alexis Taylor and American composer Money Mark hopping away on keyboards. The crowd were already on their feet and dancing by the third tune, "Why Go to War", sung by Sinkane (Ahmed Gallab), who performed his own show at Meltdown earlier this week. Sinkane powered through funky anthems incorporating glistening chimes and bringing an androgynous vocal lift and tilt to Onyeabor's original work.
When Byrne himself took to the stage in a red cowboy hat and sharp navy suit there were huge cheers, but his female counterparts, the South African group Mahotella Queens drew even more excitement. They were instantly loveable with their powerful and interesting harmonies, their shimmy skirts and air of exuberance. The group's 70-year-old Hilda Tloubatla started duetting with Byrne, taking centre stage to perform the odd high kick during "Love Me Now" and cheeky, chirpy "Fantastic Man", where Byrne asks "How do I look?" and the Queens coo "you look so good": a joy to behold.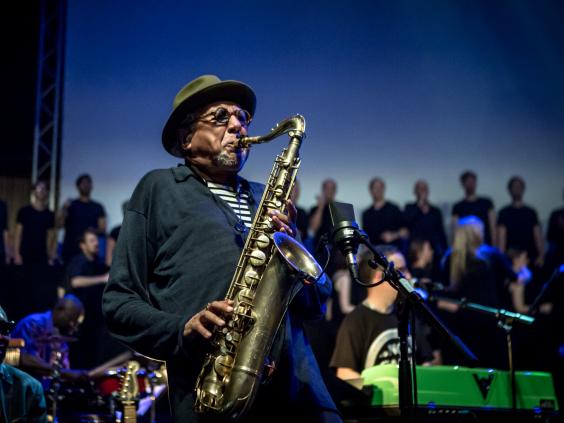 Sinkane, who also takes authoritative turns on the keyboard, later took to MCing over Byrne's husky "Love is Blind", ordering the crowd to "get down to the floor" and then "get back up again", it was the only moment in the show when bums came close to seats.
There were more surprises in store with the entrance of Amadou & Mariam, the blind Malian duo who've also collaborated with Damon Albarn's Africa Express project and, oddly, recorded the official anthem for the 2006 FIFA World Cup. Here they bring a proud defiance to the electro-psychedelic verve of "Better Change Your Mind", with Amadou Bagayoko expertly working a golden electric guitar, before being led by guides to sit regally at the side of the stage. For the surprise finale, the Southbank Centre's 180-strong VoiceLab choir marched through the audience to stand behind the superband, chanting along to "Let's Fall in Love" until it became a mesmeric strain, filling up the room and exploding alongside the waves of polyrhythmic funk pulsing out from the stage. I can't wait to see what else David Byrne has planned for this festival takeover.