The usually peaceful grounds of the Bentley Motor Museum in rural East Sussex - complete with a serene wildfowl park and a miniature railway - have been invaded. Enormous pairs of eyes are staring from the tree at its centre from which a gargantuan bird's nest has fallen. The sounds of horns and singing float through the air.
Don't worry, though, the Home Counties aren't under alien attack. Rather, Brainchild Festival has arrived for the weekend, and 1,000 mainly art students and recent graduates have been unleashed.
Young artists taking over a field to showcase work exploring the themes of body, space, power, and change, could have easily turned into a pretentious, self-indulgent mess. But the painstaking curation that has gone into the volunteer-run festival is clear. 
The result is an impressively broad, yet inspiringly high-quality, programme featuring music, visual art, spoken word, and theatre across five stages, that will leave festival-goers intellectually stimulated but entertained into the wee hours.
If Brainchild represents the future of the British art scene, it's in safe hands.
Brainchild Festival 2015 - in pictures
Brainchild Festival 2015 - in pictures
1/23 Brainchild 2015

Brainchild sign by Jamie Hignett

Lily Bonesso

2/23 Brainchild 2015

The entrance to Brainchild

Lily Bonesso

3/23 Brainchild 2015

Women dance at Brainchild

Lily Bonesso

4/23 Brainchild 2015

A woman watches a performance at The Forum

Lily Bonesso

5/23 Brainchild 2015

Josh Murr's wooden slide

Josh Murr

6/23 Brainchild 2015

Josh Murr's slide

Lily Bonesso

7/23 Brainchild 2015

Miriam Forster's 'Object Obsession No. 4'

Miriam Forster

8/23 Brainchild 2015

People gather around Josie Tucker's tree

Lily Bonesso

9/23 Brainchild 2015

Els Maple's nest

Lily Bonesso

10/23 Brainchild 2015

A crowd at the Steez Cafe

Lily Bonesso

11/23 Brainchild 2015

Emily Motto's piece

Lily Bonesso

12/23 Brainchild 2015

Emily Motto's piece

Lily Bonesso

13/23 Brainchild 2015

Crowds gather around Emily Motto's piece

Lily Bonesso

14/23 Brainchild 2015

Festival-goers take shade from the sun

Lily Bonesso

15/23 Brainchild 2015

The Shack, featuring a panels by Josie Tucker

Kashmira Gander

16/23 Brainchild 2015

A crowd gathers at The Shack

Lily Bonesso

17/23 Brainchild 2015

'Vis a vis' by Kinsphere

Kinsphere

18/23 Brainchild 2015

'Vis a vis', which is complete with solar-powered lights

Kinsphere

19/23 Brainchild 2015

One Huge Loop by Timmy Whitehouse

Lily Bonesso

20/23 Brainchild 2015

Abigal Portus' 'The Portus Pavilion'

Abigail Portus

21/23 Brainchild 2015

A man dances at Brainchild

Lily Bonesso

22/23 Brainchild 2015

Laura Ralph with friends at her two-piece shop

Lily Bonesso

23/23 Brainchild 2015

Keshav Anand and David Flook industrial piece

Lily Bonesso
A marker of the millennials the festival caters for, DJs at The Shack stage and the Steez Cafe play sets ranging from jungle to Latin until 3am, and aching bodies can be soothed at 10am yoga sessions. But Brainchild is far from becoming the new Latitude, and sustenance each morning comes in the form of wonderful greasy-spoon-style fry ups, without a kale smoothie in sight.
Giving visual art as much prominence as music and performance, the five stages are encircled by sculptures spanning a range of genres, creating a striking and unusual space to explore.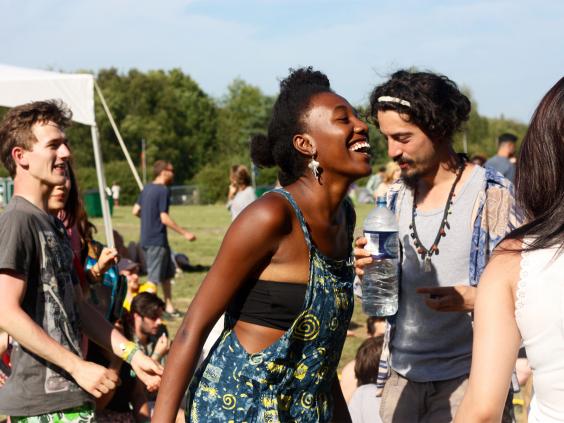 At the centre of the festival is a large tree from which arresting pop-art-esque facial feature sculptures by Josie Tucker stare out. Underneath, pieces of reclaimed furniture and Els Maple's hand-made, structured wooden bird's nest - complete with speckled egg pillows - offer a welcome respite from the blazing sun.
Certainly the most hands-on sculpture, Josh Murr's almost psychedelic multi-coloured wooden slide is a playground in the day, and a sheltered spot to gather inside by night.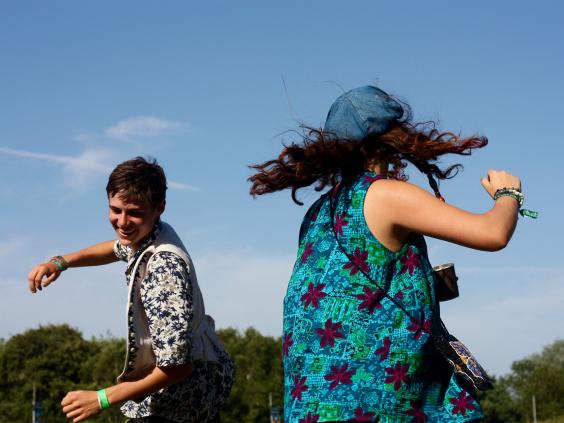 Encompassing the blurring between audience and performer that is at the heart of Brainchild, passersby strolling from stage to stage add to the curvaceous sculpture by Bloomberg New Contemporary Emily Motto, which is comprised of found objects including metal grids, plumbing pipes and fabric. By the end of the weekend, wool connects a wooden chair to the mass of metal.
Dispelling the myth that young people are disengaged, The Forum – which is dedicated to spoken word and talks – draws as much of a crowd as the music on the main stage. The buzz surrounding Maria Ferguson's Fat Girls Don't Dance leaves crowds struggling to pass under the tent's purpose-built wooden entrance by Kristi Minchin – complete with cogs and pullies which hint at the intellectuality inside.

Read more: Brainchild 2015: DIY festival showcasing the work of the UK's most exciting young creatives returns for third year
In an extremely touching yet deeply witty piece, Ferguson inspires laughter and tears in equal measure as she explores her tumultuous relationship with food in parallel with her development as a dancer. Eager to see more, the audience arrives for Ferguson, and stays for the spoken word artists which follow her.
Half tent, half bar, half jamming session, the Steez Cafe is an eclectic smorgasbord of acts glued together by members of the acclaimed South London music collective from where it gets its name. Here, mind-bendingly talented MCs riff over live improvised instrumentals with performers they have met just minutes before. Come back an hour later, and a dance class may have taken over, before a new jam starts. By night, DJs keep the throng dancing. It is here that poet and musician James Messiah masterfully wraps up the weekend with a DJ set dipping into House, R&B, and Grime.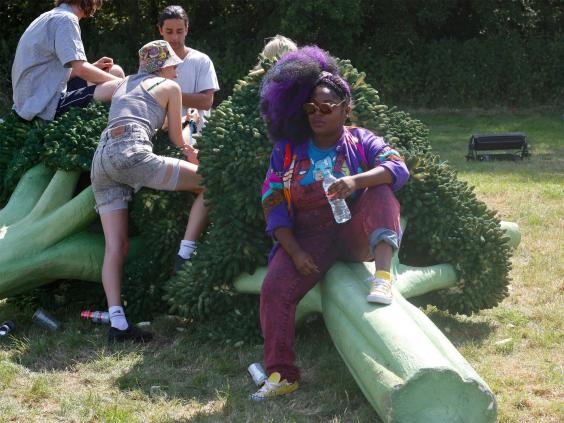 Then there's the main stage, where young musicians lay bare their raw talent all weekend. But it's Tank and the Bangas who make the biggest impression. Having travelled 6,000 from New Orleans – and not forgetting to pack their multi-coloured outfits – the R&B and funk band makes it impossible for the crowd to sit down. Lead singer Tarriona 'Tank' Ball radiates charisma, and as she sings, dances and recites her self-penned spoken word it's hard to see what she can't do. At the height of the set she screams at the crowd "this is the most awesome festival I've ever been to!" and, captivated by the atmosphere, they simply scream back in agreement.
To support Brainchild's Kickstarter to fund a storage facility for artists' work, click here.
Reuse content