A month's worth of rain might have fallen on the festivities on Friday night but despite the downpour (and the ensuing mud) Somersault festival shone brightly on the strength of a very rewarding lineup.
The first evening's highlight was the bearded Bears Den who were given a main stage billing on the strength of their popularity at last year's festival. A close second was The Staves, a trio of very cool hipster sisters whose beautiful acoustic harmonies fitted the festival ethos perfectly.
Laura Marling was the biggest name of the evening and she proved her Middle Class credentials banging on about the amazing "bubble tea and sushi stand" she'd tried out earlier. The projection of a sun-bleached desert that appeared behind her as she performed a mixture of old and new material was impressive – but felt rather mocking as we all stood sloshing about in wellies and rain macs in front of her.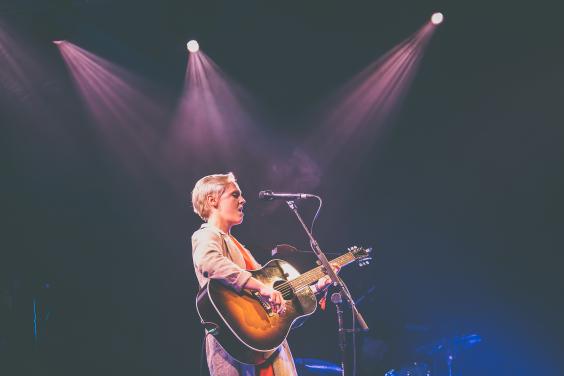 Saturday was the best day because the sun shone and with it came flower wreaths in our hair and dry socks (there may have been a few cases of trench foot otherwise). Rae Morris and Bombay Bicycle Club were the best acts of the day. The former was really engaging and appeared passionate and grateful to be at the festival despite her new-found stardom. BBC appeared rather emotional as apparently the festival is their last gig together for a while. They seemed to be celebrating that fact though with a set full of bright lights, confetti and pyrotechnics.
The top act on Sunday was Passenger who filled a massive stage with just himself and his guitar and totally nailed it. Telling funny stories about his busking days and revealing anecdotes behind lyrics, Michael David Rosenberg hilariously bemoaned the curse of his "only successful song 'Let Her Go'" and the fact that Disney's Frozen had ruined his life by surpassing that triumph with "Let It Go".
The rain may have been back on the final day but that was no problem for Crystal Fighters. Their high energy set with flag-waving galore and giant beach balls was not without its poignant moments, however, particularly when the drummer paid emotional tribute to a family-member who had passed away. He had us flinging our arms up in the air and shouting out to loved-ones we'd lost – and the pathetic fallacy of the downpour really emphasised the soaring emotions.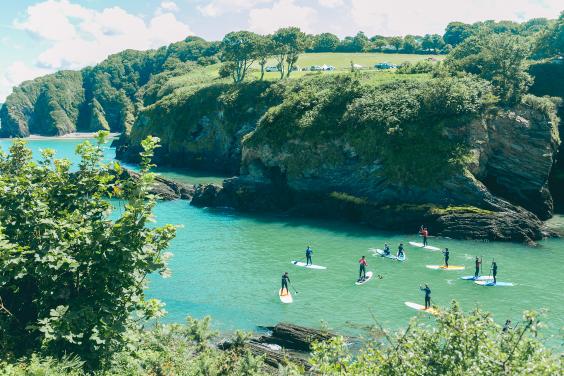 Somersault may only be only a couple of years old but with its twinkling lights and against the beautiful backdrop of the Castle Hill Estate in North Devon, the sea and the opportunity for a swim to boot, you can see why it attracts some of the biggest names in music and is making a real name for itself in the overcrowded festival scene. Its ability to conjure summer sunshine in the face of continuous bad weather sets it in excellent stead for the future.
Reuse content