There is a moment in Julia Davis's new comedy, Camping, that sums up the almost hypnotic pull of her best work. Her character, Faye, has just had noisy sex with her new boyfriend in the changing rooms of a shop.
Sauntering downstairs, she reaches into her handbag and for a moment you're not sure quite what she will pull out: has she stolen something? The ring that she and her boyfriend were discussing, perhaps?
Or the Ian Astbury of the Cult memorabilia that the shopkeeper was so strangely keen to discuss? Or could there be something unspeakable in the bag – some dark and disturbing horror that will make the audience watching at home both squirm and squeak?
It turns out to be nothing more terrifying than a packet of cigarettes. That's the genius of Davis's writing: impossible to predict, it sets banal situations off-kilter, imbuing them with a creepiness that is distinctly her own. 
Camping, another prime Davis horror show which starts on Sky Atlantic next month, follows a group of friends on a holiday from hell. As with Nighty Night, which centres on the passive aggressive, murderous hairdresser Jill Tyrell and made Davis's name, Camping exists in a world that's like ours but slightly apart, where people have free rein to say and do terrible things.
"Thank you … I think," she says with a laugh, when I mention her gift for weirdness. "I always find I don't really know where these ideas come from. Someone said to me, 'Did you have a really terrible camping trip where this sort of stuff happened?' And I was like 'No, not at al'.
"I did go on a camping trip a few years ago in Dorset but it was with some nice people ... I suppose I do sort of have a tendency in my brain to take things to the extreme; things other people might just ignore, I perhaps dwell on."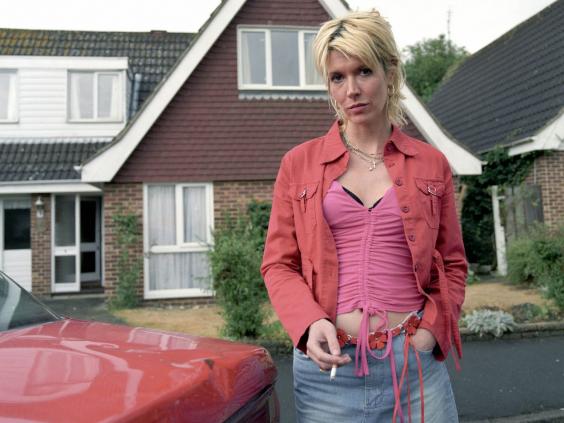 The disparity between Davis on and off camera is well-documented. While her comedy is self-confessedly "noisy", and as an actress she does a fine line in monsters, from Jill Tyrell to hatchet-faced housekeeper Dorothy in her Victorian pastiche Hunderby, in person she is shy; playing back the interview on tape, it stands out how many times she answers a question with "Yes" and a laugh, needing a few seconds to work out her response.
However, in Camping, she has taken on the relatively innocuous role of party girl Faye, while leaving the most monstrous part to Vicky Pepperdine as control freak Fiona, a woman who spends her time lying to get her own way, bullying her hapless husband, and smothering her son with a terrifying motherly love. "That's the part that people expected me to play," Davis admits. 
As for her greatest hit, she embraces Nighty Night's afterlife – "I love that Jill is a gay icon. Mark Gatiss sent me a photo the other day showing that there was going to be a Nighty Night Night in the Vauxhall Tavern and I think that's great" – but she admits she still regrets the second series.
The world's highest-paid actors 2015
The world's highest-paid actors 2015
1/10 The world's highest-paid actors 2015

1. Robert Downey Jr

Iron Man 3

2/10 The world's highest-paid actors 2015

2. Jackie Chan

AFP/Getty

3/10 The world's highest-paid actors 2015

3. Vin Diesel

Kevin Winter/Getty Images

4/10 The world's highest-paid actors 2015

4. Bradley Cooper

Getty Images

5/10 The world's highest-paid actors 2015

5. Adam Sandler

Getty Images

6/10 The world's highest-paid actors 2015

6. Tom Cruise

Getty

7/10 The world's highest-paid actors 2015

7. Amitabh Bachchan

8/10 The world's highest-paid actors 2015

8. Salman Khan

Getty Images

9/10 The world's highest-paid actors 2015

9. Akshay Kumar

AFP PHOTO / STRDEL

10/10 The world's highest-paid actors 2015

10. Mark Wahlberg

Getty Images
"I like some of it, but I just wish I'd stuck to what worked about the first one. The second series is a bit cartoonish and all over the place. Sometimes I do find myself thinking, 'Oh Jill  would say this kind of thing,' and it's interesting to imagine what she'd be like now – but I doubt they'd make something like that these days." 
That last point is an interesting one. Nighty Night started on BBC3 in 2004 – and in the decade since then, it's notable that television comedies have become less risky. "It does feel as though things have moved more towards the mainstream," agrees Davis.
"Obviously I'm getting by, but I don't know what the future will be like, and there are times when it is quite scary. Would something like [Chris Morris's cult comedy] Brass Eye get made today? Probably not, but I don't know why. I think it might be considered bad taste or too weird. Jam [the very bleak comedy she made with Morris] certainly wouldn't."
Indeed, with the BBC showing more interest in remaking old sitcoms than original comedy at present, it's easy to see why Davis's most recent work has been with Sky Atlantic, which allows her creative freedom, albeit with a fraction of the audience. 
Back in the terrestrial world, she is currently working on a series for Channel 4, provisionally titled Morning Has Broken, about a daytime TV show. "We're still doing workshops to kind of come up with material for that," she says. "It's a weird one at the moment because I'm trying to get a grip on who the lead character is. All I really know is that it's about a woman having to face up to the fact that her TV show is in decline."
It will also tackle age – a subject that Davis, who turns 50 in August, admits is on her mind. "I am a bit worried about that, yeah, even though I know that's weird, but ageing is such an issue and I think a lot of the Channel 4 show might focus on that, which is interesting because it's quite an uncomfortable subject."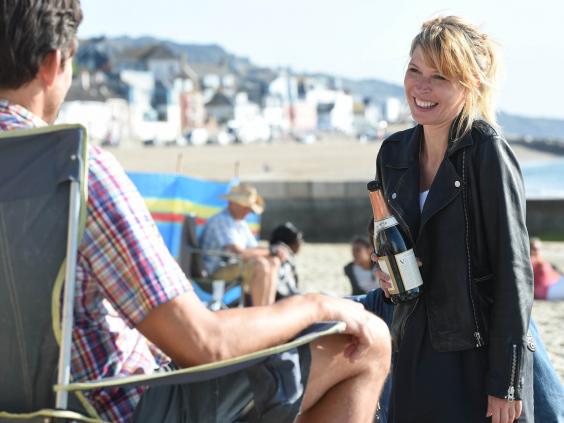 She pauses, clearly trying to find the right words. "I can't say, 'Ooh I'm really happy to be 50.' You read about people who really embrace it but I don't feel like that … I am more conscious of mortality than I used to be." 
Yet it's interesting that she chose to play a pouting bombshell like Faye, who revels in her sexuality, flaunting it at all possible moments, at just the age when women are supposed to fade into the background. She laughs. "Yeah, if this was the US, they wouldn't let me play the part. They'd say, sorry, we want someone younger."
That said, the idea of working with a US-style writer's room continues to fascinate her; she co-wrote the second series of Hunderby with Barunka O'Shaughnessy and enjoyed it – although she admits it's not always easy collaborating. "There's always the chance you'll really lock horns, because comedy's very specific.
"Julian [Barratt, of The Mighty Boosh fame, her long-term partner with whom she has two children] and I did try to write something together and weirdly it sort of worked quite well …  although, then again, it didn't because we didn't finish it.
"I really enjoyed writing with Jessica [Hynes] on [2010 BBC pilot] Lizzie and Sarah, because it went in a completely different direction from the way I would have taken it. She was the one who took it in a slightly Tarantino direction, and I really liked that."
She claims to feel slightly removed from recent TV comedy: "I feel like I haven't watched enough; there's probably lots of really good new stuff I don't know about." Instead, like half the country, she's addicted to Sally Wainwright's police drama Happy Valley.
"I absolutely love it, can't stop talking about it," she says. I tell her I'm not surprised: give Wainwright's seemingly ordinary but on-the-edge characters a slight twist, and they could be in a Julia Davis production.
"Yes, particularly the second series, where the characters are really on the edge of a comedic extreme thing," she says, laughing again. Here's hoping her parody version might yet appear. 
'Camping' starts on Sky Atlantic on 5 April at 10pm
Reuse content