West Wycombe Park, the National Trust property in Buckinghamshire that was built for the 18th-century libertine Sir Francis Dashwood, founder of the Hellfire Club, is still managing to look spectacularly elegant in the drizzly winter murk. Perhaps there will be little surprise that this Palladian pleasure palace is the setting for the first new drama written by Julian Fellowes following the closure of Downton Abbey.
Doctor Thorne is Fellowes's adaptation for ITV of Anthony Trollope's 1858 novel of the same name, the third in Trollope's Chronicles of Barchester series. It stars Tom Hollander in the title role of a country physician and follows his attempts to secure the romantic and financial fortunes of his illegitimate niece, Mary, who is beloved by the scion of her aristocratic but impoverished neighbours. But this young man's mother (played by Rebecca Front) wants him to marry a rich American heiress, played Alison Brie – Trudy Campbell from Mad Men.
The cast also includes Ian McShane, Phoebe Nicholls and (much to the excitement of certain sections of the media because she used to date Prince Harry) Cressida Bonas. When I catch up with Fellowes later, I ask him why he chose Trollope's story for his first post-Downton television project.
"I wanted to allow television makers to see that they don't have to do Jane Austen and Charles Dickens every time," he says. "And his dialogue is very modern and jumps on to the screen – I mean most of the dialogue in this is him not me.
Culture news in pictures
Culture news in pictures
1/30 30 September 2016

An employee hangs works of art with "Grand Teatro" by Marino Marini (R) and bronze sculpture "Sfera N.3" by Arnaldo Pomodoro seen ahead of a Contemporary Art auction on 7 October, at Sotheby's in London

REUTERS

2/30 29 September 2016

Street art by Portuguese artist Odeith is seen in Dresden, during an exhibition "Magic City - art of the streets"

AFP/Getty Images

3/30 28 September 2016

Dancers attend a photocall for the new "THE ONE Grand Show" at Friedrichstadt-Palast in Berlin, Germany

REUTERS

4/30 28 September 2016

With an array of thrift store china, humorous souvenirs and handmade tile adorning its walls and floors, the Mosaic Tile House in Venice stands as a monument to two decades of artistic collaboration between Cheri Pann and husband Gonzalo Duran

REUTERS

5/30 27 September 2016

A gallery assistant poses amongst work by Anthea Hamilton from her nominated show "Lichen! Libido!(London!) Chastity!" at a preview of the Turner Prize in London

REUTERS

6/30 27 September 2016

A technician wearing virtual reality glasses checks his installation in three British public telephone booths, set up outside the Mauritshuis museum in The Hague, Netherlands. The installation allows visitors a 3-D look into the museum which has twenty-two paintings belonging to the British Royal Collection, on loan for an exhibit from 29 September 2016 till 8 January 2017

AP

7/30 26 September 2016

An Indian artist dressed as Hindu god Shiva performs on a chariot as he participates in a religious procession 'Ravan ki Barat' held to mark the forthcoming Dussehra festival in Allahabad

AFP/Getty Images

8/30 26 September 2016

Jean-Michel Basquiat's 'Air Power', 1984, is displayed at the Bowie/Collector media preview at Sotheby's in New York

AFP/Getty

9/30 25 September 2016

A woman looks at an untitled painting by Albert Oehlen during the opening of an exhibition of works by German artists Georg Baselitz and Albert Oehlen in Reutlingen, Germany. The exhibition runs at the Kunstverein (art society) Reutlingen until 15 January 2017

EPA

10/30 24 September 2016

Fan BingBing (C) attends the closing ceremony of the 64th San Sebastian Film Festival at Kursaal in San Sebastian, Spain

Getty Images

11/30 23 September 2016

A view of the artwork 'You Are Metamorphosing' (1964) as part of the exhibition 'Retrospektive' of Japanese artist Tetsumi Kudo at Fridericianum in Kassel, Germany. The exhibition runs from 25 September 2016 to 1 January 2017

EPA

12/30 22 September 2016

Jo Applin from the Courtauld Institute of Art looks at Green Tilework in Live Flesh by Adriana Vareja, which features in a new exhibition, Flesh, at York Art Gallery. The new exhibition features works by Degas, Chardin, Francis Bacon and Sarah Lucas, showing how flesh has been portrayed by artists over the last 600 years

PA

13/30 21 September 2016

Performers Sean Atkins and Sally Miller standing in for the characters played by Asa Butterfield and Ella Purnell during a photocall for Tim Burton's "Miss Peregrines Home For Peculiar Children" at Potters Field Park in London

Getty Images

14/30 20 September 2016

A detail from the blanket 'Alpine Cattle Drive' from 1926 by artist Ernst Ludwig Kirchner is displayed at the 'Hamburger Bahnhof - Museum for Contemporary Arts' in Berlin. The exhibition named 'Ernst Ludwig Kirchner - Hieroglyphen' showing the complete collection of Berlin's Nationalgallerie works of the German artist Ernst Ludwig Kirchner and will run from 23 September 2016 until 26 February 2017

AP

15/30 20 September 2016

A man looks at portrait photos by US photographer Bruce Gilden in the exhibition 'Masters of Photography' at the photokina in Cologne, Germany. The trade fair on photography, photokina, schowcases some 1,000 exhibitors from 40 countries and runs from 20 to 25 September. The event also features various photo exhibitions

EPA

16/30 20 September 2016

A woman looks at 'Blue Poles', 1952 by Jackson Pollock during a photocall at the Royal Academy of Arts, London

PA

17/30 19 September 2016

Art installation The Refusal of Time, a collaboration with Philip Miller, Catherine Meyburgh and Peter Galison, which features as part of the William Kentridge exhibition Thick Time, showing from 21 September to 15 January at the Whitechapel Gallery in London

PA

18/30 18 September 2016

Artists creating one off designs at the Mm6 Maison Margiela presentation during London Fashion Week Spring/Summer collections 2017 in London

Getty Images

19/30 18 September 2016

Bethenny Frankel attends the special screening of Disney's "Beauty and the Beast" to celebrate the 25th Anniversary Edition release on Blu-Ray and DVD in New York City

Getty Images for Walt Disney Stu

20/30 17 September 2016

Visitors attend the 2016 Oktoberfest beer festival at Theresienwiese in Munich, Germany

Getty Images

21/30 16 September 2016

Visitors looks at British artist Damien Hirst work of art 'The Incomplete Truth', during the 13th Yalta Annual Meeting entitled 'The World, Europe and Ukraine: storms of changes', organised by the Yalta European Strategy (YES) in partnership with the Victor Pinchuk Foundation at the Mystetsky Arsenal Art Center in Kiev

AP

22/30 16 September 2016

Tracey Emin's "My Bed" is exhibited at the Tate Liverpool as part of the exhibition Tracey Emin And William Blake In Focus, which highlights surprising links between the two artists

Getty Images

23/30 15 September 2016

Musician Dave Grohl (L) joins musician Tom Morello of Prophets of Rage onstage at the Forum in Inglewood, California

Getty Images

24/30 14 September 2016

Model feebee poses as part of art installation "Narcissism : Dazzle room" made by artist Shigeki Matsuyama at rooms33 fashion and design exhibition in Tokyo. Matsuyama's installation features a strong contrast of black and white, which he learned from dazzle camouflage used mainly in World War I

AP

25/30 13 September 2016

Visitors look at artworks by Chinese painter Cui Ruzhuo during the exhibition 'Glossiness of Uncarved Jade' held at the exhibition hall 'Manezh' in St. Petersburg, Russia. More than 200 paintings by the Chinese artist are presented until 25 September

EPA

26/30 12 September 2016

A visitor looks at Raphael's painting 'Extase de Sainte Cecile', 1515, from the Uffizi Gallery in Florence during the opening of a Raphael exhibition at the Pushkin State Museum of Fine Arts in Moscow, Russia. The first Russian exhibition of the works of the Italian Renaissance artist Raffaello Sanzio da Urbino includes eight paintings and three drawings which come from Italy. Th exhibit opens to the public from 13 September to 11 December

EPA

27/30 11 September 2016

Steve Cropper and Eddie Floyd perform during Otis Redding 75th Birthday Celebration - Rehearsals at the Macon City Auditorium in Macon, Georgia

Getty Images for Otis Redding 75

28/30 10 September 2016

Sakari Oramo conducting the BBC Symphony Orchestra, the BBC Symphony Chorus and the BBC Singers at the Last Night of the Proms 2016 at the Royal Albert Hall in London

PA

29/30 9 September 2016

A visitor walks past a piece entitled "Fruitcake" by Joana Vasconcelo, during the Beyond Limits selling exhibition at Chatsworth House near Bakewell

REUTERS

30/30 8 September 2016

A sculpture of a crescent standing on the 2,140 meters high mountain 'Freiheit' (German for 'freedom'), in the Alpstein region of the Appenzell alps, eastern Switzerland. The sculpture is lighted during the nights by means of solar panels. The 38-year-old Swiss artist and atheist Christian Meier set the crescent on the peak to start a debate on the meaning of religious symbols - as summit crosses - on mountains. 'Because so many peaks have crosses on them, it struck me as a great idea to put up an equally absurd contrast'. 'Naturally I wanted to provoke in a fun way. But it goes beyond that. The actions of an artist should be food for thought, both visually and in content'

EPA
"That and also his understanding of the importance of money, that in the end, people may claim 30 generations of sceptred knights, but what matters is how much money they've got. And again that's very contemporary."
Notable TV adaptations of Trollope include the BBC's 1974 series The Pallisers, scripted by Simon Raven and starring Anna Massey and Jeremy Irons; The Barchester Chronicles from 1982, with Alan Rickman, Geraldine McEwan and Susan Hampshire; The Way We Live Now (2001); and a 2004 version of He Knew He Was Right, scripted by Andrew Davies (War and Peace, Pride and Prejudice).
"I read in the papers today that Andrew Davies is doing The Pallisers for the BBC, so hopefully now Trollope's ship is under steam again," says Fellowes. "There is an intellectual snobbery about liking Trollope, the sort of literary luvvie brigade always like to patronise him because he's so popular, I think, and that makes him populist in their eyes."
Is this something Fellowes can identify with – after all the success of Downton Abbey was accompanied by a chorus of detractors?
"Someone was writing an article about Laura Carmichael [the actress who plays Lady Edith in Downton Abbey], who's doing The Maids next and they said this must be a big step for her because she's been "tootling her way through six years of Downton". You think, God, here is this woman who's been breaking hearts in every land and that's "tootling her way through it".
"So I suppose I do slightly sympathise with Trollope being dismissed, although I wouldn't like to put myself on his level."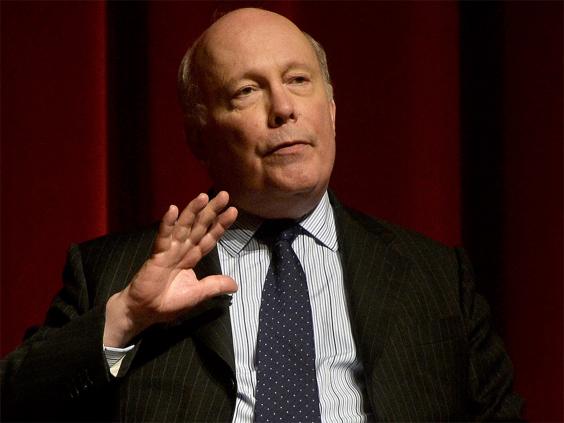 Downton Abbey was itself accused of snobbery – probably most famously by the historian Simon Schama. "I don't think it was snobbish to people who watched it," says Fellowes. "I think when you heard of it and it was about an earl and his servants, it sounds snobbish. But the key to the programme I think is that all of the characters within it were given the same weight dramatically. So you were no less involved with the kitchen maid than you were with Edith Crawley, and I think that was actually the key to its popularity.
"We didn't patronise the servants or we didn't make the family horrible and all the servants gallant, we just made them a group of people trying to get through it and I think that's what people connected with. I hasten to add that Mr Schama is fully entitled to his own opinion – a man of whom I am a big fan."
Back inside West Wycombe Park – which has provided a backdrop for countless period dramas, including Downton Abbey itself, to the Keira Knightley film The Duchess, Effie Gray and W.E. – Tom Hollander and Rebecca Front are filming a scene together. For Hollander, the drama is a chance to be reunited with Fellowes, with whom he worked on Robert Altman's 2001 movie Gosford Park (which Fellowes scripted).
"He's obviously been on a huge journey since Gosford Park," says Hollander, "where he was very much subordinate to Robert Altman. But now he's Lord Fellowes of Trumpington or wherever it is... somewhere in Dorset [his title, bestowed in 2011, is actually the Lord Fellowes of West Stafford].
"The first day we shot Doctor Thorne was a Tuesday afternoon at a house called Wrotham, up in Barnet, and we shot Gosford Park there. So the first day he was there and I was there and it was 17 years later, and it was very touching. I am proud to be playing the lead for him in his high period".
"Tom is a revelation in this," says Fellowes in return. "I always thought of him as a fantastic comic actor because that's almost all that I've seen him in – including Gosford Park, in which he was a tragic figure but a funny tragic figure. In Doctor Thorne he has a different quality, his role is to be the kind of decency at the centre of the story... and it's quite challenging because it is very hard to find charismatic niceness. I think now Tom will have the choice a great many more straight roles."
And when it comes to acting, Fellowes knows of what he speaks. Before finding his métier and winning an Oscar for his first screenplay – for Gosford Park, Fellowes was a jobbing character actor for the best part of 25 years. The insecurity of that profession has stayed with him, he says.
"When you've been an actor, the use of 'no' rather goes out of your vocabulary," he says, "because you have so many long days when you just someone to want you for something."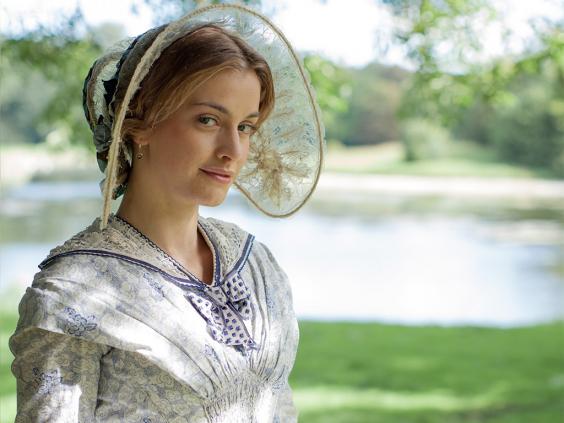 Is there also an element of making hay while the sun shines, especially as, now aged 66, he was such a late bloomer as a writer? "Yes, there is an element of that. If I was 30 I would have years ahead."
What he has said "yes" to is a new original drama for NBC in the United States, a sort of American Downton Abbey set in 1880s New York, called The Gilded Age. As soon as he has finished publicity for Doctor Thorne, he will be knuckling down to write the scripts.
"I'm rather looking forward to The Gilded Age", he says. "It was an extraordinary society and didn't last all that long. It really got going around about 1880 and was over by the end of the 1920s... certainly by the Second World War. You had this curious almost civil war between the East Coast aristocracy, most of whom were descended from the sons of the gentry of England and Holland, and these new families – the Vanderbilts, the Jay Goulds, the Whitneys and so on."
The clash of old and new money – this time in 1840s London – is also the subject of a Fellowes's recently completed Belgravia, a serialised novel in the style of Charles Dickens that is married to new technology: an app. "You tune in and you see the real house, you meet the characters, and it says something like 'Waterloo' and you press Waterloo and you get 'Waterloo was a battle fought on the 18 June 1815...' I think it seems rather a laugh."
He's also been in New York writing the book for School of Rock, a new Broadway musical by Andrew Lloyd Webber adapted from the 2003 Richard Linklater movie. School of Rock aside, I wondered whether Fellowes had a yearning to return to a contemporary (albeit still rarefied) social milieu, such as the ones depicted in his 2004 satirical novel Snobs or his follow-up fiction, Past Imperfect.
"It's difficult to say until I get to the end of Gilded Age, but I have a feeling that at the end of that I will try to do something contemporary. Separate Lies [Fellowes's 2005 screenplay, which he also directed] is probably my own favourite piece of my work, is contemporary, so I imagine I would go back to that. But you know, sufficient unto the day... I've got enough for the time being to keep me out of mischief."
'Doctor Thorne' is on ITV in early March
Reuse content