Who's the most powerful person in US television?
Arguably, it's not an A-list star, nor a channel head. It's Shonda Rhimes, the 44-year-old writer and producer known for her high-octane dramas and whiplash plot twists.
Consider last Thursday evening, when Rhimes fans were treated to three hours in Shondaland (the name of her production company)  as her current shows – medical saga Grey's Anatomy and political thriller Scandal, which she showruns, and new legal drama How To Get Away With Murder, which she executive produces – premiered back-to-back on ABC. It was a decision Scandal star Kerry Washington called "extraordinary, historical, important – and fabulous".
Speaking on the phone from California, Rhimes is rather more down-to-earth. "It's a wonderful compliment," she admits. "Although it does feel as though everybody else has had a bigger reaction to it … I find it fascinating that no one ever asks a man, for example [prolific sitcom creator] Chuck Lorre, if they're going to find it hard juggling three shows," she says dryly. "Plus I'm only producing How To Get Away With Murder. Pete Nowalk created it ...."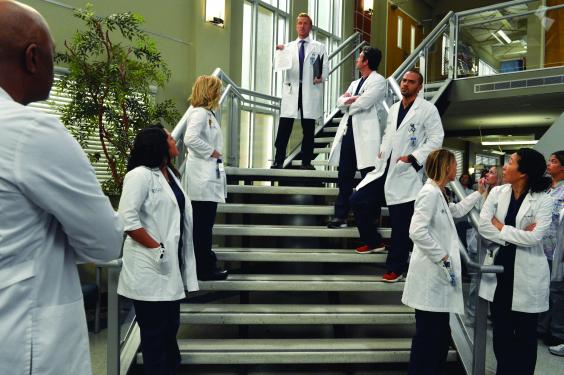 In conversation, Rhimes comes across as something of a contradiction: a romantic pragmatist. Refreshingly no nonsense about the industry – "I don't feel like there's a boy's club … but I do know that people wouldn't call Scandal a guilty pleasure if it wasn't a show starring a woman and written by a woman" – she is also an unashamed idealist who admits she is "very dewy-eyed about politics, almost frighteningly so", even as she ramped up the villainy in Scandal so as "to create a different world to the one we are in, where people said these wonderful things but behind closed doors were monsters".
Yet, despite this romantic streak, Rhimes is all too aware of the ugliness of life. We talk during the height of clashes between police and citizens in Ferguson, Missouri, after the fatal shooting of unarmed black teenager Michael Brown by a white policeman. Rhimes's Twitter feed makes it clear how she feels about media coverage of Brown's killing and the events leading up to it (e.g. a tweet from 20 August reads "why is it whites 'commit crimes' but blacks 'are criminals'?" with a link to a CNN discussion on implicit racial bias). Today, though, she says: "I have plenty of opinions about what is happening in Ferguson but I'm not going to discuss them now."   
The refusal is understandable: in an industry where diversity remains a  hot-button issue, Rhimes has faced incessant focus on both her race and gender. Just last week The New York Times TV critic, Alessandra Stanley, created a storm with her entirely tone-deaf review of How To Get Away With Murder. It began: "When Shonda Rhimes writes her autobiography, it should be called 'How to Get Away With Being an Angry Black Woman'." Rhimes's sardonic response on Twitter was to ask the show's white male creator Nowalk 'did u know u were 'an angry black woman'?' before tweeting that she hadn't read Stanley's justification for her piece because "I've been too busy being angry and black. Also a woman. Takes up a lot of time."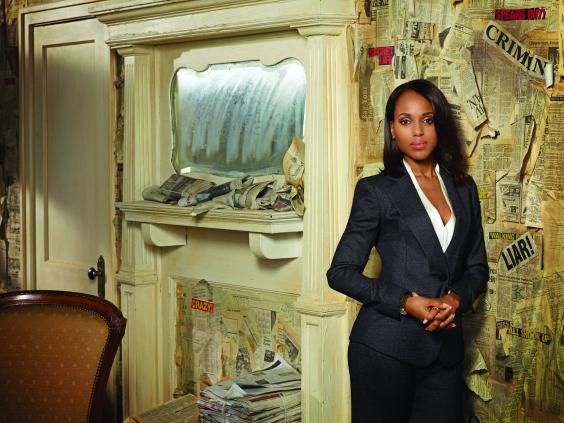 It was a more measured response than some would have managed, particularly given that the article ignores the fact that she writes complex, flawed and interesting characters of all races and gender.
"People talk about casting and ask whether it's changing and I never know how to answer. [The question] seems to suggest that there's some sense in which a diverse cast isn't allowed," she says. "I write the stories I want to write, with the characters I want to write." And does so extremely successfully. Scandal pulls in more than 10 million viewers a week in the US; Grey's, while no longer at its 20 million-plus peak, still averages nine million.
It's a long way from the moment when she first realised the small screen was her future. "I was working in film writing teen movies [she provided scripts for Britney Spears's Crossroads and The Princess Diaries 2] then I found myself with a new baby who never slept so I watched TV," she says, laughing. "I watched the whole of the first season of 24 in 24 hours, I watched the first five seasons of Buffy in three or four days and I  began to think 'here on TV this is where the character development is happening'. "
After an early pilot about war correspondents failed to get off the ground, she wrote Grey's Anatomy about a bunch of good-looking, workaholic medics. It was ordered to series and became a surprise hit.  "I was fairly fearless – OK I have this TV show and I just have to write it," says Rhimes, admitting she learnt how to write for TV on the hoof. "If I'd understood just how large an opportunity it was and what it would turn into I would have been terrified."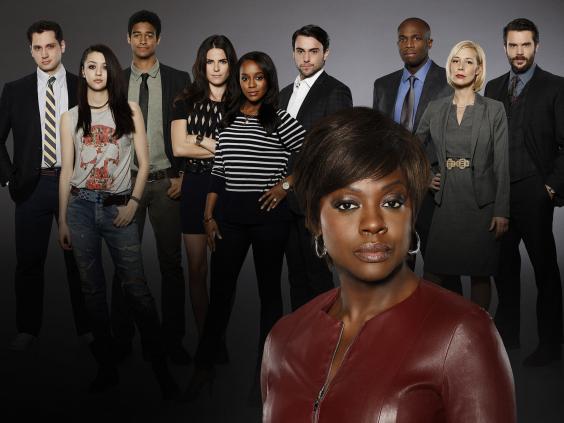 She has always been skilled at tackling difficult subjects within a populist framework. "We've had conversations about race, women and feminism which I'm really proud of," she says of Scandal. "[I love] the fact that we can have these conversations alongside the twisty-turny stuff and not be preachy." Similarly in season eight of Grey's Anatomy, she dealt with that great American taboo, abortion, when driven surgeon Cristina Yang had a termination because she did not want a child. "I just found it strange and draining that American television chose never to portray something that one in four women in America actually does," says Rhimes. "I wasn't making a statement about choice. I was simply saying abortion happens and it is legal and it is necessary."
Rhimes herself is mother to three daughters, the first of whom she adopted in the wake of 9/11. "I'd split up with a boyfriend and gone to Vermont to stare at my navel, and then 9/11 happened and I spent days being scared of what was happening in the world so I made a list of all the things I wanted to do and at the top was adopt a baby. Nine months and two days later, I brought my daughter home."
You might think that raising three daughters in addition to overseeing three shows would leave little downtime but Rhimes is still a television addict. "I'm just obsessed with Game of Thrones especially Arya Stark," she says. "And I love Orange is the New Black although I just want to inhale that all at once. I keep trying to stretch it out but it's so hard."
As evidenced by her swift response to Stanley's piece, she also maintains a healthy Twitter habit: "I actually really love Twitter – I used to feel angry and insulted when people criticised me or the shows but now I don't take it too seriously. What I do love is that there's this great direct line to fans."
Does she have any advice for aspiring writers? "There have to be practical steps," she says slowly. "There's no point in holding out for a magic door because there are no magic doors. You can dream your life away or actually do what you dream of doing. That's the most valuable advice I can give."
'Scandal' is on Sky Living on Thursdays at 9pm. 'Grey's Anatomy' returns to Sky Living on 22 Oct at 9pm; 'How to Get Away With Murder' begins on the Universal Channel on 22 Oct at 10pm