HBO Go crashed due to high demand for Game of Thrones' season 4 episode 1 instalment 'Two Swords' last night, with the service advising users to "send a raven".
Many fans hoping to watch using the streaming service rather than HBO or Sky Atlantic were met with black screens, airing their frustrations on Twitter and Facebook.
HBO Go responded to the complaints with levity, tweeting: "Looks like there's trouble in the realm. Apologies for the inconvenience. We'll be providing updates, so please stay tuned."
It later suggested that people having trouble accessing the episode "send a raven," to the annoyance of many.
Having trouble accessing @HBO GO? Send a raven. @GameOfThrones will be available soon on HBO On Demand with some cable providers.

— HBO GO (@HBOGO) April 7, 2014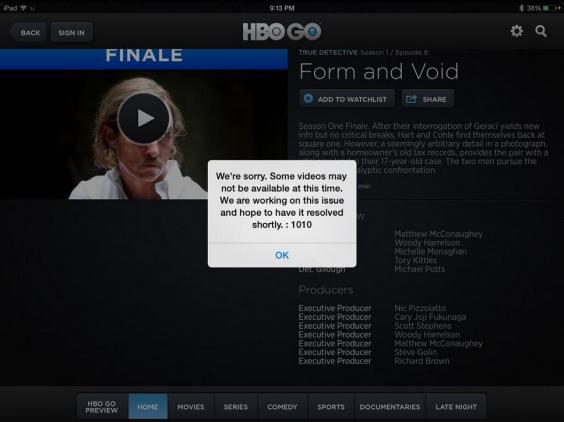 This is not the first time the service has struggle to meet demand, it previously going down the night of True Detective's season finale.
Fans who escaped technical difficulties were delighted to see the fantasy drama return, though Netflix rival House of Cards wasn't so thrilled, tweeting a "f**k you" to the series ahead of its broadcast.
You can read our review of the first episode here.
Reuse content