It's 9pm on a Thursday evening and I'm having a heated discussion with a waiter named Thomas about what colour my dress is. It's an argument you'll be familiar with: he teasingly suggests it might be white and gold, I think differently.
Earlier in the evening, Thomas's manager Daniella visited our table to discuss my outfit. In person, we agree it is clearly black and blue and Daniella floats the theory that the original image, which went viral last week, was somehow touched up. Her colleague Stan meanwhile is adamant that the people who thought it was white and gold were colour blind.
There's a certain glamour to wearing the dress that divided social media, even if it has been a week since it went viral (essentially a full year in internet terms)  and even if only to Wagamamas.
When I try it on ahead of my date in the work toilets a woman I co-opt into zipping me up asks "is that THE dress?". The rest of the office is similarly excited, but then again we are journalists. Three colleagues shout "Dina!" while taking pictures of me on their smartphones as I walk to a friend's desk for lunch and there is another impromptu photo session by my desk. This, sadly, is the closest I will ever get to celebrity.
But aside from Wagamamas staff, the public seem less thrilled when I wear it out that evening. In the slightly dark and dingy pub my boyfriend and I head off to before our meal, I get stares but no one comments. On the tube back home, no one gave me a second look but the dress was competing with a busker playing what looked like a short didgeridoo.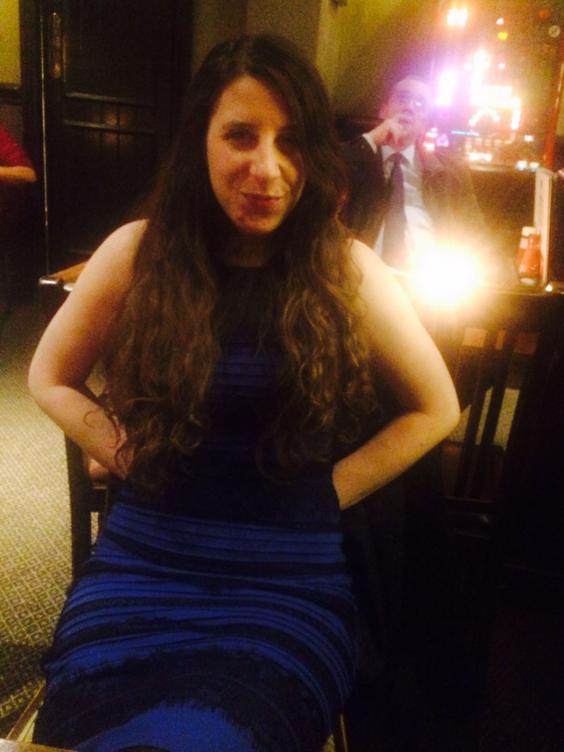 My boyfriend was fully briefed on my attire and acted as official photographer for the evening. So what colour does he think the dress is now? "Blue and black. I can't believe we ever thought it was white and gold."
As well as confused, this dress also made me feel deeply self conscious - and not just because I'm wearing last week's viral sensation. This is tight, synthetic fabric (according to the manufacturer it is 68 per cent Viscose, whatever that is) and I feel like the bodycon design highlights every lump and bump.
By the end of the night I am itchy, uncomfortable and my stomach hurts from sucking it in all day.
'The Dress' sold out just minutes after it broke the internet with makers Roman Originals quickly restocking 300 dresses in a variety of sizes and making it in actual white and gold for Comic Relief.