Future perfect
John Galliano described his latest collection for Maison Margiela as "lo-fi, sci-fi, with a hi-fi finish". That, oddly, makes a lot of sense: it kind of rounds up a bunch of next season's designer decisions into a single, neatly worded package. But, in actuality, both his show and the season as a whole focused most intriguingly on the notion of sci-fi. The plastic fantastic future we haven't seen designers tackle for quite a while. This time, it was notable for what it wasn't – namely, a re-run of Gaultier's 1980 "Hi-Tech" collection, with it's metallic accessories and circuit-board patterns, nor an ode to the Persil-white couture futurism of André Courrèges circa 1965. Designers like Galliano, Nicolas Ghesquière at Louis Vuitton and Karl Lagerfeld at Chanel all tackled ideas of the real future that's fast hurtling towards us. Dystopia? Utopia? Maybe trapped in an airport departure lounge à la Lagerfeld? Shades of Sartre's Huis Clos in everyday life (hell is other people's flight delays), but Chanel made it seem like a paradise of techy tweeds, streamlined like Boeing jets. Ghesquière trapped his audience in a computer game, dedicating his show to the point where cyber life and real life intersect, and to a host of female computer-game heroines. His newest bag is called the "Nintendo". Game over, for your bank balance. Alexander Fury
Spring/summer 2016 shows
Spring/summer 2016 shows
1/8 Louis Vuitton

Designers like John Galliano, Nicolas Ghesquière at Louis Vuitton and Karl Lagerfeld at Chanel all tackled ideas of the real future that's fast hurtling towards us

2/8 Calvin Klein Collection

Calvin Klein was crowned king of the slip dress the first time round, so it's fitting that Francisco Costa, the current creative director of that label, handled the trend brilliantly this season

3/8 Marc Jacobs

Jacobs disrupted his clean-cut all-American collection

4/8 Céline

Shoulders are once again the erogenous zone to expose. Phoebe Philo's take at Céline was as restrained as ever, offering as she did a deep scoop of a neckline with fulsome sleeves that appeared to be held up by sheer good will

5/8 Chanel

Pink, yellow and blue were woven into tweedy checks

6/8 Victoria Beckham

Beckham's watchwords were "carefree" and "liberated", both of which manifested themselves best in the artfully undone

7/8 Miuccia Prada

This season, her earrings were, basically, Christmas-tree baubles suspended from a dinky chain

8/8 Coach

Stuart Vevers saddled up his collection with Western influences, including patchwork leather boots that will no doubt appeal to his youthful customer base
Slip into this
There's much talk of speed in the fashion world: of the pace at which designers must create, as well as that with which trends are picked up and discarded. The latter idea is reinforced by the fact that, having cycled through the Seventies and Eighties with alarming alacrity, the Nineties are once again being mined for inspiration. In real terms, that means a return to the signatures of that era: namely, slip dresses, sportswear and mannish tailoring.
Calvin Klein was crowned king of the slip dress the first time round, his spring/summer 1994 collection still looks completely contemporary. So it's fitting that Francisco Costa, the current creative director of that label handled the trend brilliantly this season. Louche yet lively, elegant but unfussy, this collection was imbued with the right blend of Noughties nostalgia and excitement for the here and now.
A silky slip dress is the ultimate in easy dressing and just the thing come summer. One of the sexiest takes – trimmed with lingerie lace and rather revealing – was seen at Céline while Burberry's spaghetti-strapped floor-sweepers were teamed with saggy-strapped backpacks – terrible for the lumbar region, but that's hardly the point. If you'd prefer to relive the days of grunge gone by, Saint Laurent's dishevelment will be right up your alley. Rebecca Gonsalves
Cut'n'paste
Designers seem incapable of matching a print properly this season. Don't blame the perceived attention deficit disorder of a fashion system now demanding four seasons, minimum, from harangued designers. Blame, rather, the rise of Vetements – the cooler-than-thou collective label whose offbeat designs (recycled police sweaters, BFG-sized tailoring, plastic tablecloth aprons) are influencing fashion across the board. In fact, those elements are so ubiquitous that Vetements could be a trend in itself. But the notion of ripping up and warping prints – slicing up, say, a text slogan, scrambling its sense and transforming it into a graphic device – is the most interesting manifestation. Much more interesting than another designer doing another really big bomber jacket. All these mistakes are on purpose, distorting and warping graphics to add visual interest. Marc Jacobs used his to disrupt his clean-cut all-American collection, shown in New York's Ziegfeld theatre with a big brass band pumping out show tunes. We saw the same at Alexander Wang, while, naturally, Vetements showed more of the same. I guess the appeal is that these mislaid prints give a sense of the hand, of the human eye and the human touch. That's the intellectual justification. In layman's terms, don't try your luck for a discount if you notice your print's a bit wonky this spring. AF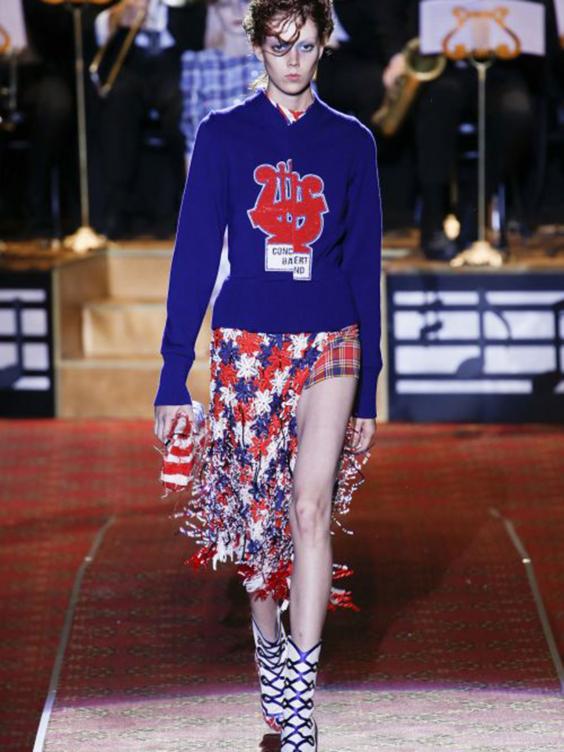 Ear we go
The last time earrings have been as gargantuan as they are now, Joan Collins was forced to remove them to answer the phone in Dynasty. The bobby dazzler dangler is back – Phoebe Philo's grazed the shoulders at Céline; Peter Copping created clusters of dripping crystal at Oscar de la Renta; Sarah Burton trailed chains at Alexander McQueen. The most extreme manifestation came from Miuccia Prada – a woman who once caused a furore by wearing earrings shaped like a pair of plastic bananas. This season, her earrings were, basically, Christmas-tree baubles crafted from bunched-up pailette sequins and suspended from a dinky chain. There's all kinds of symbolism we could read into them, about female archetypes and stereotypes of beauty and wardrobe – or you could, viscerally, just read that you want to wear them and have fun. How very Eighties. Which is what all these earrings really feel like, after all. My advice? Avoid wearing with ledge-shouldered tailoring and wrestling with rivals in ornamental fountains. If only for fear of losing one (the one-earring thing is so autumn/winter 2014). AF
Wild west
The vogue for practical footwear continues. Hoorah! And while at first glance leather boots and shoes for summer might seem a bit, well, sweaty to put it bluntly, they actually make great sense. Who wants to wear sandals and slip-ons solely because it's the summer? If you live or work in a city, you'll no doubt prefer a bit more protection for your trotters, while the country is hardly better – what with all that nature you'll have to contend with.
The best versions are cut low – caressing the ankle bone, or ever so slightly higher – and take inspiration from the good old days of the Wild West. Square of toe and blocked of heel, these pull-on numbers will look great with jeans now and even better with a skirt come summer. They're the solid foil to the wispiness of the season, and will anchor a look immediately. At Coach, Stuart Vevers saddled up his collection with Western influences, including patchwork leather boots that will no doubt appeal to his youthful customer base. Haider Ackermann had a sharper take – with pointed toes and zebra-stripe detailing, while Céline's backless clog provided a stripped-back option. But leave it to Marc Jacobs to go all out: his showgirl-spirited, Americana-infused show was accessorized with spike-heel satin boots, embellished with crystals to resemble nothing better than a Fourth of July sky lit up with fireworks. Dazzling. RG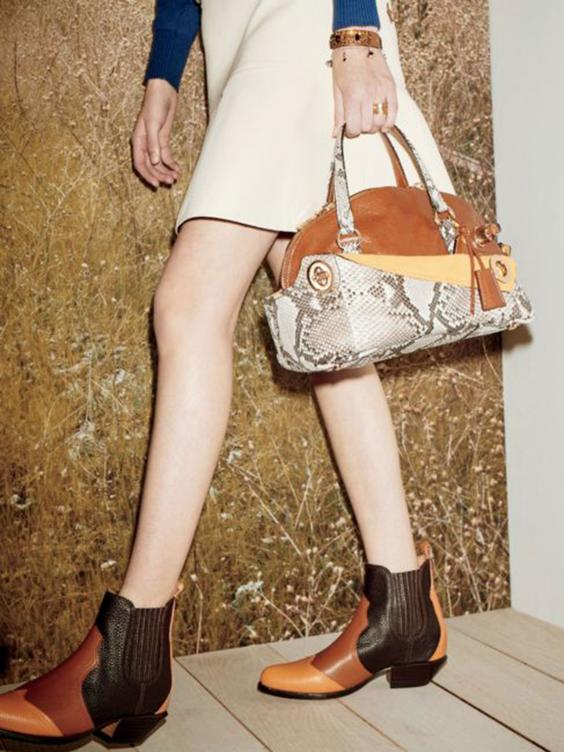 Show some shoulder
How low can you go? No, that's not a reference to the low blows and political sparring between Republican hopefuls but the new season's take on necklines. Shoulders are once again the erogenous zone to expose, although it's up to you how much you choose to reveal.
Phoebe Philo's take at Céline was as restrained as ever, offering as she did a deep scoop of a neckline with fulsome sleeves that appeared to be held up by sheer good will. Claire Waight-Keller of Chloé took a different approach, an altogether more laid-back one, sending out off-the-shoulder peasant tops paired with relaxed tuxedo-striped trousers.
There was a surprising new sense of utility to the Versace woman this season, but the same old flesh-flashing tactics were employed, too – asymmetric straps on abbreviated dresses exposed the clavicles and much more besides, while itsy-bitsy bandeau tops were teamed with that most surprising of garments : the cardigan. The cold shoulder – straps plus sleeves, with a sliver of shoulder peeking betwixt – returned at Sonia Rykiel and Proenza Schouler, providing the best of both worlds.
That freedom to chose is an important part of the mood in fashion right now. The day of the didactic decree of in versus out, and one item, hemline or even colour to rule them all and reign supreme, is long past. RG
Colour therapy
As any Instagrammer worth their salt knows, a rainbow is a gift from nature, the charms of which can be appreciated at any age and no matter just how inured you might be. Alright, that sort of cheerful outlook is best left to the animated inhabitants of a Disney movie, but in fashion terms a shot of colour can be a simple way to update your look as well as your mood. So get ready to welcome all the colours of the rainbow into your world, all at once and accompanied by a few more supplementary hues to boot.
If you're feeling cheerful, or are not but want to, take a tip from the catwalk and cloak yourself with colour. Once again, Chanel was bright in its outlook – it can afford to be, after all. Pink, yellow and blue were woven into tweedy checks and watercolour-washed printed versions of that pattern, too. At Gucci, Alessandro Michele doubled down on clashes of colour with textural experiments: think pea-green leather paired with sheer candy-pink chiffon. And the Prada collection was a veritable test card of colour and graphic stripes, as bold as Miuccia Prada's way of thinking. Christopher Kane created an intricate patchwork of multicoloured lace, and Dries Van Noten's palette was one of the boldest of the season. This isn't about subtlety, about a nod here, a flash there. Instead, take inspiration from Joseph (he of Bible-based musical fame) , and wear your colours with pride, and all at once. RG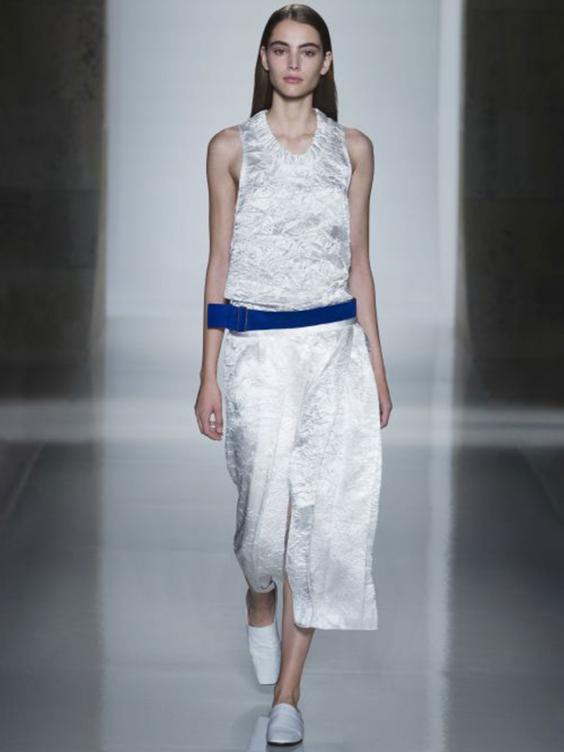 Distressed dressing
"Natural Glamour" was the phrase Michael Kors tossed out to describe his show. It's the best synonym for "creased" that I've ever heard. Because, at base, that's what he meant, and the entire vocabulary of distressing – creasing, crumpling, wearing and tearing – is undoubtedly a trend. When the inevitably impeccable Victoria Beckham, whose fashion is fastidious to the point of fetishism, shows a series of silk dresses so crumpled they resemble old Quavers packets, you sit up and take note. Beckham's watchwords were "carefree" and "liberated", both of which manifested themselves best in the artfully undone. It was all still terribly controlled, though. Likewise at Altuzarra and Gucci – the designer of the latter, Alessandro Michele, is partially responsible for kicking off this whole thing with the perma-rumpled suits of his winter 2015 debut, the ones I wondered if they'd just forgot to steam when they appeared on the catwalk. Elsewhere, Christopher Kane unravelled cardigans in a car-crash of a collection (that's a compliment – it was the actual theme); and Sarah Burton frayed her denims as intricately as any of her embroidery. For consumers and retailers alike, this look is a godsend. Forget painstaking folding and hanging, ditch the starch. Indeed, get ready to treat your clothes a little more rough all around. They'll only wind up looking better the worse you behave. AF
Reuse content