Mind yourself, Gap.
The high street giant, whose income for 2014 stands at £10bn globally, announced its same-store sales were down six per cent in August, and 3 per cent in September.
What has Gap done that is so different? Well, nothing. Indeed, "different" is exactly what Gap has been avoiding. Earlier this year, it unveiled its latest advertising campaign, featuring the hyper-wattage Anjelica Huston, Zosia Mamet and Elisabeth Moss of Mad Men. They wore Gap basics such as button-down polos, jeans, a black macintosh. The clothes were nondescript, the settings – a diner, a seagull-dotted beach – anonymous and everyday. The message printed underneath the stars outshining those clothes? "Dress Normal."
It's a message a few – namely, Wall Street types who keep their eye on trends not in clothing but in the financial market – have pinpointed as the cause of that dip. "Dress Normal" reads as not as encouragement but admonishment, the kind meted out to teenagers with an overdeveloped sense of individuality that threatens to compromise the status quo. It's what a parent says when you dye your hair purple, or the declaration of an irate, conservative passer-by when faced with the metal-studded clothes and bodies of punks (or the name of another subculture that doesn't seem quite so old-fashioned). And, with teenaged contrariness, it seems consumers stayed away.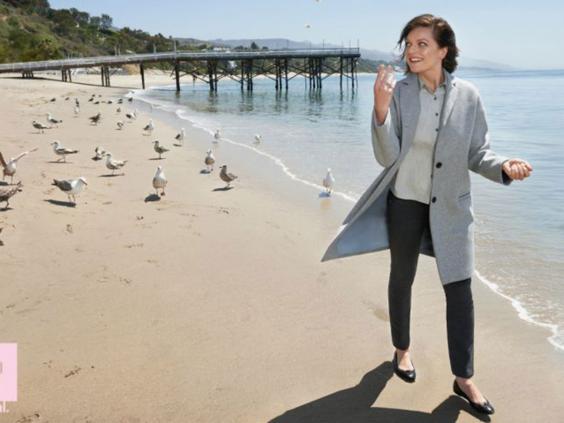 I get what Gap was trying to do. After all, it deals in everyday basics, basics that aren't fashion focused like H&M, nor coloured by the connotations of controversial, semi-clad advertising campaigns like American Apparel. The former, with a high-low collaboration with Alexander Wang set to be released in November, could dub its images "Dress Fashion"; the latter, "Dress Sexy". (It would once have been "Dress Hipster", but that's another outdated term.) "Dress Normal" is all Gap has left. But really, who wants to look normal? It's all part and parcel of that overused term normcore, a marketing creation that was dead almost as soon as it was coined. The idea of normcore is to defy teenage rebellion and dress to blend in – which is, of course, about rebellion in itself, about a cadre of doubtless highly irritating individuals who have decided they are too cool for cool. It's an extension of those irritating people you see wearing hideous clothing and declaring it "ironic".
The issue with normal clothing is the same as the issue with minimalist clothing: to get it right, it's going to cost. Designers do it better. Writing about Miuccia Prada's purposefully dull show in June, presenting menswear designs for spring/summer 2015 and her 2015 pre-spring women's line, I said that there was something interesting in being bored. What I meant was that there was something interesting about turning away from flashy, gimmicky, over-designed clothes and towards the perfection of classic garments.
Miuccia Prada herself said the clothes – slack-jeaned, simply sweatered and clunkily shod – were classic with a capital C. It wasn't just about the perfection of the classic, though, but the elevation of normal clothing, through the quality of material, the cut and finish. Making the everyday into something exceptional and must-have.
That, however, is something most people react to with the same ire and knee-jerk disdain as a teenager ticked off for wearing too much eyeliner. Particularly because, like said teenager, what you're being cajoled to adorn yourself in (and part with lots of cash for) isn't particularly remarkable. It doesn't attract attention, which everything from peacocks' plumage to butterflies' wings tell us is the way you procreate. It's a basic urge, but the act of distinction is still natural. Normal, even.
Reuse content