The skies are grey and the rainclouds are threatening as I arrive at barbecue HQ, aka Richard Turner's house. "Proper English weather," grins the executive chef behind Hawksmoor, the British charcoal powerhouse rewriting the grilling rulebook in a country that, frankly, lacks a barbecue heritage. And that means one thing: time to fire up the grill…
Or, in Turner's case, a Big Green Egg, the barbecue du jour – if you've got the cash to flash, that is.
Selin Kiazim, a hot new name in the grill world, is standing by, veg at the ready, to help Turner dish up a definitive guide to mastering those coals in time for a barbecue summer, English weather notwithstanding, naturally…
What's so hot about a barbecue anyway?
SK It's a great social event and everyone loves being outdoors. I love them, as everything takes better on a barbecue; it gets your senses going.
RT Good point. It caters to every sense: visual, smell, sound, taste. It's instinctive, cooking over live fire, and food does taste infinitely better cooked that way.
What's on the menu when you fire up for family and friends?
SK It varies depending on what I'm into, but there will always be lamb. The more traditional shish, or I like to do whole cuts, butterflied leg, marinaded. I've also been working a lot on my recipes for adana – kofte, basically. I use lamb and beef mince, pomegranate molasses and various spices. I like to make it a bit softer.
RT On a charcoal grill, steak. And ribs as well. Ribs are good on open flames. Or if it's an American barbecue, a big old smoker, I like chuck steak, the shoulder. And pulled pork.
What's more important, the shopping or the cooking?
RT For me, the shopping. It doesn't matter how good a cook you are, if you haven't bought really good ingredients, you're wasting your time.
SK If you buy something that's not very good, you have to work harder putting flavours into it. Whereas if you've got an amazing steak: salt and pepper, on the charcoal, what else do you need? There's literally nothing you're going to do that's going to make it taste better than that.
RT And you don't want to spend all day cooking, do you? Just keep it simple. You want to get drunk and have a good time with your friends.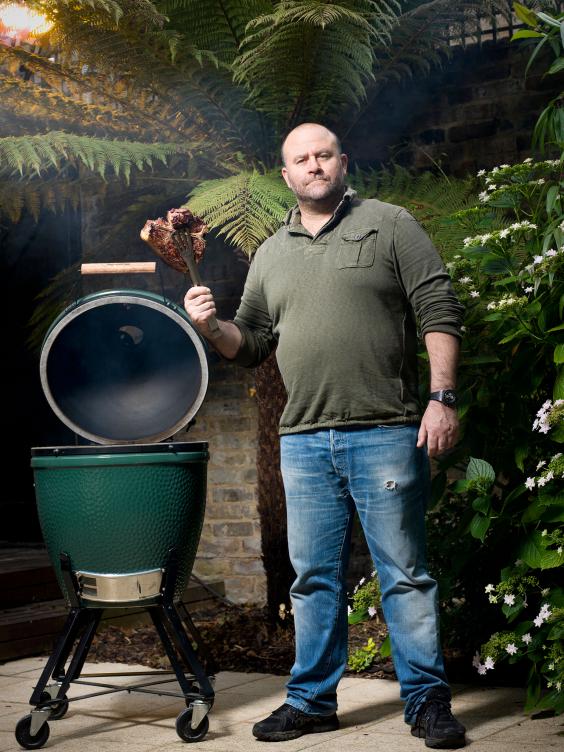 Does barbecuing show up cheaper ingredients more than other ways of cooking?
RT Maybe not always. There's a place in Dalston in north London that's one of the best I've ever eaten in, barely a restaurant, more of a pit. I don't know where their meat comes from and I'm sure it's not the finest, but it's bloody delicious. I don't know what they're doing to it. Sneaky stuff.
SK There's certain ways they marinate them. Sometimes they use milk and onion, which tenderises the meat. And sometimes they use halal. I don't know if that makes it different.
Budget aside, why do people still buy so much cheap meat?
RT I think they don't know that you can't buy good meat in a supermarket. Those are pretty strong words but I've had a good look and no supermarket in this country buys and sells good meat. It's only when you get your hands on a properly butchered piece of meat, that's been reared properly, ethically, over a long period of time – because time makes good meat – that you taste it and you're like, "Oh my god, that's what lamb, pork, beef, whatever, is supposed to taste like!"
Where should people be shopping?
RT It's difficult but they should only buy meat from someone who knows where that meat has come from; how it was reared; how old it is; its breed. That's basic stuff that we should be asking if we care. A happy animal is a tasty animal.
SK When I move into a new area, the first thing I look for is a butcher and a fishmonger. At the same time I can go to a local Turkish supermarket, which is halal meat, and I know that I can cook that very simply as well; it comes up well and is full of flavour. And it tends to be cheaper than the meat you'd find in a high-end butcher.
How important is heritage when it comes to grilling? Is Britain doomed to playing catch-up?
SK I was born and brought up here, but my family is from North Cyprus, so my heritage is Turkish-Cypriot. Grilling is what I grew up with but then I got fairly classical training and worked in fusion food [as head chef for fusion king Peter Gordon]. I love being able to apply modern techniques to Turkish food and do something different.
RT We're catching up pretty fast because of companies such as Big Green Egg and Blistering [an outdoors catering company]. Then there's Mark at London Logs: he's fanatical about charcoal. He cooks down woods I've never heard of, to give that flavour to meat. Like anything, when we get our teeth into something, we go mad.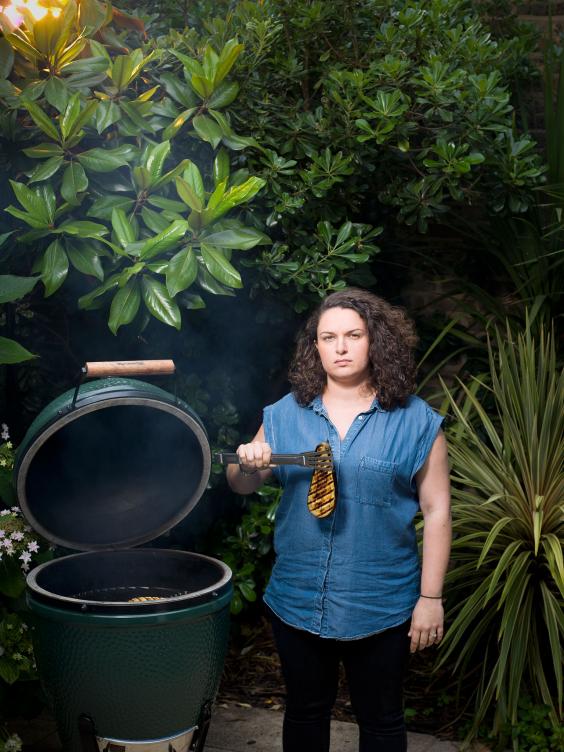 Do environmental issues with eating meat worry you now that China and India are developing a taste for it?
RT Yes. We should eat less meat and more vegetables. We should eat meat only two or three times a week. And we shouldn't be eating half-kilo chunks of meat, which we do. People should learn to cook. It's a life skill and if you can cook, you don't need to just eat a big slab of steak.
Ah, back to steak again. Why is it always about the meat?
RT It's just easiest to cook good meat on a barbecue. But some fish are incredible as well. The best way to cook mackerel is over charcoal, but it needs to be really fresh, 24 hours or less. Sea bass is pretty good, squid too. For vegetables, try asparagus, courgette, marrow, onion, mushrooms. They're really good over charcoal but they need a bit of help: some spicing, salt and pepper, plus lemon juice and olive oil. I tend not to marinate meat, but vegetables I marinate overnight with garlic.
SK Fish scares people at the best of times, let alone over hot charcoals. They get worried it's going to stick. The easiest thing is a whole fish, it's more robust. I really love mackerel. I've done shellfish: mussels, clams and cockles; you get a nice smoky flavour. I just chuck them on a wire, as long as they're not going to fall straight through. For vegetables, all it's going to take is one really nice dressing and it's going to taste really good. I tend to look at what's in season.
Why are barbecues always about men?
RT They shouldn't be. Women make great barbecue chefs but men seem to think they are k the masters of the fire. Maybe it's connected to cavemen. Or maybe it's just an ego thing.
SK It's quite a macho thing, just lighting a fire in general; a job that's probably left to a man.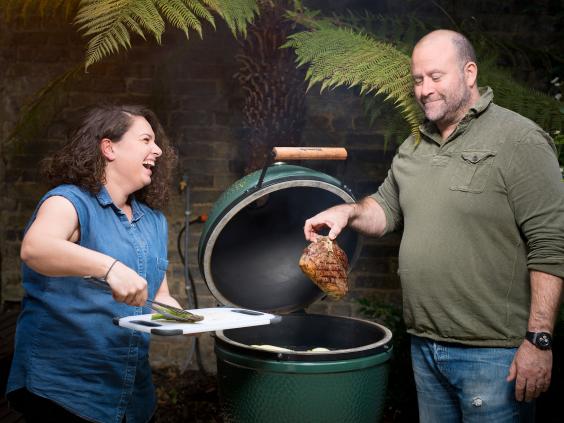 Which brings us to that eternal fascination with fire…
RT It's just exciting to cook over charcoal or live fire, completely different to cooking over gas, which is instantly controllable. You've got to move stuff around, keep playing around, adjusting stuff. And there's a lot more skill involved. Getting the heat just right; not cooking over actual flames but over smouldering charcoal.
Ah yes, timing. Tips, please…
RT You want the charcoal to be burnt down, to be white. If there's black, you're going to taint the flavour of the meat. But be prepared to move it as it caramelises the blood sugar. That happens in lines on the barbecue because of the bars, so get some lines, move it, get more lines. You're building flavour around the meat. And the smoke is infusing the meat at the same time. Once you've got a nice colour, you want to move it to a cooler part of the grill and cook it slowly so you're not tensing up the muscle fibres.
But don't all barbecues cool too quickly?
RT Good charcoal should retain heat. You get it hot to get the colour; then you can cook it over smouldering coals very slowly. As long as it's not burning, the slower you cook it, the better.
What is good charcoal?
RT Charcoal that hasn't been accelerated. With accelerator, of the sort you'll find in most supermarkets, it tastes like petrol. Also, don't use quick-light charcoal: the bags have accelerator to keep it going. And if you can, use English charcoal, not something from a forest in Africa.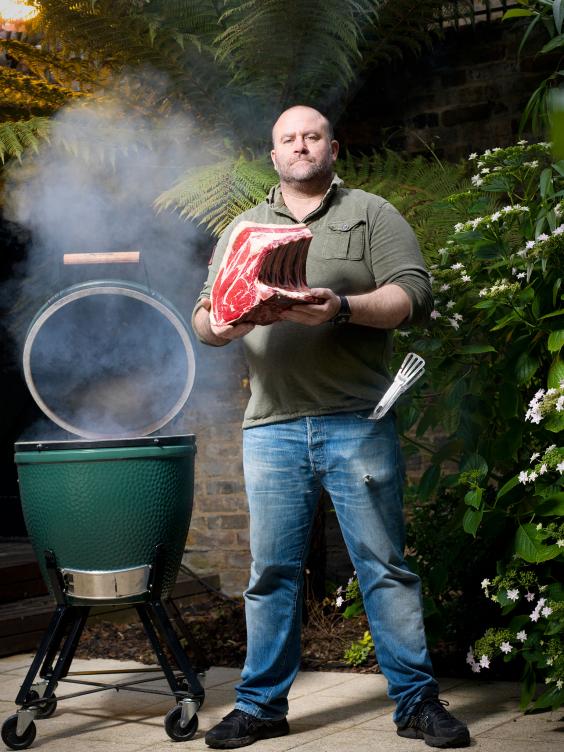 Why isn't the charcoal versus gas argument settled?
RT It's totally settled. What's the argument? Honestly, if you're going to use a gas barbecue, use an oven, use a microwave. It's not a barbecue. It's just laziness; it's not live-fire cooking so it doesn't count. It's something that people who don't know what they're doing do.
SK I'm charcoal all the way. Gas is just not the same. Doesn't taste the same, doesn't smell the same. It's cheating.
And if you can't afford a Big Green Egg?
RT Building a barbecue isn't hard. If you can get hold of a drum, build one out of that.
SK We always buy ones from Turkish supermarkets; a reasonable size is about £20. You can get a good summer's worth out of it. It's portable, too.
Anything but the disposable ones, then?
RT They're deadly.
SK Plus, the food tastes of the fuel.
Richard Turner, 47, is executive chef of the Hawksmoor group, whose fifth London restaurant opened last week. There's not much he doesn't knowing about cooking big slabs of animal; he even sells them, at his Turner & George butchery (turnerandgeorge.co.uk). He is also a director of Pitt Cue Co, the US-style ribs and pulled-pork specialists, and has set up London's first barbecue festival, Meatopia, now in its second year at Tobacco Dock (6-7 September, meatopia.co.uk)
With her Turkish-Cypriot lineage, grilling is in Selin Kiazim's blood. The 28-year-old is looking to open her own barbecue restaurant in London, to serve big sharing plates grilled in front of diners. The menu will fuse her Turkish heritage with other Mediterranean styles and skills she picked up as head chef for fusion king Peter Gordon at Kopapa. Trip Kitchen and Bar, a pop-up she ran in east London earlier this year, was a deserved hit.
Reuse content