Ah, Krug & Krustacean! A match made in alliterative heaven. Well, maybe not.
The champagne brand does seem to have taken certain lexical liberties with the spelling of the sea-dwelling arthropods, but no matter, the prospect of the champagne house and the crab restaurant Beast (or should that be krab?) coming together to put on a five-day pop-up restaurant on London's Southbank makes me very happy indeed.
There are several reasons why this should fill the hungry and the boozy with joy. First off, they are both brilliant. Krug is one of the kings of Rheims: its Grande Cuvée, the one it will be serving at the pop-up, is made from a blend of 120 wines coming from 10 or more vintages and three grape varieties (pinot noir, chardonnay and pinot meunier). You might think: "Who cares?", but even if you don't long to drink it, there is no denying that such artisanship, such care, is worthy of a bit of lauding. The menu that Beast serves – aged Nebraskan rib-eye and Norwegian red king crabs – is also enough to have committed animal-eaters salivating.
There is only one problem: both are furiously expensive. Dinner at Beast costs £75 without wine and a bottle of Krug's least expensive wine will set you back around £110. What hope for the pop-up then?
Lots, actually.
Book tickets at their website and you get a fabulously large crab claw and some very fine champagne. And you get it for £40. Not dirt-cheap admittedly, but what it does is bring something usually untouchably luxurious within the reach of those of us willing to save up for a special dinner.
If only more luxury brands would follow suit. (Krug.com; 0844 371 5050)
Always hot enough for ice cream
Why did those wet-denim skies have to go so soon? Two weeks ago, it looked as if every day would be golden and summer would stretch from here to eternity, or at least another month. Now all is grey and wet.
Still, although summer seems to be fading fast, I can't quite bear to put away all that is summery. My coat is still the thinnest that I have and nothing – but nothing – will cleave me from my home-made gelato. It is a creamy addiction and a clear and present danger to my belt buckle, of course, but it also fills me with an unpasteurised joy.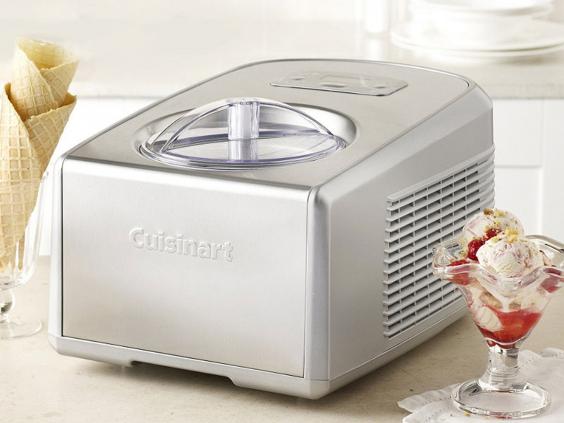 Part of this is down to the fact that it is so damn simple to make, having had the assistance of a Cuisinart gelato and ice-cream maker (£199, lakeland.co.uk, above) for some weeks now.
There it sits on my kitchen work surface, chuntering and whirring away, making gelato-making seem deceptively simple. Whack in the ingredients, set it off and 40-odd minutes later you have a glistening bowl of the frozen stuff. That is handy enough, as is the fact that you don't have to pre-freeze the bowl.
Even better is that it has a keep-cool function which means, if you forget about it, you have 10 minutes to run back to it before it melts. Pity the weather doesn't show such well-mannered consideration.
Reuse content