There is still a preconception that those who enjoy playing games do so in darkened rooms with only cans of cola and a takeaway pizza for company. No matter how much money the gaming industry makes – some $75.5bn annually at the last count – such beliefs have proven difficult to shake off.
What to make of Gamescom this week then, in which more than 340,000 people have been attracted through its doors? Or the industry-only Electronic Entertainment Expo in Los Angeles which has grown to such levels of importance that it attracted 50,000 visitors earlier this year?
The idea of gamers in their bedrooms has foundation – in the 1980s many a child perched on their beds to play the latest 8-bit games on ZX Spectrums and Commodore 64s - but gaming today is a huge, mainstream industry.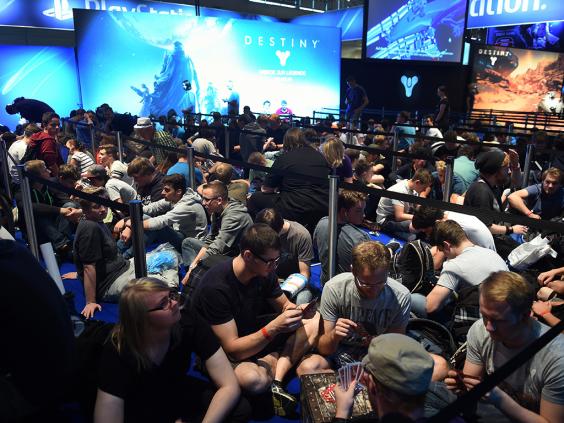 Shows such as Gamescom and E3 offer new announcements, the chance to try out emerging technology and the opportunity to get up close with some of the industry's most respected developers. Visitors appear to thrive on them. And here in the UK there is ample opportunity to get involved with a growing number of gaming shows appearing each year.
The UK is Europe's largest videogame market and the third largest in the world. It is worth an estimated £1bn for the country's GDP according to trade body TIGA so it is no wonder that gaming shows have sprung up on these shores to cater for them.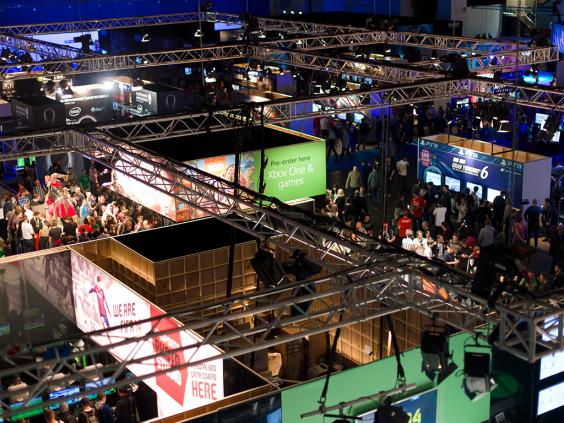 The biggest in the UK is EGX, formerly known as the Eurogamer Expo. Now in its seventh year, it will take place next month at Earls Court in London and organisers expect to attract around 70,000 visitors eager to meet developers, compete in tournaments, and discover more about new games and technology.
But it has its competitors. Play Expo which is in its fifth year is one of them. It takes place at EventCity in Manchester in October and it has been growing massively, expecting to attract some 25,000 visitors over each of its two days this year.
It signs up big names such as Microsoft, Sony and Nintendo but it is unafraid of showcasing small developers too: this year it has confirmed that 14 independent studios will reveal the fruits of their labour.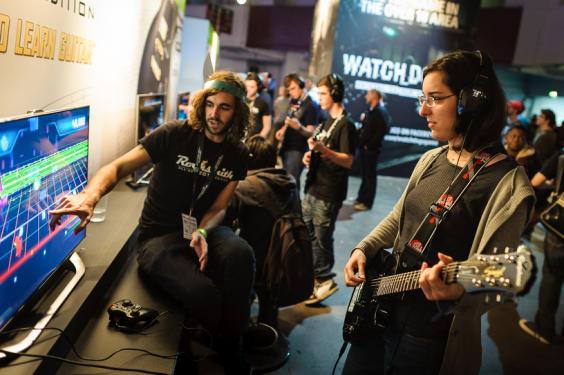 Added to that will be an enlarged retro gaming area packed with arcade cabinets, older computers and consoles. Another area area will be set aside for developer talks, including one by Broken Sword creator Charles Cecil. Numerous tournaments will be held and hundreds of people visit dresses as their favourite videogame characters. "We're keen to fly the flag for the north of England – it's great that we can offer such a large show that isn't in London," says Play Expo co-founder Andy Brown.
Not that it is the only show outside of the capital. Later this month, Radio 1 DJ Zane Lowe will be among those attending Insomnia, promoted as the UK's biggest gaming festival, taking place at the Ricoh Arena, Coventry. It says to expect YouTube stars and gaming tournaments as well as a large exhibition hall packed with forthcoming games.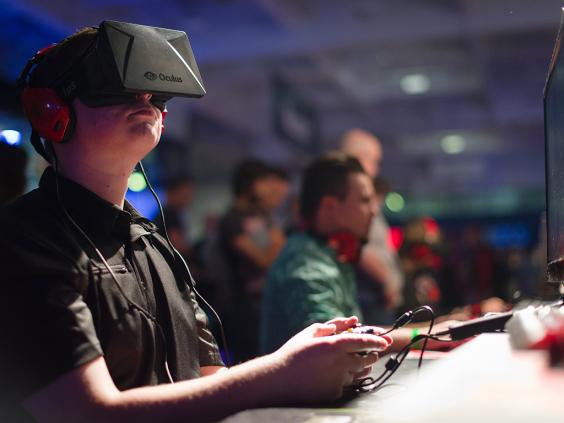 For a more laid-back approach to gaming, October sees the return of GameCity in Nottingham, based in venues across the city centre. GameCity provides a unique experience which looks as much at the culture of gaming as it does the games themselves.
Past events have included a late night concert in a church by videogame music composer James Hannigan and a live game of Pac-Man on the streets. It also announces the winner of the GameCity Prize – the gaming equivalent of the Man Booker Prize. Last year it was awarded to Spaceteam, a co-operative shouting game for up to four players by Sleeping Beast Games.
The best upcoming games (and their release dates)
The best upcoming games (and their release dates)
1/21 Assassin's Creed: Unity

Set in Paris during the French Revolution, Ubisoft's latest Assassin's Creed looks incredible. For the first time, four players can take on missions in multiplayer co-op, and there's also a new stealth option, which contrasts well with the fluid movement of the deadly Assassin. Release date: October 2014

2/21 Call of Duty: Advanced Warfare

The 11 year-old military first person shooter series is about to become more futuristic, with characters that look more realistic than ever - plus, Kevin Spacey stars as the bad guy. The downloadable content for will be released first on Xbox Live. Release date: November 2014

3/21 Splatoon

Nintendo's not known for its shooters, so they've entered the territory with a big inky bang for the Wii U. Play online as a squid in two teams of four to cover as much of the ground in your team's ink as possible - avoiding a splattering from your enemies. Bold, bright, boisterous, and a lot of fun. Release date: Q1 2015

4/21 The Order: 1886

Set in a stunning cinematic Victorian London (except with some curious/scary 'half-breed' monsters), the third-person shooter is exclusive to PlayStation 4. Steampunk fans will be very happy. Release date: February 2015

5/21 Super Smash Bros

New characters are coming to battle - including Pac-Man. Players will also be able to fight as their Mii character, as either a Brawler, Gunner or Swordfighter. Release date: 'Holiday 2014'

6/21 Destiny

The $500 Million first person shooter with hints of MMO is nearly here. Set in a post-apocalyptic setting in space, Destiny will take players on a surprising journey. Release date: September 2014

7/21 Evolve

5 players. Four as hunters, one as a giant alien monster. Release date: October 2014

8/21 Uncharted 4: A Thief's End

Naughty Dog aren't giving much away here, other than a clip of an older Nathan Drake. But he looks good. Release date: 2015

9/21 No Man's Sky

Space? Tick. Dinosaurs? Tick. Indie title dubbed as 'stealing the show' at E3. Tick. Release date: TBticked

10/21 Batman: Arkham Knight

Nananananananana! Just watch the trailer. Release date: can't wait for 2015

11/21 Legend of Zelda for Wii U

There were rumours that the protagonist was Zelda instead of Link, but Eiji Aonuma has denied this. It does look like the new Zelda will be more open and vast than ever - and it looks gorgeous. Release date: 2015

12/21 Little Big Planet 3

Sackboy's got some new friends this time round in PlayStation's puzzle platformer, each with different skills opening up a range of different, and cute, challenges. Release date: November 2014

13/21 The Witcher 3: Wild Hunt

In the latest from the series which recently got a nod from none other than Barack Obama, the scope for Geralt's open world looks vast. Release date: February 2015

14/21 Yoshi's Woolly World

Just when you though Yoshi couldn't be any more adorable. This beautiful new world of yarn is one you'll want to unravel, and it looks like the perfect children's game. You can also play with a friend as red yarn Yoshi. Release date: 2015

15/21 Sunset Overdrive

The colourful comic style offering exclusive to Xbox One combines the feel of Sum 41/Tony Hawk with a random mix of mutants and energy drinks. Release date: October, 2014

16/21 Bloodborne

From the Dark Souls director Hidetaka Miyazaki (but it's NOT a sequel), Sony exclusive Bloodborne looks dark, difficult, and dramatic. Release date: 2015

17/21 Rainbow Six Siege

Tom Clancy's tactical multiplayer shooter goes back to basics where destruction will ensue whether you play as a criminal or the police. Release date: 2015

18/21 Dragon Age: Inquisition

Bioware's RPG sequel to Dragon Age 2 will let players explore more than ever before - and there are several different major endings depending on your decisions in the game. Release date: October, 2014

19/21 Ori and the Blind Forest

This indie release from Microsoft is one for those who love being enchanted by gorgeously unique artwork in a platformer. Release date: TBA

20/21 Far Cry 4

Set in a region of the Himalayas, you get to ride on an elephant with weapons, and invite friends to join you to play via PlayStation Plus, even if they don't own the game. Release date: November 2014

21/21 Alien: Isolation

What's scarier than a survival horror game about being attacked by an alien? Being attacked by an alien in a virtual reality headset. You should try this on Oculus Rift. Release date: October 2014