Artists like Justin Bieber, Coldplay and James Bay have been turned into emojis in honour of the BRIT Awards.
The emojis, which show tiny (and surprisingly accurate) cartoon representations of some of the biggest BRIT Award-nominated artists, were unveiled by Twitter ahead of the ceremony, which takes place on 24 February.
Unfortunately, there's one big problem - they're not real emojis. They appear on Twitter, next to certain hashtags like #JustinBieberBRITS, but you won't be able to include them in text messages to friends.
Huge news for Beliebers everywhere...@justinbieber's very own #BRITs emoji is now live - #JustinBieberBRITs pic.twitter.com/DPkTGuyWQf

— Twitter UK (@TwitterUK) February 10, 2016
Only the Unicode Consortium can decide which emojis become reality, so if you ever want to include a Little Mix emoji in a Snapchat, you'll have to ask them nicely.
Regardless, unique Twitter emojis like these have been big hits in the past. The social network unveiled a range of Star Wars-themed emojis before the launch of The Force Awakens, and in the run-up to the general election in May last year, posting a hashtag like #Conservative or #Labour would bring up the party's logo next to the message.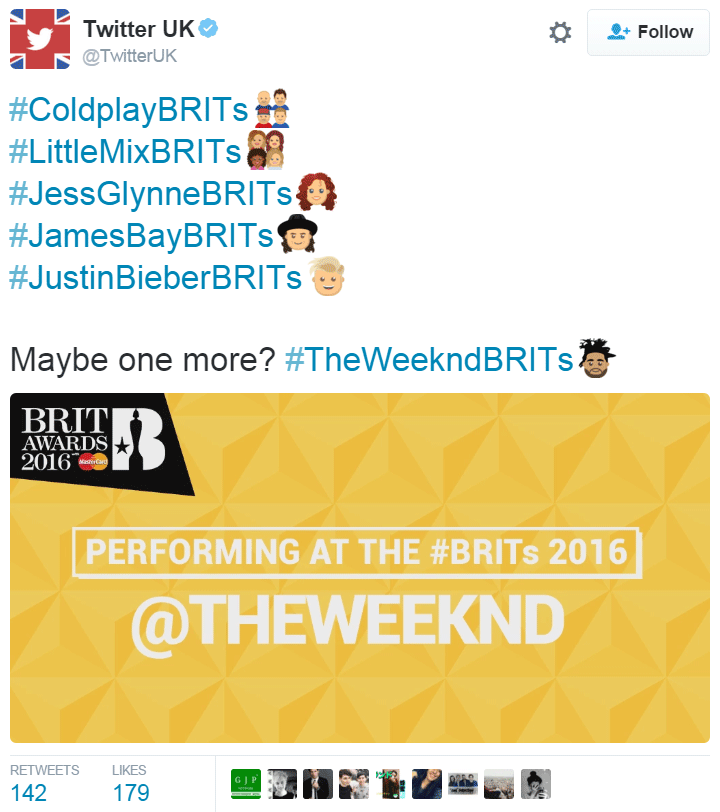 So far, Twitter has revealed emojis for Coldplay, Little Mix, Jess Glynne, James Bay, Justin Bieber and The Weeknd.
Oddly, there's currently no emojis for other high-profile nominees like Adele, Ed Sheeran or One Direction - fans will be hoping that Twitter addresses this in the run-up to the awards show.
Reuse content