With its world-famous red light district dotted with window brothels, Amsterdam and the Netherlands as a whole are seen as a haven for sex workers. But the reality is nowhere near that black-and-white, according to a member of a Dutch union which represents those who work in the adult industry. 
Selling sex and running brothels are legal in the Netherlands, however the details of laws around the country can make the day-to-day lives of sex workers tough, explains Yvette Luhrs, who is an adult film actress, a webcam performer and member of the Proud union. 
The group, which has been running for around three years, fights for the rights of those who sell sex, work in strip clubs, in adult films, perform phone sex, and appear on cam sites. Proud believes that sex work should be decriminalised to stop women from being pushed underground and put into danger. Estimates suggest between 15,000 to 30,000 people in Holland are sex workers, in a nation of over 16 million people.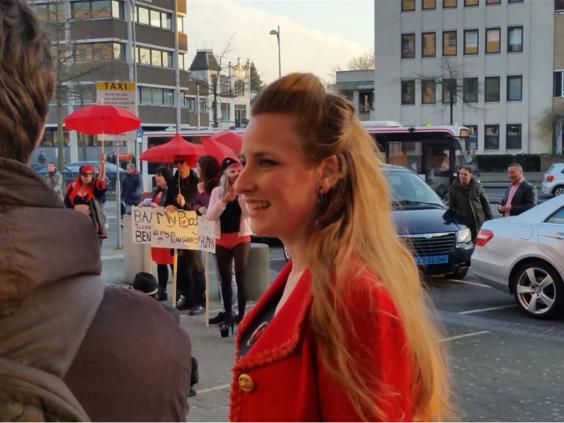 "No matter how you think about sex work from a moral perspective sex work is something that is being done and no matter that your reasons are for doing this job, if you do it you are a real human just like anyone else who does any other job," Luhrs tells The Independent. "But we often don't look at sex work like that, we often problematise it." 
Luhrs joined the group as it was fighting against a proposed law in the Netherlands parliament that would see sex workers sent to jail for six months if they worked without a license. 
"There were no sex workers involved in the process. The jail sentence is something we fought hard against," she says. 
Currently, each town and city has its own rules about sex workers being allowed to work ih their jurisdiction. 
"In some councils it's OK to be a sex worker in your own home, in some you can only work in a brothel, some do not give licenses to brothels. In others you are not classed as running a business if you only have a few clients a week and only put up adverts twice a year - and that's OK. But if another sex worker is in the house then it can be classed as a business." 
International Day to End Violence Against Sex Workers - in pictures
International Day to End Violence Against Sex Workers - in pictures
1/11

People carrying red umbrellas march through downtown Skopje, Macedonia, marking the International Day to End Violence Over Sex Workers. The banner reads: The Stigma Kills.

AP Photo/Boris Grdanoski

2/11

Women participate in a march through a street in Skopje.

AP Photo/Boris Grdanoski

3/11

People shout slogans and hold a banner during a march to support sex workers rights.

AFP / Robert ATANASOVSKIROBERT ATANASOVSKI/AFP/Getty Images

4/11

Sex workers demonstrate to call for the end of the violence perpetrated against them and punishment for culprits in Skopje.

AFP / Robert ATANASOVSKIROBERT ATANASOVSKI/AFP/Getty Images

5/11

A woman with 'sex worker' written on her thighs takes part in the march.

AFP / Robert ATANASOVSKIROBERT ATANASOVSKI/AFP/Getty Images

6/11

Activists of the Kenyan Sex Workers Alliance chant slogans during a demonstration in Nairobi on December.

AFP / JOHN MUCHUCHAJOHN MUCHUCHA/AFP/Getty Images

7/11

Kenyan male and female sex workers walk with their supporters and members of the lesbian, gay, bisexual and transgender (LGBT) community to mark the International Day to End Violence Against Sex Workers.

EPA/DAI KUROKAWA

8/11

Hundreds of sex workers gathered to demand decriminalisation of sex workers in the country and to give them more rights and protection.

EPA/DAI KUROKAWA

9/11

Female sex workers blow up condoms as they walk with supporters and members of the LGBT community.

EPA/DAI KUROKAWA

10/11

A Kenyan sex worker plays with inflated condoms during the march.

EPA/DAI KUROKAWA

11/11

Protesters hold red umbrellas symbolising the protection of sex workers.

AP Photo/Sayyid Azim
"So while sex work is legal, every council makes their own rules and can change their minds," explains Luhrs. These differences create a monopoly for certain councils and brothels, making it harder for women to move around the country and in turn to escape from danger without fearing they are breaking the law.
"We have seen several cases where sex workers were being threatened by their city council to being kicked out of their homes as councils are 'cleaning up' areas," says Luhrs. 
Luhrs and the team at Proud also offer practical advice for sex workers to combat issues which arise due to the stigma attached to the job. 
"You won't get a mortgage from sex work, or a business bank account. But you might struggle to find childcare services. you will have childcare services. In custody cases it can be used against you. So there are many reasons not to be visible as a sex worker."
This is another issue that policy makers must factor into laws surrounding sex work, says Luhrs, and why it's important for advocacy groups such as Proud to exist. 
"Policy makers think we should be visible but on the other we have stigma holding us down. We have only access to prostitution law not access to human rights or labour rights."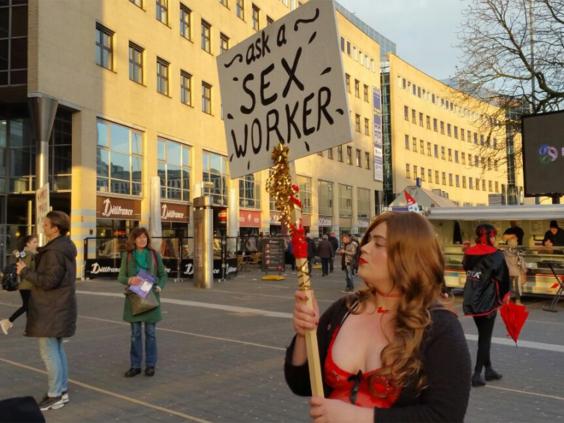 New Zealand, she continues, is the country to emulate when piecing together sex work laws, adds Luhrs.  In 2003, the New Zealand Prostitution Reform Act, and fully decriminalised sex work. There, it is legal for anyone above the age of 18 to sell sexual services, including street solicitation and running a brothel. On top of this, sex workers are guaranteed employment and human rights.
As well as fighting for sex workers' rights in Holland, Proud are defending those in other countries and helping researchers to understand how conditions differ in countries in Africa, Asia and Europe. 
Asked if Luhrs is a feminist, she says of course she is - and her works speaks for itself. But she adds that the group isn't interested in ideologies. 
"I think that if you think of sex work as work it's irrelevant if a sex worker is a feminist," she argues. "It's irrelevant if you are a 'happy hooker' or not. When sex work is work we should have access to labour rights no matter your ideology. I do consider myself a feminist and I am a feminist sex worker but that' my personal way of thinking. I have colleagues who are not necessary interested in that. When they work, they work to for money, and they want access to rights." 
Reuse content