UK food prices saw their biggest annual increase in three years in March, according to the Office for National Statistics.
Food and non-alcoholic beverage prices were 1.2 per cent higher on a year earlier, up from a rate of 0.2 per cent in February and the biggest increase since March 2014.
The figures confirm that a long period of food price deflation, helped by a supermarket price war, is over thanks to the slump in the pound since last summer's Brexit vote.
The overall Consumer Price Index inflation figure for March was unchanged from February at 2.3 per cent.
The Bank of England expects it to reach 2.75 per cent by the first half of 2018, as the full impact of the pound's 13 per cent trade-weighted depreciation feeds through, although some analysts expect it to breach 3 per cent later this year.
"Surging prices are concerning some hawkish Bank of England voters, and we saw Kristin Forbes vote for a rate hike last month on this basis. However, we still think the Monetary Policy Committee as a whole will continue to 'look through' rising prices and focus instead on what higher inflation means for households," said James Smith, economist at ING.
The pound spiked to $1.2245 in the wake of the data release, but rapidly fell back.
The end of food deflation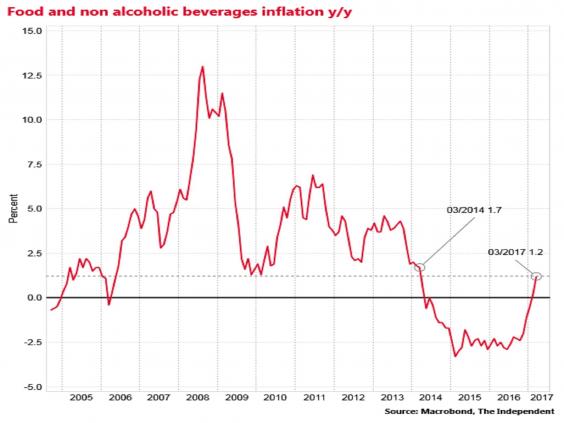 "Food, drink and clothing prices all rose in March," said Jonathan Athow of the ONS. "However, this is offset by air fares, which fell slightly but last year rose substantially thanks to the timing of Easter."
Within the food category, the biggest rise was oils and fats, which were 15.5 per cent up on a year earlier. Fish was up 8.8 per cent, and bread and cereals 1.4 per cent higher.
Despite the ONS data, according to figures from MySupermarket.com, grocers have been focusing price increases on certain non-food items less likely to be noticed by customers, while leaving staples such as milk unchanged.
It says the price of decorative candles rose 29 per cent between October and March, lightbulbs by 19 per cent, and dental floss by 17 per cent.
The latest pay data from the ONS shows average nominal wages rising at an annual rate of 2.2 per cent in the three months to January, which together with the inflation figures confirms that on average real wages are falling again.
The Resolution Foundation think tank pointed out that the Office for Budget Responsibility had not forecast a fall in real wages until the second half of 2017.
"The result of fast rising inflation in recent months is that Britain's pay squeeze looks set to have returned – six months ahead of schedule," said Stephen Clarke, economist at Resolution.
"With further price rises expected later this year, and no sign yet of wage settlements responding, this pay squeeze looks set to be deeper and longer than expected."
The pay data for February will be released on Wednesday.
A spokesperson for the Treasury said: "We are building an economy that works for everyone and helping families with the cost of living by cutting income taxes for 31 million people, freezing fuel duty and increasing the National Living Wage to £7.50 per hour."
Reuse content