Angelina Jolie and Brad Pitt's wedding was probably one of the most eagerly anticipated high profile nuptials since those that cared about the royal wedding of the Duke and Duchess of Cambridge in 2011.
Yet somehow, they managed to keep the whole event, held at the $60million (£36million) Chateau Miraval in the south of France the couple purchased in 2008, so under wraps, no-one realised it had even taken place until some days afterwards.
Jolie's father, Jon Voight, found out about it around about the same time that everyone else did. And by everyone else, we mean the rest of the world, because the veteran actor wasn't actually invited.
Questioned about the nuptials on Thursday morning (28 August), Voight apparently told TMZ that he first read about them via an online news site.
Asked whether he was upset not to be invited, he responded by saying he was busy with the Emmy Awards anyway, having been nominated for a prize for his portrayal of the character Mickey Donovan in TV series Ray Donovan.
Jolie and Voight have endured a turbulent relationship in the past. Back in 2001, Voight told Access Hollywood that Jolie had been suffering from "serious mental problems" and said that he had urged her to seek professional help.
Following his comments, the then 26-year-old fired back by telling reporters she did not consider it "healthy" for her to be in his company.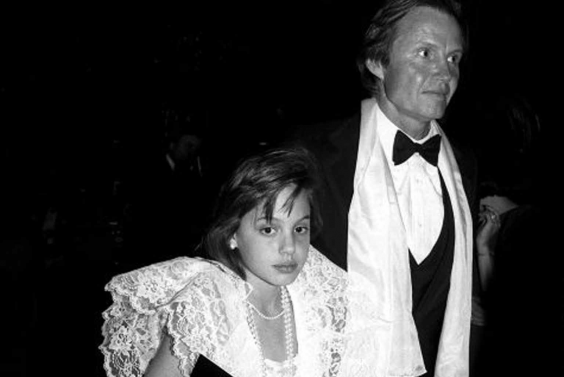 They eventually reconciled in 2011, sometime after the incident and after Jolie had amassed a total of six children.
"I suddenly saw things differently and everything shifted," Voight said of the change in attitude that led to the pair repairing their relationship. "That one moment changed my whole life. It gave me back my daughter and my family. Being reunited with my Angie is very precious to me. I adore my grandchildren, they are my great love. It makes me so emotional and grateful."
Pitt's immediate family were all reportedly in attendance.
However, comments made by Voight to Good Morning Britain earlier hinted that his absence from the ceremony had been amicable.
"I'm very happy that I can legitimately call him my son-in-law, this wonderful fellow who I love," he told the ITV show.
"You know what they are very happy. The kids must have had a wonderful time at the wedding, they all had their things to do and it must have been very beautiful so I'm very happy for them.
"She's working now with Brad, and I've got a couple of things to do, but as soon as we can we'll get together and it's going to be exciting."
Jolie's mother, Marcheline Bertrand, died in January 2007 after suffering from ovarian cancer.
Earlier this month, Voight stirred controversy when he accused Penelopé Cruz and her husband Javier Bardem of 'inciting anti-Semitism' after they signed an open letter condemning the Israeli government's Palestinian 'genocide'.
In response, Voight, who is famously pro-Israel, penned a strongly-worded letter published on Variety.com.
"My name is Jon Voight and I am more than angry," it begins. "I am heartsick that people like Penelope Cruz and Javier Bardem could incite anti-Semitism all over the world and are oblivious to the damage they have caused.
The famous on Israel-Gaza
The famous on Israel-Gaza
1/21 Penelope Cruz and Javier Bardem

Oscar-winning married actors Penelope Cruz and Javier Bardem signed an open letter accused Israel of "genocide". They said: "Gaza is living through horror these days, besieged and attacked by land, sea and air'.

2/21 Zayn Malik

The One Direction singer was bombarded with Twitter death threats after posting #FreePalestine to his 13 million followers. The tweet collected over 130,000 retweets, but it soon became apparent that not everyone agreed with his opinion.

3/21 Mia Farrow

Mia Farrow, the actress and Unicef ambassador, said on Twitter: 'We can passionately protest Israel's assault upon Gaza without descending, even remotely, into the hideousness of anti-Semitism'.

Getty images

4/21 Katy Perry

Way back in 2011, Katy Perry faced a slew of angry responses from Palestinians and their supporters after she tweeted to her fans, asking them to 'Pray for Israel'.

ABC via Getty

5/21 Massive Attack

Massive Attack spoke of their 'love and commitment' to supporting the plight of young Palestinian refugees after the band visited the Bourj el-Barajneh refugee camp in Lebanon.

6/21 Selena Gomez

The former Disney child star caused a stir when she posted an image on her Instagram account than began: 'It's about humanity. Pray for Gaza.' Joan Rivers responded to the TMZ celebrity news website: 'Oh, Selena Gomez, yeah, that college grad. Well if Selena said that...let's see if she can spell Palestinian'.

GETTY IMAGES

7/21 Russell Brand

Russell Brand is currently caught up in an entertaining spat with Fox News anchor Sean Hannity. Brand uploaded a video where he accused Hannity of terrorism after his agressive behaviour in an Israel-Gaza debate. Hannity, who is famously right-wing and pro-Israel, asked Yousef Munayyer if he was 'thick in the head'.

8/21 Rihanna

Rihanna tweeted, then deleted, the hashtag #FreePalestine after eight minutes. She claimed its publication was an accident.

Getty Images

9/21 John Legend

The singer waded into the debate on Twitter when he wrote: 'So sick watching our Secretary of State have to grovel so hard to tell Israel how much he loves them while Israeli cabinet shits on him'.

10/21 Bar Refaeli

Leonardo DiCaprio's former girlfriend added to the debate when she posted a quote on her Instagram account, which she attributed to Abraham Lincoln. Unfortunately it was actually taken from a Lincoln figure encountered by Captain Kirk and Spock in Star Trek, season three, episode 22.

Getty Images

11/21 Bill Maher

Bill Maher received a storm of criticism after he compared Hamas to a 'crazy woman trying to kill you'. 'You can only hold her wrists for so long before you have to slap her,' he tweeted.

Getty Images

12/21 Jon Voight

The actor and father of Angelina Jolie unleashed a rant on Fox News. Reading from a script, he criticised Obama's actions over the current unrest in Israel and Gaza.

Getty Images

13/21 Joey Barton

Despite already getting into a dispute with Yossi Benayoun over comments on the Israel-Gaza conflict: Joey Barton has continued to deplore the violence in Gaza, tweeting the hashtag '#stopisraelkillinginnocents'.

Rex

14/21 Howard Stern

When a caller attempted to blame Israel for the war with Hamas last week, SiriusXM radio host Howard Stern told him to'"F*** off!' before launching into an impassioned defense of Israel, saying: "If you're anti-Israel, then you're anti-America".

Getty Images

15/21 Wonder Woman

Otherwise known as Gal Gadot: the Israeli actress took to Instagram, writing: 'I am sending my love and prayers to my fellow Israeli citizens. Especially to all the boys and girls who are risking their lives protecting my country against the horrific acts conducted by Hamas, who are hiding like cowards behind women and children'.

Warner Brothers

16/21 Piers Morgan

Piers Morgan was branded 'Zionest scum' for his stream of tweets about the Israel-Gaza conflict. He declared various opinions such as 'I like Jews. I like Arabs' and 'Same nonsense made Northern Ireland a murderous tinderbox for 30 years'.

17/21 Joan Rivers

Joan Rivers didn't hold back when she was interviewed by TMZ; likening Israel's position to that of New York if it was attacked by New Jersey. Asked where she thought civilians caught up in the crossfire were supposed to go, she replied: 'I don't care, they started'.

Getty

18/21 Dwight Howard

NBA star Dwight Howard 'did a Rihanna' - tweeting '#FreePalestine' before quickly deleting it and spending the rest of the day apologizing for the 'mistake'.

Getty Images

19/21 Nicole Kidman and Keith Urban

Nicole Kidman uploaded a short video to her Facebook page, featuring Keith Urban with their daughters Sunday Rose and Faith Margaret, captioned: 'Keith, the girls and I are joining Reba McEntire to #PrayForPeace. xxNic'.

Reuters

20/21 Simon Cowell

X Factor boss pledged almost £100,000 to the Friends of the Israel Defense Forces at a US fund-raiser in Beverly Hills in 2012. The gala brought in more than £12million for the organisation, which helps to provide welfare services for IDF soldiers and their bereaved families. So far, however, he has only commented on the conflict to say that he is "praying for peace".

Reuters

21/21 Brian Eno

Musician and producer Brian Eno condemned the Israeli action in Gaza as 'ethnic cleansing' in an open letter on David Byrne's website.

Getty images
"They are obviously ignorant of the whole story of Israel's birth, when in 1948 the Jewish people were offered by the UN a portion of the land originally set aside for them in 1921, and the Arab Palestinians were offered the other half.
"The Arabs rejected the offer, and the Jews accepted, only to be attacked by five surrounding Arab countries committed to driving them into the sea."
He goes on to claim that Israel, after years of being at war with the Palestinian people, gave them the Gaza strip as a gesture of peace. He ends the piece by pleading for famous names in the entertainment industry to re-address their anti-IDF stances.
"I am asking all my peers who signed that poison letter against Israel to examine their motives.  Can you take back the fire of anti-Semitism that is raging all over the world now?
"You have been able to become famous and have all your monetary gains because you are in a democratic country: America.  Do you think you would have been able to accomplish this in Iran, Syria, Lebanon, et cetera?
"You had a great responsibility to use your celebrity for good.  Instead, you have defamed the only democratic country of goodwill in the Middle East: Israel.
"You should hang your heads in shame," he concludes.  "You should all come forth with deep regrets for what you did, and ask forgiveness from the suffering people in Israel."
Neither Angelina Jolie, nor Brad Pitt, have publicly shared their views on the conflict.
Reuse content