Christian Bale, one of Hollywood's angriest men (at least when Tarantino's on holiday), prefers not to bemoan the status afforded to him by his chosen profession.
Unlike, he claims, fellow former Batman George Clooney, who got whole laws passed in Italy to prevent paparazzi from accessing his wedding to Amal Alamuddin in Venice in September.
"It doesn't matter that [Clooney] talks about [the paparazzi]," Bale tells the latest issue of WSJ magazine.
"It's like, 'Come on, guys, just shut up. Just get on with it and live your lives and stop whining about it.' I prefer not to whine about it."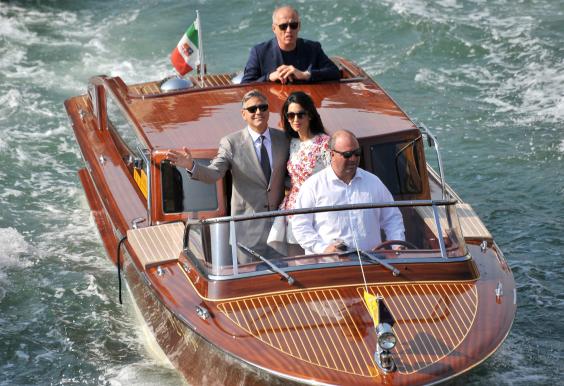 Bale then proceeds to whine about it. In the most melodramatic form possible.
"I was in Italy with my wife," he regaled the interviewer.
"I would go to work; she would leave the hotel. There would be a man who stood outside... And say the most obscene things imaginable to my wife... I know what he's after; he has a strategy there.
"Am I able to say I'm not gonna give him that satisfaction of angry Christian Bale coming after this man? But equally, he's killing my humanity and my dignity as a husband if I do not, and he knows this. So you've got a choice."
Christian Bale on screen
Christian Bale on screen
1/13 Exodus: Gods and Kings

Bale stars as the 'barbaric' Moses in Ridley Scott's Exodus

2/13 The Dark Knight

Bale took on the iconic role of superhero Batman for Christopher Nolan's 2008 movie

AP Photo/Warner Bros.

3/13 American Hustle

Bale starred as a conman alongside Bradley Cooper in the Oscar-nominated American Hustle

4/13 The Fighter

Bale in his Oscar-winning role as boxer and trainer Dicky Eklund

Paramount Pictures

5/13 Out Of The Furnace

Bale as the vengeful Russell Baze in Scott Cooper's 2013 crime thriller

Kerry Hayes

6/13 The Dark Knight Rises

Bale reprises his role as Batman in a scene from 2012's The Dark Knight Rises

AP

7/13 The Prestige

Bale as magician Alfred Borden in the Oscar-nominated 2006 drama

8/13 Captain Corelli's Mandolin

Bale played Mandras in Captain Corelli's Mandolin alongside Penelope Cruz and Nicolas Cage

Universal Studios

9/13 Little Women

Bale as Laurie in the 1994 film adaptation of Louisa May Alcott's classic novel

IMDB

10/13 Batman Begins

Bale as Bruce Wayne/Batman in 2005's Batman Begins

Warner Bros

11/13 American Psycho

Bale starred as Patrick Bateman in the 2000 film adaptation

12/13 Empire Of The Sun

Bale starred in Steven Spielberg's 1987 film as a young boy

Rex

13/13 Terminator Salvation
Yes, you read that correctly. "Killing my humanity and my dignity as a husband."
His comments come weeks after Bale upset a number of religious fans when he described the prophet Moses as "barbaric" and a possible "schizophrenic".
"I think the man was likely schizophrenic and was one of the most barbaric individuals that I ever read about in my life," Bale, who plays the Biblical character in Ridley Scott's forthcoming Exodus: Of Gods and Kings, told the Hollywood Reporter.
"He was a very troubled, tumultuous man and mercurial," he said. "But the biggest surprise was the nature of God. He was equally very mercurial."
He also admitted to not really knowing anything about Moses before he took on the role.
Reading the Torah, he said, "took a bit of time" also.
Reuse content