Stephen Fry is one of Britain's best-loved house-hold names and rarely inspires so much as a negative headline, let alone a viewers' complaint.
But the Baftas host appeared to incur the wrath of several at home after he made a number of risqué remarks during this year's ceremony.
At one point, he told his audience it was "pissing down with stars". He also introduced Tom Cruise as "Tom f**king Cruise" as he ambled on stage to present an award.
"We received complaints from viewers unhappy with some of Stephen Fry's language while presenting the Baftas," a statement on the BBC's complaints website read.
Baftas 2015 red carpet
Baftas 2015 red carpet
1/21 Amy Adams in Lanvin

Icy white with a touch of sparkle, this is a slick look from best actress nominee Amy Adams. From the bright white colour and the column silhouette to the sleek hairdo, Amy has nailed this look. The only exception is the tied-up belt which detract somewhat from the overall effect.

PA

2/21 Julianne Moore in Tom Ford

Julianne Moore's Givenchy haute couture gown at the Golden Globes is still our favourite look of awards season so far, however she is not far behind in this plunging neckline Tom Ford number. All the drama of an award season gown in fiery red with the addition of a good dose of sex appeal thanks to the daring neckline.

3/21 Rosamund Pike in Roland Mouret

Considering some of Rosamund Pike's previous choices this awards season, this gown by Roland Mouret is well a little dull. The form fitting black halter neck dress is a classic look but won't be winning any awards in the innovation department.

Getty

4/21 Patricia Arquette in Pamella Roland

Nominee Patricia Arquette has been a consistent appearance on best dressed lists. This plum red number is another great look, we are particularly fond of the Patricia's choice of a quiff updo that gives the look a more modern feel.

Dominic Lipinski/PA Wire

5/21 Alice Eve in Schiaparelli

Fans of Alice Eve may remember the flame dress the actress opted to wear to the 2013 BAFTAs. Unlike that, this black number was a rather safe choice; the only slight reprieve comes with the thigh high split, otherwise the dress and pulled back hair is rather ageing on Alice.

David M. Benett/Getty Images

6/21 Olivia Grant in Jenny Packham

We do feel for Olivia Grant who looks positively frozen in her slinky beaded gown by Jenny Packham. A striking look no doubt, if a little daring in the middle of a freezing cold February.

Getty

7/21 Kristin Scott Thomas in vintage Balmain

The actress showed off her veteran red carpet status in a vintage design by Balmain. Kristin looks poised and stylish in this classic design artfully accessorised with whopping great diamond earrings.

PA

8/21 Holliday Grainger in Antonio Beradi

Monochrome is the most timeless of all colour combinations so a faultless choice for Holliday Grainger whose black and white gown with plunging neckline has something of a vintage feel to it.

Getty

9/21 Dianna Agron in Lanvin

Glee star Dianna Agron opted for a red gown by Lanvin. The structural shapes on the bodice and wraparound skirt give it an extra edge that stops it becoming just another strapless dress.

10/21 Gugu Mbatha-Raw in Prada

British actress Gugu Mbatha-Raw makes a very impressive BAFTA red carpet appearance in this lavender gown by Prada.

11/21 Lea Seydoux in Prada

Lea Seydoux provides a breath of fresh air in this show-stopping pleated gown by Prada. The capped sleeves and pleating are pretty editions whilst the cut-out sections on the midriff ensure it doesn't look old fashioned.

12/21 Felicity Jones in Dior haute couture

The young actress was lucky enough to wear this very special dress from the spring 2013 haute couture collection by Raf Simons for Christian Dior. The colour-block black and purple is a nice contrast from one-colour gowns and the flower embellishment is a pretty detail.

PA

13/21 Reese Witherspoon in Stella McCartney

A real coup for designer Stella McCartney dressing one of the biggest stars of tonight's red carpets. Unfortunately, Reese's purple number while nice in theory seems a little ahem ill-fitting shall we say on the bust area.

Reuters

14/21 Keira Knightley in Giambattista Valli haute couture

It's not easy to dress for formal occasions when you are expecting, however Keira Knightley has taken it in her stride with nothing less than a haute couture creation by Giambattista Valli. Extra points awarded for modern midi-length hemline and the leather jacket she arrived in.

EPA/FACUNDO ARRIZABALAGA

15/21 Imelda Staunton in Vivienne Westwood

Whilst we have a lot of love for Imelda Staunton, we can't quite extend that to her choice of dress for the evening. The ruffled green number in shiny satin bares quite the resemblance to an 80s prom dress, and not in a good way.

David M. Benett/Getty Images

16/21 Natalie Domer in Sophie Kah

Perhaps Natalie Dormer has been borrowing from the Game of Thrones' costume department - it would go some way to explain the gloves she's chosen to team with what is otherwise a perfectly lovely dress.

Ian Gavan/Getty Images

17/21 Laura Haddock in Ashlii Couture

Laura Haddock looks every inch the fairytale princess in this tulle layered gown. However pretty the dress is, it's undeniably slightly bridal.

18/21 Jenna Coleman in Rochas

The fabric may have an unfortunate likeness to curtains you might see at your Gran's, but the Rochas design complete with cut-out detail in the middle somehow still wins us over.

19/21 Monica Belluci in Alaia

The model and actress brought a large dose of Italian glamour to the ceremony in this simple but effortlessly stylish black dress by Alaia.

20/21 Kara Tointon in Julien Macdonald

It seems Kara Tointon is not yet ready to relinquish her Strictly Come Dancing crown, or at least this dress suggests she's clinging on to the costumes.

21/21 Laura Bailey in Emilia Wickstead

Brides-to-be looking for something modern take note of this Emilia Wickstead artfully modelled by Laura Bailey.
 "The Baftas is not a BBC event, but during our coverage of the awards ceremony we try to find a compromise between presenting the events of the night as they happened, while remaining within the expectations of the majority of the viewers at home – which saw over 5.5 million people tuning in to watch. Attitudes to strong language vary enormously and we considered very carefully how to reflect this.
"Stephen, whose irreverence and style is extremely well-known to viewers, has presented the Baftas for several years. Any strong language was used after the watershed, and there was a presentation announcement at the start of the programme warning viewers that the broadcast would contain language of this nature.
"We accept that some viewers disagreed with this approach, and this feedback has been noted."
In happier news, Fry chose the Baftas weekend to make his first public appearance with his new husband Elliott Spencer, who watched on from the wings as the actor won the affections not just of Birdman stars Michael Keaton and Ed Norton, but also a kiss from Cuba Gooding Jr.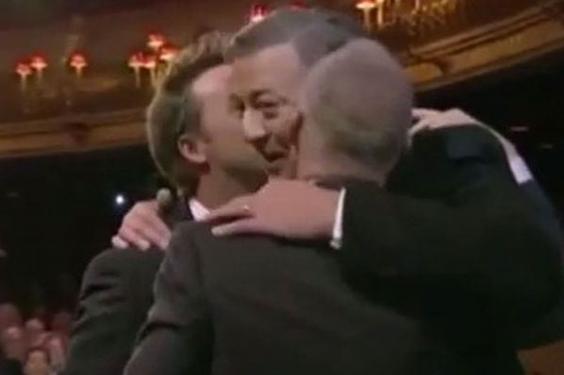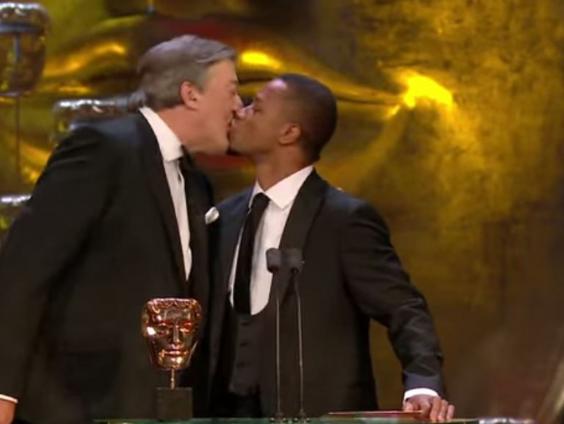 Not that Spencer was remotely phased by the attention afforded to Fry.
"Stephen is the love of my life, the light of my life," Spencer said, speaking about his relationship for the first time at a post-Baftas party.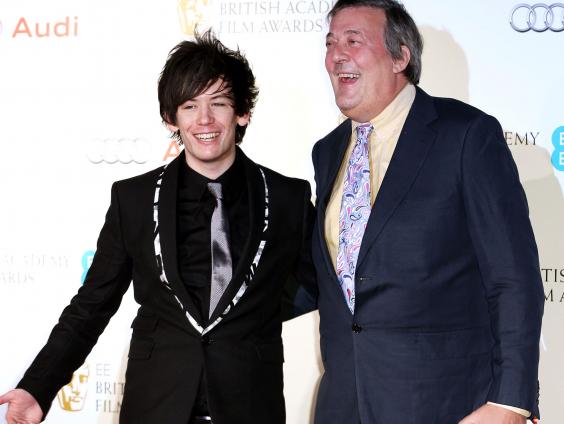 "We laugh all the time," he continued. "Humour is the binding thing in our life. I think that's what brought us together.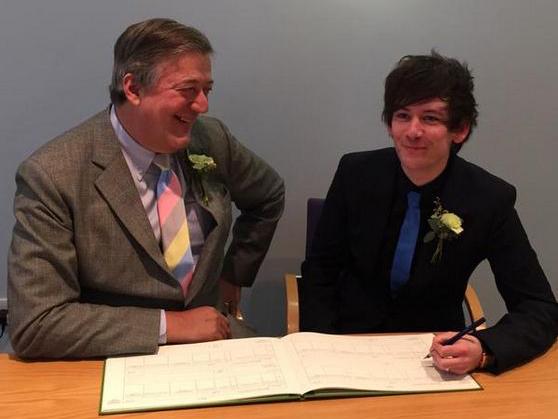 "It's been incredible. We met at a house party three years ago after we were introduced by friends. The rest is history
Reuse content